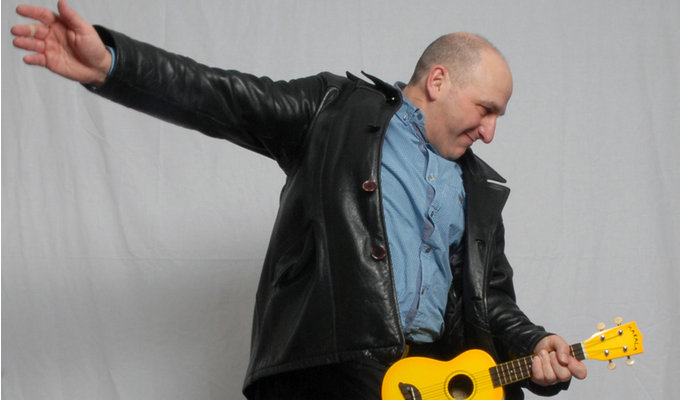 If Facebook can ban violent misogyny, comedy can
This week a small group of determined women achieved a remarkable victory, forcing Facebook to acknowledge that violent misogyny would no longer be acceptable on their website. It took less than a week for Facebook to change their policy, a clear admission that it was the proper thing to do. How difficult would it be to attempt something similar on the comedy circuit?
It's interesting that in the 30 years or more since feminism and anti-racism pretty well won all the arguments, racism has become generally considered unacceptable in comedy – yet misogyny continues unhindered.
If there was anything that differentiated alternative comedy from its precursors, it was that it sought to be non-racist and non-sexist. This was less a conscious manifesto statement, more that its mainly male practitioners had grown up among diverse communities, while their women contemporaries were largely seen as equals. Likewise the audiences. They didn't demand an end to racist and sexist jokes, those jokes simply no longer resonated.
Part of the reason misogyny continues is that a lot of men who perform stand-up were the shy and ugly ones at school who never got girlfriends when they were teenage boys. Okay I'll admit it, when we were teenage boys. The girls always laughed, only now we're performers they're laughing not at us, but with us. At the heart of much misogyny in comedy is the whining male voice of self-pity: 'When I was a shy invisible teenager you completely ignored me, now I'm up on that stage you only fancy me because I'm funny, you fickle bitch.'
Also a lot of young comics think that rape jokes are 'edgy'. Someone should remind them that in the Seventies, rape jokes were not uncommon in prime time family sitcoms. I remember Wendy Craig doing them in Carla Lane's Butterflies. Rape jokes are about as edgy as gags about the vicar coming round for tea.
There is a power at the heart of stand-up comedy, of comedian over audience. It's largely expressed in male terms, the lively crowd needs to be battered into submission by the king of the beasts, the man who can humiliate his drunken heckling rival in the back row, with a combination of wit and macho aggression (not forgetting an amplified microphone).
There had been successful female stand-ups before Jo Brand, but never one who took on the men at their own game and beat them. The late Linda Smith was another, but Brand consistently performed at comedy's toughest clubs, and always successfully tamed the rowdiest of audiences. Any doubts that women were not as funny as men should have been banished in that comedy era, when acts like Jo, Linda, Hattie Hayridge, Jenny Eclair and Kit Hollerbach regularly closed shows as headline performers.
But there was resistance to women in comedy, and sometimes it came from the strangest of sources, including male stand-ups. Misogyny isn't a subject that knows political boundaries. Some of the most outrageous woman-bashing comments I ever heard backstage came from comics who would have reported you to the Commission for Racial Equality if you'd said anything remotely so insulting about a person of colour.
And while none of these performers would have dreamed of mimicking the kind of Paki-bashing material or lazy stereotypes of previous decades, attacking women was still fair game. It didn't help that the most hated person in the country at the time was a woman, but the misogyny was subtler than that. In the hands of a skilled comic, the tried and trusted subject of 'differences between men and women' will always throw out new and interesting material, but too often it can become a cliché on which to hang your anti-women prejudices.
Yet the cosy Daily Mail myth - that alternative comedy was constantly policed by a phalanx of crop-haired dungaree-wearing feminist separatist lesbians screaming unfunny abuse at men, or even that the circuit was packed with comedians doing non-sexist material – has persisted for decades.
Even in the mid-1980s, when alternative comedy seemed to have travelled furthest from the old style, there were grey areas. Some of the great northern stand-ups were admired on the alternative scene: Les Dawson, whose beautifully crafted writing took his mother-in-law jokes into delightful surrealist realms, was one. And then there was Roy 'Chubby' Brown, canonised by the League of Gentlemen, who named their local village for local people in honour of Brown's real name Royston Vasey.
At the height of his success, Brown differed from the stereotype club comic in three crucial ways. First, like Dawson he wrote much of his own material, a skill practically unheard of on that circuit. Second, unlike Les, he never appeared on the telly. So in the mid-1980s, while we were aware of the cleaned-up sets of mainstream TV comics like Jim Davidson and Bernard Manning, hardly any of us knew Brown's act.
But we soon discovered the third crucial fact that set him and Les apart from Manning, Davidson and the rest: Roy Chubby Brown never told racist jokes. To see for ourselves what a non-racist, material-writing, old-school, club circuit comedian looked like, in 1985 an alternative comics' night out was arrranged to witness Brown, live at the Peacock Theatre.
If there'd been any publicity for this gig we hadn't seen it, yet the show was sold out. For most of us, at that time the idea of a successful night of comedy was 80 people in a room above a pub. Here was something we'd never seen, a comedian with no TV profile filling a one-thousand seat theatre. One other difference was instantly obvious: there were hardly any women present. Brown's audience was 99.9 per cent male and as soon as the show began it became clear why.
It was true, not a racist word was spoken through the entire set. But that was because the show was ninety minutes of non-stop misogyny. There was simply no room for racism. And anyway that wasn't what this testosterone-fuelled audience had come for. They had paid to hear finely crafted woman-bashing and that's what they got.
It would be interesting to see how Brown would fare on today's circuit. He might be surprised to find how crowded the marketplace is with less talented versions of himself. There are plenty of venues where his material would sit comfortably with the rest of what was on that night. And his gags would certainly no longer exclude him from our TV screens – although if he wanted to get some of his racier set onto late night TV he'd need to cultivate the Young-lad-stand-up-patented Arched Eyebrow of Post Modern Irony.
I think the reason Brown never did racist material was because that wasn't his thing. 'Misogyny is what I do, leave the racism to Manning, no point trying to compete.' Although now that Manning is dead and Davidson is no longer a fixture on our screens, Chubby's anti-racist constituency will be disappointed by some of his latest routines, which I understand include a Golly doll called Obama.
But while racism does appear to have genuinely vanished from everywhere else apart from Brown's latest act, misogyny has never gone away. It seems odd to me that the common sense that stops us attacking a person merely for the colour of their skin, does not extend to refraining from peddling hatred on the basis of a person's gender.
But then what do I know? Until recently I'd always been baffled as to why certain original and hugely talented star performers expended so much energy on writing and delivering the kind of material, both hoary and whory, we thought had disappeared at the same time as Benny Hill. Then I realised the answer – they have a big audience who wants to see them. As Chubby Brown knew, you don't need TV exposure to find a large crowd for women-bashing.
Unlike racism, misogyny continues to deliver big laughs to big audiences, whether we like it or not. And as long as that's the case then comics who perform such material won't make any effort to give it up.
In any case, why should we expect comedy to differ from any other area of our culture? Feminism has made huge changes to our lives but its opponents are still everywhere. I'm not just talking about the obvious offenders, like tabloid newspapers and Hollywood movies. According to one of the most popular storybooks in the world we're barely a few days or so into the creation of humanity before some bloody woman uses her feminine wiles to tempt a bloke into trouble with an innocent apple from a tree. From two or three years old the commonest stories we hear are of perfect princesses, ugly sisters and wicked stepmothers.
Today's writers aren't much better - have you read any books lately by our supposed literary superiors like Martin Amis or Ian McEwan? I've seen cardboard cut-outs in DVD Stores with more complexities.
Comedy is always trying to do two things in complete contradiction to one another: say something new, while confirming the audience's prejudices. The former get the five-star reviews, the latter get the crowds. Every once in a while stand-up is briefly one step ahead of popular culture – Richard Pryor, say, or early Billy Connolly. But most of the time it does nothing more than reflect it.
There does seem to me to be a very easy way to rid the comedy circuit of rape jokes. Nearly all promoters will stop hiring performers who make racist jokes, why can't they apply the same rules to comedians who do misogynistic material? Go on promoters, give it a go, if Facebook can do it, anyone can. If you help to push against the relentless omnipresent narrative as purveyed by Roy Chubby Brown, Walt Disney and Hans Christian Andersen, maybe we can all live happily ever after.
Tweet
Follow @chortle
Published: 30 May 2013