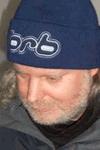 Say neigh to Brookerburgers
In December 2009, as an unlikely battle for the Christmas No 1 was waged, Charlie Brooker wrote an article in which he clearly came down on the side of Killing In The Name by Rage Against the Machine.
Doug Stanhope fan Charlie downloaded the song because 'it contains genuine emotion' and its refrain was 'an authentic human sentiment being expressed' while The Climb by X Factor winner Joe McElderry was 'like watching a bored cleaner methodically wiping a smudge from a Formica worksurface'.
The Wire-loving Charlie wanted RATM to win because it would be 'the shot in the arm the charts have been sorely lacking the last few years' and put 'a genuine smile on the face of millions of people; sensitive people, thoughtful people; people alienated by the stifling cloud of grinning mechanical pap farted into their faces on a weekly basis'.
In advance of the broadcast of the second series of Black Mirror Charlie Brooker took part in a Q&A for The Guardian, answering questions asked by readers. Here is part of one of Charlie's answers: 'I think a lot of the time when people go, "Oh, he's so angry, he's so angry", a lot of the time it's just actually me being tongue-in-cheek and it's just a performance, you know. I couldn't get authentically angry about that many things. So when people go, "Ooh, he's putting it on, he's putting on his anger for money", of course I am. Morons. I mean it's cathartic, but also it's amusing. A lot of the time I get angry to amuse myself. So yes, that makes me happy.'
This revelation should come as no surprise but the bluntness of it is surprising. It's somewhere between Gerald Ratner publicly describing some of his company's products as 'total crap' and Gordon Brown being overheard describing a voter as a 'bigoted woman'.
Still, what sort of people believe what is written in a newspaper or think that someone might write something to express 'an authentic human sentiment' or 'genuine emotion' rather than make money? Morons. Let's laugh at the morons with their faith, hope, idealism and a desire to read, watch or listen to authentic works produced with integrity. They deserve to be treated with contempt and ripped off as much as possible. They're so stupid they won't notice they are being sold cheap fake rubbish.
The success of Charlie Brooker is proof that in recent years in comedy and in satire style has been victorious over substance. The years in which Charlie Brooker has been writing for The Guardian and appearing on TV should have been a golden age for satire as the War on Terror turned into something that could have been from an episode of South Park, economic bubbles burst leaving many millions of people covered in debt, the court system has come to resemble The Jeremy Kyle Show, the internet has become a reality TV show, as have elections, and Parliament and big business were found to be a version of Shameless in which the scrounging, robbing and lying characters were graduates in suits. However, we have not been living in a golden age of satire in Britain.
Have I Got News For You increasingly resembles a panel show version of Rude Tube largely populated by smug unfunny Oxbridge posers who won't bite the hand that feeds them, most notably in the shameful first episode of the last series in which the revelations about Jimmy Savile (who was employed by the BBC for many years) were turned into an excuse to attack the tabloid press in general and the Daily Mail in particular. Without the cutting edge of Frankie Boyle ,Mock The Week is even more like a boisterous parlour game than it was before he left. 8 Out Of 10 Cats is HIGNFY for readers of Heat magazine.
10 O'Clock Live (co-presented by Brooker and produced by Zeppotron which he co-founded) was an opportunity to create a topical satirical programme that is funny and hard-hitting but it hasn't really been either. It has been hamstrung not by a lack of resources or by broadcasting guidelines but by the emptiness of the presenters. They don't really believe in or stand for anything, and it shows, in the scripted sections of the show and especially in the round-table chats.
Presenting a satirical programme is just another job like writing a column, reciting gags, chatting between songs on radio or adopting the required facial expressions and tones of voice on a panel show.
There's no British equivalent of The Daily Show with Jon Stewart, Saturday Night Live, South Park or The Onion. There's no current equivalent of Spitting Image, The Day Today, Brass Eye or The Saturday Night Armistice. The last time I saw Rory Bremner on Channel 4 he was presenting a daytime game show rather than a primetime satirical show.
Charlie Brooker is a member of a generation of comedians and satirists which has too often avoided many of the big and scandalous news stories of the era and while he is one of Britain's best current satirists that's like being one of Britain's best tennis players of the Eighties. He has become part of a comedy establishment which goes around the circuit of piss-poor panel shows where comedians and other guests (who are usually third-rate at best) try to be funny two or three times in half an hour (and some of them can't even manage that). Some of them also write a thousand words for a newspaper column once a week when they aren't doing something more lucrative – columns which are usually about nothing much because being able to produce a good turn of phrase is more important than having something to say. In the case of Charlie Brooker he has been churning out columns about Apple products, crisps, 50 Cent, Christmas adverts, online over-sharers, online haters and burgers.
Charlie Brooker is satire's equivalent of horsemeat beefburgers. The Guardian's Q&A is the test which has shown what their real ingredients are and how they are made by turning slivers of information or emotion and larger amounts of fake fury into snack-sized slabs of substandard satire which is then served with a selection of articles about the arts, fashion or celebrity gossip or put between a documentary and Newsnight.
We know what happened after the horsemeat was found: the affected product lines were removed from shops, supply chains were checked and the producers involved apologised and promised to improve standards. Perhaps it's time for similar things to be done by those who have been making and selling Brookerburgers and other tainted brands of British satire. I fear it's too late and as well as a horsemeat-style scandal there has also been a BSE-style scandal and we have been poisoned with satire made after the Establishment was fed to itself in comedy farms such as Cambridge Footlights.
Perhaps Charlie Brooker should stop machine-gunning nearby barrels of small fry for The Guardian, doing something similar for the BBC in his Wipe franchise (viewers may have to live without Barry Shitpeas but a DVD box set of this classic comedy character's greatest moments might help) and doing something similar in his read-out-something-that's-like-one-of-my-Guardian-columns section of 10 O'Clock Live and concentrate on making more of the brilliant Black Mirror. He stopped writing Screen Burn because it was 'playground, yah-boo stuff' and he felt like 'a witless bully' but perhaps the bully merely moved to big school. Perhaps it's time to leave the playground. Perhaps the school needs new teachers who will take action to improve behaviour and results.
Do you want something to get your teeth into? Do you want a piece of the rump of a disgraced former cabinet minister fried in pure righteousness and then drizzled with scorn? Do you want a stew containing meaty chunks of bankers and a selection of the vegetables which grew around them? Do you want the head of a media baron which was hacked off with the sword of truth before your eyes and then hollowed out and stuffed with evidence of his wrongdoing? Do you want satire that is tasty and filling that you know is made using natural ingredients such as beliefs, integrity and genuine anger? Do you want comedy that isn't flabby, coated in sugar or pickled in alcohol? Or would you rather have a McSatire with fries and a drink or a Cheesy Stadium Whopper that is filling but forgettable?
I know what I want and I'm not getting it from a British comedy industry dominated by the comedic equivalent of supermarkets and fast-food restaurants. I want the best quality comedy possible and I want everyone else who wants the same to be able to have it too.
Alan Varley may write and perform comedy. Or may not. Does it matter?
Tweet
Follow @chortle
Published: 9 Apr 2013