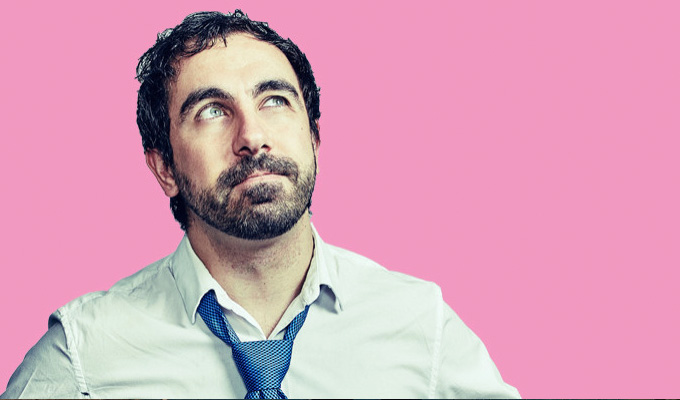 Yianni Agisilaou
Yianni Agisilaou: I, Human
This is an admirably well thought-out and enlightening show about the march of technology and whether artificial intelligence will take over from humans, but the comedy element often falls flat.
Yianni Agisilaou seems like a mad scientist – minus the crazy white hair – as he becomes increasingly neurotic about this possible technological takeover. Throughout the set, he appears nervous, speaking fast. A weak delivery and fumbled timing – which may be attributed to the cold he's been struck down with – as well as the hit-and-miss nature of his sarcastic jokes – mean he rarely raises more than sniggers.
The British-based Australian then gets caught up with explaining the jokes as they didn't land as he'd expected. It's great when a comic is aware of their audience, but Agisilaou is forever commentating on the responses to the point where he just comes off as incredibly insecure. We know all comics are, but don't make it so damn obvious, dude, there has to be some mystery!
Over the hour, he discusses self-driving cars, how Microsoft's Twitter chatbot Tay turned racist, and the all-seeing eye of Google and Facebook as he outlines how technology is getting increasingly confusing with apps, social media and algorithms. The latter he demonstrates with a chart explaining how he would 'maximise laughter' by telling the 'right' kind of jokes. He adds a self-aware hacky pun: release some laughing gas into the room, then he could be safe in the knowledge that he literally 'killed' the audience.
Agisilaou's gags are generally dumber than the subject matter and don't always land. When he muses over human and robot nature, he brings up the online Captcha tests, making a straightforward analogy that it's like trying to get into a nightclub; and with the tech giants continually watching us without our permission, his solution is to draw a dick pic and stick it over the lens of the computer camera.
It's a puerile kickback against the terrifying march of technology. If the new Star Wars film can superimpose a young Carrie Fisher's head on to another body to create the Princess Leia character, how can we trust news footage of politicians hasn't been similarly doctored?
However, Agisilaou concludes more positively with some sentimental on-screen comments that being a good human involves loving and respecting each other, values which artificial intelligence cannot match. It's an admirable, if slightly mawkish, message.
Read More
Published: 20 Aug 2018
It's hard to imagine that Yianni Agisilaou wasn't…
20/04/2017
Hitching his show to the juggernaut of the world's…
29/07/2016
Do we need much more philosophising on offence and…
16/08/2015
Build it and they will come. That was the thinking…
26/08/2013
If they gave out Edinburgh Comedy Awards for promotional…
13/08/2012
It's little surprise that the title of Yianni Agisilaou's…
19/08/2010
It is always a joy to see a comic properly nail a show…
7/08/2009
This is a real gem of a show, buried in the wrong,…
1/01/2006
Past Shows
Agent
We do not currently hold contact details for Yianni Agisilaou's agent. If you are a comic or agent wanting your details to appear on Chortle, click here.