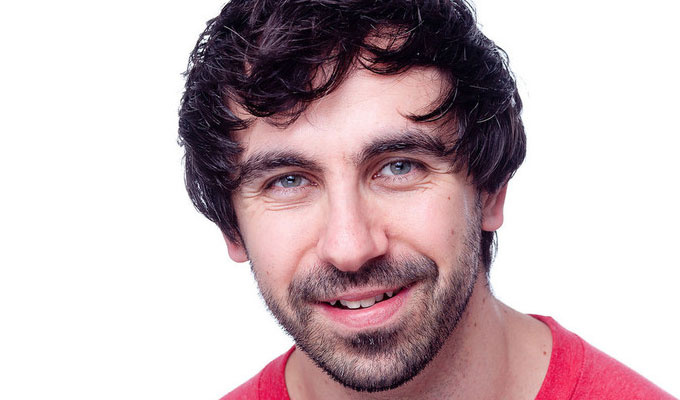 Yianni: Why Did The Chicken Cross The Line?
Note: This review is from 2015
Do we need much more philosophising on offence and 'political correctness' in comedy? Yianni Agisilaou certainly thinks he has something add to the countless opinion pieces and blog posts on the topic.
But he hasn't, not really. To cut to the chase of his show; he tells those getting outraged to consider the context first, and those telling jokes 'not to be a dick'. Fine principles, if simplistic.
Yet he doesn't approach this in any particularly inventive way, it's a head-on presentation of his thoughts on the topic, well-researched but direct. A typical, verbatim quote is: 'At this point I want to make a distinction between words and deeds…' Thanks, professor.
Does the audience need to be led so explicitly? It can sometimes feel like a corporate training session, with everything communicated with explicit clarity, but little art. The show even got its own acronym, as Yianni describes the DIOR cycle of dickhead -> incident -> outrage -> reaction, which basically means some idiot causes problems down the line for other people.
A warm and personable speaker, he also tells us comedy's about building and releasing tension, which is true, but not especially present in his own show, as the worthy argument is laid out step by step. Comedy's also about ambiguity, and he doesn't let this creep into his talk, either in content or in the way he approaches the subject.
There are some nice touches in and an endearing line self-deprecatory asides about his comic abilities. But tellingly, the best sections have the least relation to the topic. A shaggy dog – or possibly slimy snail – story about finding a gastropod in his garden has a payoff that rewards the build-up; and an anecdote about a cruise ship gig that went wrong after a punter took offence at even being chatted to from the stage is highly entertaining because of the detail he evokes… but the 'offence' bit is not the funny part.
Yianni ends with a jaunty song that technically could be offensive, but in context – and because he's not a dick - comes across as charming and amusing. But we would surely have found it so without about 90 per cent of the preceding monologue.
Review date: 16 Aug 2015
Reviewed by: Steve Bennett
Reviewed at: Stand 2
Recent Reviews
What do you think?