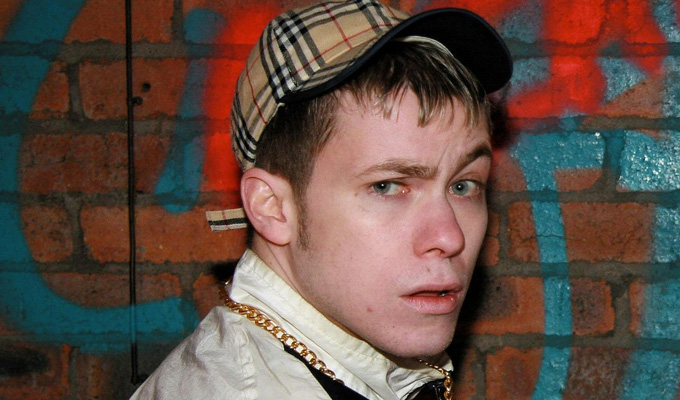 Wee Man
Wee Man Syndrome
Note: This review is from 2015
Just as Michael Pennington created a monster with Johnny Vegas, Neil Bratchpiece's personality has been subsumed into his character The Wee Man, a trigger-tempered Glaswegian ned.
Unlike Pennington, or indeed Simon Brodkin, whose Lee Nelson he's often compared to as a representation of the indolent, criminal underclass, Bratchpiece's modest fame has brought him more irritation than fortune.
Indeed, he was on the point of dumping his creation in 2007 when he was plucked to front the video for Here You That'll Be Right by NEDS Kru, featuring the immortal refrain: 'Gawne pump yer maw!'
A viral YouTube sensation, at least in Scotland, it set the template for Bratchpiece's comedy career and an infamous reputation that he's had to live up to ever since. Strangers still accost him and request he sing the line for their young daughter's ringtone. Or bizarrely, ask if he knows Limmy.
The burden of playing such a repulsive arsehole has clearly taken its toll. And by way of perfect demonstration, he wearily acquiesces to the demands of two young Glaswegian girls to 'play the song, play the song!' No doubt he planned to play it anyway but after a more carefully prepared show of reluctance.
A middle-class, Jewish thirtysomething with a comedy heritage – his brother David is a stand-up and his father Mark a retired comic – Bratchpiece ladles on the pathos for his lost idealism, sharing a photo of him competing as a young teenager at the Comedy Store with Jonathan Ross as a judge.
We also see him on the Scottish children's gameshow Red Amber Green as an expectant 14-year-old, telling host Bryan Burnett that he wants to be a successful cartoonist and his own boss. Well, one out of two wouldn't be bad, if he hadn't become a slave to The Wee Man.
Because Bratchpiece didn't write or even sing on his breakthrough moment, he didn't make any money from it. And his subsequent career has been an uphill struggle to cash in, both as a stand-up and with follow-up videos. The film with which he opens is a who's who of Scottish comedians, wrestlers and strippers, with spewed banter and 'tits and cats, tits and cats!' But is it making a living when he's shooting it at a loss?
This feels like the moment to put The Wee Man to rest, as Bratchpiece's deconstruction of the character, demonstrated through the respective positioning of his baseball cap, is considerably more compelling than the limitations of his alter-ego's threats and violent misogyny, even if his own supposed sexual exploitation of the character's fame is bleakly funny. He has one amusing, Hannibal Lecter-inspired moment with one of the girls in the front row. But too often, the Jekyll and Hyde switch between the leery ned and his doleful creator is uncomfortable, therapy rather than comedy
That is, at least, until the pair are pitched, schizophrenic Fight Club-style in a rap battle, laying out each other's respective dirty laundry with Bratchpiece gradually pumping up to be as aggressive as his opponent.
By some distance the punchiest bit of the hour, it shows that, along with his entry into Scotland's burgeoning wrestling scene which thrives on cartoonish villains and can muster crowds that his stand-up can't hope to match,The Wee Man has a future after all... if only limited to posturing as an MC.
Read More
Published: 21 Aug 2015
This wasn't Scottish comedy's finest hour (or four).…
5/12/2010
The Wee Man is one of several broad caricatures of…
29/09/2008
Alan Anderson, the promoter behind the Scottish Comedian…
1/01/2008
Of the burgeoning number of stand-up competitions,…
1/01/2007
Manchester has long held a successful one, now Scotland…
1/01/2006
Past Shows
Agent
We do not currently hold contact details for Wee Man's agent. If you are a comic or agent wanting your details to appear on Chortle, click here.