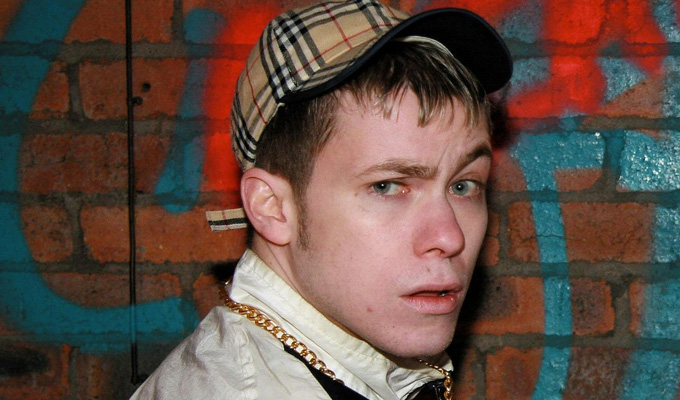 Wee Man
A Wee bit of plagiarism?
Glaswegian comedian Neil Bratchpiece has accused a London theatre company of ripping off his ned alter-ego The Wee Man.
A new fringe play set in the world of Scottish wrestling features a character called Wee Man, who bears an uncanny similarity to the alter-ego Bratchpiece performs on the comedy circuit.
He also makes appearances at Insane Championship Wrestling bouts as his character – which is how it came to be included in the new play Lardo.
The titular character is also based on an ICW wrester called Grado, 'but they at least altered his name', Bratchpiece said.
'I was quite taken aback as to how much they had directly lifted,' he told Chortle.
'I know I have no patent on the name, as if I pursued one I would have half of Scotland and a skateboarding American dwarf on my case. But a little creative licence with the name or a bit of clear acknowledgement of the influences would have been nice.
'This is not to mention that they have lifted a couple of my regular jokes from shows, including one character being nicknamed "Storm in a D-Cup", which is how I would introduce my female companion Lambrinii.'
Producers Metal Rabbit claimed the character was an 'affectionate homage' and only 'loosely inspired' by The Wee Man.
Playwright Mike Stone said: 'I looked at a number of wrestling characters when writing Lardo. The characters Lardo and Wee Man are loosely inspired by Grado and Wee Man in respect of their wrestling personas only.
'My characters then have a totally fictitious storyline and backstory. There are four other wrestling characters who are also totally fictitious.
'I am a huge fan of ICW wrestling and other promotions and was keen to introduce that world to a theatre audience and to construct a drama, not a wrestling match.'
Bratchpiece – who also hosts comedian rap battles at The Glasgow Stand every month – said: 'I have been told time and time again that the ned gimmick was a dead horse when I started flogging it.
'But after this I am equal parts flattered and affronted to see it still has the legs to have the London theatre scene appropriate it wholesale.
'They've based a fictitious character on an already fictitious character, down to the look, attitude and even name. It is a parody of a parody, making it so meta I'm struggling to decide what's real anymore. Or perhaps that just makes it pointless.'
A YouTube video of the Lardo Wee Man, as played by Stuart Ryan at the Old Red Lion in Islington, has been removed by producers since we first published this story. But here is Bratchpiece's creation.
Read More
Published: 12 Mar 2015
Past Shows
Agent
We do not currently hold contact details for Wee Man's agent. If you are a comic or agent wanting your details to appear on Chortle, click here.