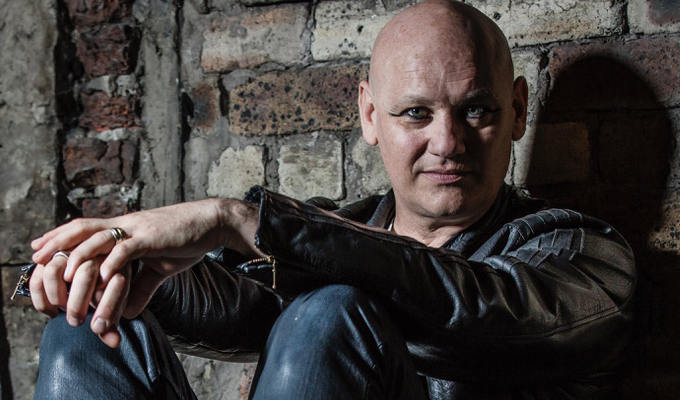 Terry Alderton
Date of birth: 31-10-1971

Terry Alderton: The Musical
Well, Cats it ain't. If you think forcing Terry Alderton's free-flowing madness into the structure of a musical will lead to the discipline of tight plot and clear narrative, you've got another think coming.
That the stage starts empty save for a poodle-headed mannequin gives some indication of the madness this most intense and spontaneous comedian is about to unleash. But while there are some songs, and some script, The Musical is another of his trademark onslaughts of high-octane, fast-paced, often aggressive absurdity.
Alderton is a like a postmodern Freddie Starr: unpredictable, and with a real sense of danger as to what he'll do next. He'll freely clamber into the audience – this being a temporarily converted lecture hall means he's got desks to use like stepping stones – and is forever smashing the fourth wall to point out just how insane this all is.
The opening song addresses his bipolar disorder, a theme that binds the entire hour in content, and not just the manic performance. Not that you'd know it, without some heavy signposting that Alderton slips in with his postmodern shoehorn.
The number heralds in a maelstrom of accents and voices and songs and random bits of business from body popping to shit conjuring tricks. Canes keep appearing in his hand, pseudo-magically, until the stage is littered with them. He'll pick up an instrument for a song, mock American stand-up tropes or tell a story from his real life, such as being attacked in the street by a gang of 15-year-olds, but never settling into much for long.
Like a shark, he has to keep moving forward. This is the sort of show where no one gets – or likes – all the jokes but Alderton plays the numbers game. There are so many of them you are bound to enjoy some, even without accounting for the cumulative effect of him battering you with so many, so fast, to wear down resistance.
Beneath all the noise, The Musical is a series of sketches and mini chunks of stand-up, from his surreal imagining of his wife living in a jar, to the suggestion he's a time traveller, and we're now in 2013, introduced by a Bowie-esqe tune That Reminds Me of former Fringe favourite Gary Le Strange.
Alderton is an overbearing physical presence and a high-impact performer. He makes a meal of some actions, is nimble elsewhere, mugging in whatever way might be funny. His face is as expressive as his body, getting a laugh from the slightest of sidewise glance sat an early walkout. He knows he's not for everyone, and plays with how inaccessible and niche his act appears on paper. But it's only vaudeville. Just vaudeville on cocaine. Yes, the 'like…on drugs' is a reviewer's cliché but it's a properly useful analogy to describe Alderton's full-on style.
There are nods to those who have seen him before: the voices in his head make a brief appearance to say they are not in this year's show, while the gimmick he's come to own of lying on his back and treating his shoes like puppets is deployed for the one earnest song of the hour.
The Musical is as wild a ride as Alderton ever offers, but the format has imposed some modicum of order on his runaway thoughts, enough structure to stop him completely coming off the rails but with plenty of room for mucking about, too. Which makes it probably his best show yet.
Read More
Published: 14 Aug 2018
'I write this show. But I don't make up the…
4/08/2017
Malcolm Hardee was never diligent in wiring material,…
3/02/2015
Possibly the first silent compere, The Boy With Tape…
17/12/2013
No one outside comedy knows who Paul Byrne is. \'Brother…
22/08/2013
No one outside comedy knows who Paul Byrne is. 'Brother…
22/08/2013
Terry Alderton creates a feeling of bedlam in his shows.…
16/08/2013
'I can't do comedy at 11.30 in the morning,' complains…
22/07/2013
The gala opening the Brighton Comedy Festival has…
7/10/2012
As Terry Alderton bursts on to the stage with his manic…
25/08/2011
The Leicester Comedy Festival normally pick a familiar…
16/01/2011
Terry Alderton's the stand-up equivalent of ADHD,…
25/07/2010
'Say what you like about the show.' Terry Alderton…
1/09/2009
The bill boasted Jack Dee, Jimmy Carr, Paul Merton,…
1/01/2009
Description Terry Alderton returns to…
1/01/2006
Painfully dull, yet depressingly popular, aging Essex…
1/11/2004
Past Shows
Agent
We do not currently hold contact details for Terry Alderton's agent. If you are a comic or agent wanting your details to appear on Chortle, click here.