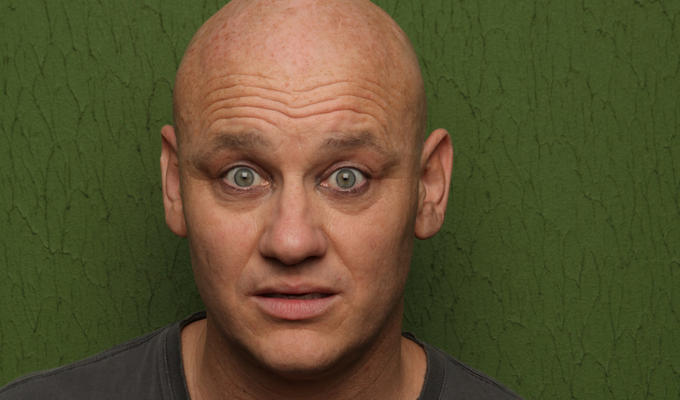 Terry Alderton: Series 4
Note: This review is from 2013
Terry Alderton creates a feeling of bedlam in his shows. That's bedlam in the original sense – as if you're walking the corridors of a mental asylum with a cacophony of voices babbling away, sometimes violently, sometimes softly, but all with a terrifying belief in their own misplaced reality.
Comedy fans will, by now, come to have known the dark alter-ego that inhabits his head, doling out advice on how he should best to tackle interaction with the front rows. Well, that devilish chap is not alone, for it's a mighty crowded place inside this lairy, hyperactive Essex man's noggin.
Making sense of all the noise and activity is futile. From the riddle he poses in very repetitive song at the start of the show we whip through all manner of scenarios: uncanny Lee Evans impressions, imaginary midget bands, a ballsy but friendly Northern woman who takes over his body, a strange performance of Wichita Lineman, an argument with his wife played out as a gabbling jazz cacophony, a drum and bass nightclub in his knee, a penetrating microphone that can hear the audience's innermost thoughts and the shoes that transfer into foot puppets and discuss Kurt Cobain. And that's just a fraction of it.
Crazed and crazy, this is a fast-paced ballet of the bizarre - sometimes literally as he carouses around the stage, carried away with his own madness. Occasionally he'll pause as a 'still to come...' voiceover gives Alderton a chance to reboot before another manic onslaught.
Not every piece works, that's for sure, but the show moves so fast, that's almost irrelevant. Thought there are some stand-out lines, this is is not material to be examined, and mulled over, but a wild adrenaline-pumping ride where you're never sure what's going to happen next.
It's both wonderfully fluid, yet tightly executed – improv sections segue into snapshots that rely on careful choreography with pre-recorded material; all this while affecting an apparently tenuous of grasp on reality.
His relationship with the audience is as schizophrenic as this madness would suggest. He has an evil but mischievous look in his eye, as if deciding to fuck us or kill us. It was certainly a brave woman who checked the football score on her phone while sitting in the front row, and she met his righteous ire.
For Alderton's mania makes him a force of nature, not to be messed with. We might be invited to laugh at the nutter – but never trust the insane.
Review date: 16 Aug 2013
Reviewed by: Steve Bennett
Recent Reviews
What do you think?