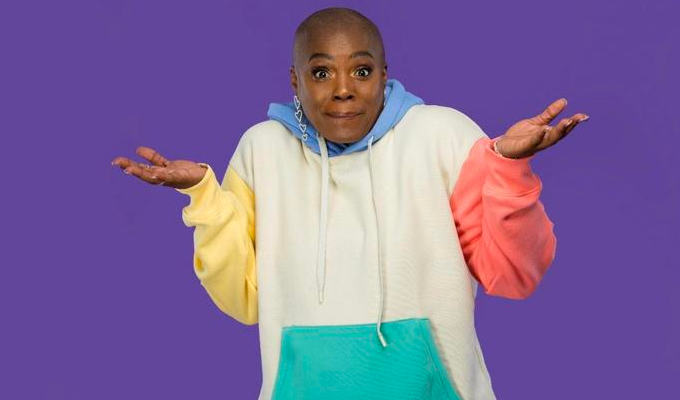 Thanyia Moore
A comic since 2012,
Thanyia Moore
won the Funny Women competition in 2017
Read More
Question Team
It's a good job Bob Mortimer is a guest in the opening episode of Question Team, else producers might be accused of ripping off Vic & Bob's chaotic, surreal and disrespectful approach to the panel show premise
The premise here – perhaps inspired by so many people writing family Zoom quizzes during lockdown – is that each comedian brings in their own round.
Mortimer kicks things off in fine style by asking daft questions about DIY accoutrements such as the spirit level ('the jauntiest of all the DIY tools' and of course Les's favourite from Big Night Out), the hammer ('whether it's murder or panel beating, it won't let you down), or a 'hobbit's stepladder' ('but what's he trying to reach, could it be the feta cheese or a magic piccolo?')
Stand-up Thanyia Moore poses her pop music questions while skydiving then Kerry Godliman oversees a tent-based scavenger hunt, aptly enough given her role on Dave's camping-based challenge show, Outsiders.
It's all nonsensical frippery, of course, but beautifully balanced by Richard Ayoade's trademark brand of dry insouciance. That he shows contempt for the very premise of kicking back and having fun pulls the show back from self-indulgence, as well as providing provides some excellent lines. His scorn toward the camping round proves particularly acerbic, describing it 'a mixture between a Carry On film and a death camp'. It's this sharp but aloof wit that defines – and makes – the show.
Ayoade also gets to provide a round, by way of a proxy. This week it's Rob Carter's alter-ego Christopher Bliss, the prolific and useless author whose misplaced authority is good match for Ayoade's real deal. His questions might not be too challenging – despite its title Question Team is no quiz show – but his cheerily inept attitude makes for a solid comedy sketch.
And that's it, really. Just comedians larking about with the loosest of formats. But that they seem to be having so much genuine fun is pretty infectious.
• Question Team is on Dave at 10pm tonight.
Read More
Published: 12 Oct 2021
Lockdown seems to have been good for Reginald D…
15/09/2021
It's long been a running joke that British TV…
12/01/2021
Past Shows
Edinburgh Fringe 2019
Agent
We do not currently hold contact details for Thanyia Moore's agent. If you are a comic or agent wanting your details to appear on Chortle, click here.