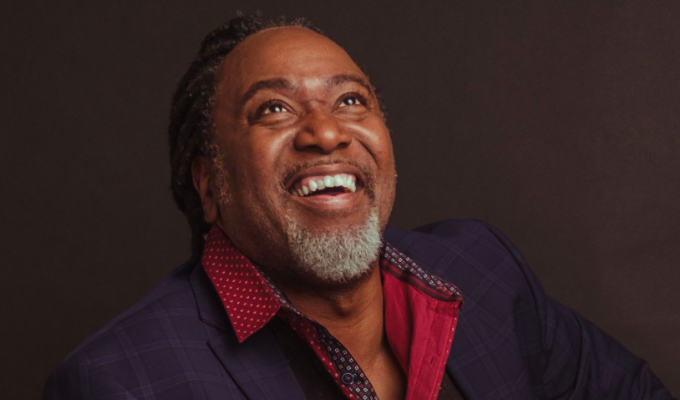 NextUp at the Comedy Store
Lockdown seems to have been good for Reginald D Hunter.
Before every comic's enforced absence from the stage, the British-based American had a reputation for being brilliant but undisciplined. Yet last night at the Comedy Store, he was sharply focussed in his playfully provocative material, just as he had been at Latitude festival earlier this summer.
Perhaps he has taken to heart the message of his opening gag, a cautionary tale about the sort of man who loses his ambition in middle-age to become an amiable 'Uncle Fluffy', universally liked but stripped of any edge. No chance of that here. He may impart philosophies with the wisdom of experience and a seductively laid-back poise, but there's a challenging side to his every uttering.
Even a gag based on a premise as straightforward as the differences in English slang around the world packs a punch, making it the best example of its type you're likely to hear.
Hunter is a great analyser of life, heightened in this set by encounters with members of his family, which lends a reflective air to some material, but never at the expense of a joke. And there are always broader cultural reference points, too, from Meghan Markle to Philip Schofield. The payoff to this last segment is decidedly close to the bone – certainly not what you'd ever hear Uncle Fluffy saying.
Hunter was headlining the first of a series of monthly gigs being live-streamed from the spiritual home of comedy to subscribers of the NextUp stand-up-on-demand service. The demands of the home audience perhaps explains the briskness of the night: startinh at 7.30pm, done by 9.20pm.
Host Thanyia Moore occasionally directed comments down the camera lens, but she revels in interacting with the room. She's a quintessential Comedy Store compere, a brash, quick-moving, alpha presence in apparently effortless control.
She exudes a predatory air as she targets the 'awkward white guys' she likes to tease – showing just enough intimidation behind the brisk banter to assert her authority. She certainly put a potentially troublesome attention-seeking group into their box with ease and subtlety.
Opening act Ola Labib is a delightful presence with her playful take on the assumptions made about her as a hijab-wearing Sudanese woman. There's passive-aggressive grit behind the welcoming smile – occasionally tipping into more a truculent attitude, which suits her less.
Her material could go deeper or into more unexpected directions – but her ease on stage belies the fact she's still a relative newcomer, and her writing will surely develop. With an unusual background (including attending a strict Islamic primary school) and a winning charm masking more forthright opinions, Labib is definitely one to watch.
In the middle slot, Stephen Bailey unleashed his full camp, outrageously flirting with the front rows and offering an unfiltered look into his messy life.
He performs with a cheeky, conspiratorial air, breaking confidences to win friends, whether it's from his chequered dating history via Plenty Of Fish to his mum's fibromyalgia ('we can laugh at it, I checked,' he assures us). The gags aren't always the most sophisticated, but he leans into that, dividing the audience into Radio 4 sophisticates or trash. And everyone wants to be trash, given how gleefully Bailey celebrates that lifestyle.
• NextUp are back at the Comedy Store on October 12, with Nick Helm, Michael Odewale, Maisie Adam and returning MC Thanyia Moore. Tickets.
Review date: 15 Sep 2021
Reviewed by: Steve Bennett
Reviewed at: Comedy Store
Recent Reviews
What do you think?