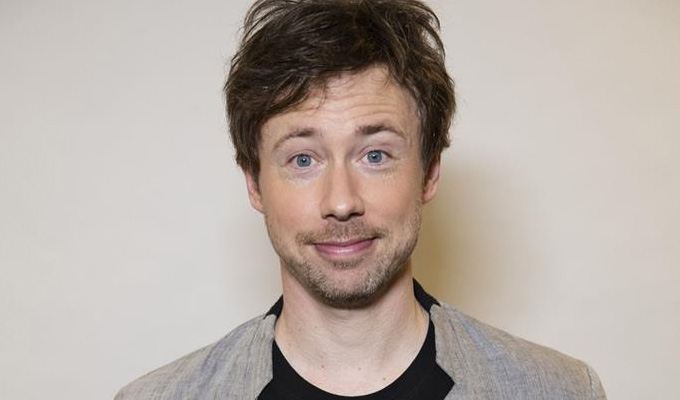 Tobias Persson
Tobias Persson And The Drivel Rights Movement
Note: This review is from 2015
We journalists frequently bemoan the lack of Fringe shows tackling the big, topical issues, especially when they pertain directly to comedy. Ria Lina and Yianni Agisilaou are among the few comics this year to have explicitly explored taboo and offence in this sustained manner. But notwithstanding personal attacks on social media - which are apparently rife - by and large, comedians don't feel the urge to consider the fallout of say, Charlie Hebdo. And why should they? It's difficult and we don't tend to thank them for the effort.
So kudos to Tobias Persson for trying to engage with something bigger than himself. The Swede is virtually a caricature with his clean-cut, Scandinavian good looks and bleaker soul within, his physical animation and cheerful expressiveness the guise through which he conveys his disquiet about the current state of human rights.
His premise, hard to refute, is that we've devalued what 'rights' actually mean, citing some of the petty customer complaints his wife experiences in the holiday industry. While acknowledging that most of us wouldn't know our United Nations articles from our Beastie Boys lyrics, he bemoans the status quo in his stylish homeland, where a luxury kitchen is seen as a necessity, but keeping children from using their mobile phones in the classroom isn't. Once much vaunted for its progressive social democracy, Sweden is as dysfunctional as anywhere, he maintains.
The cracks really show in his efforts to explain the country's many homeless to his inquisitive daughters. Imbuing them with an upsettingly precocious capacity to refute and sidestep his stock answers, he delivers the exchange with the back-and-forth of an Eddie Izzard dialogue, grinning at the audience through its self-conscious artifice.
Equally satisfying, if more believable, is an account of the upbeat vagrant who blithely exploits his guilt and moral vanity to extort him for a steak. Still, Persson refuses to condemn the irritating tactics of charity muggers, citing persuasive ideas for how they could be more effective.
Ironically, when he seeks to make his most definitive points about political correctness, on declaring someone attractive, fourth gender toilets or the assumption of offence at a comedy routine, Persson can be a bit wooly and doesn't always provide the strongest personal experiences to support his case. And certainly, his defence of Bono as an altruistic force for good, regardless of his megalomania, initially seems excessive, although there's a reason and satirical intent behind it.
Far funnier are the murkier messages he extracts from his experience of attending a Jackie Mason show on Broadway, his associated guilt over Sweden's conduct during the Second World War suddenly becoming a factor at the merchandise stall.
As with his objection to the reopening of Sweden's National Opera House with a Spanish performance artist urinating over the structure, the evidence from his show is that freedom of expression and identity are slippery and that no-one should ever feel secure in their right to go unchallenged. It's not much of a definitive statement but it's where the most potent comedy resides.
Read More
Published: 30 Aug 2015
They say write about what you know. And having children…
21/08/2014
It says something about the pulling power of the UK…
13/09/2012
Due credit to Swedish comic Tobias Persson for keeping…
26/08/2011
It was, I think, Rich Hall who first said that there…
23/05/2010
Past Shows
Agent
We do not currently hold contact details for Tobias Persson's agent. If you are a comic or agent wanting your details to appear on Chortle, click here.