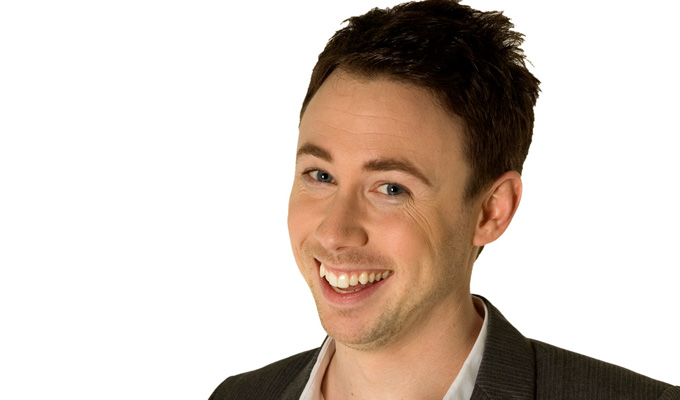 Tobias Persson: One Thing Led To A Mother
Note: This review is from 2014
They say write about what you know. And having children was such a monumental struggle for Tobias Persson and his wife that it would be inconceivable for him not to deliver a show about it.
Forgive me, because as the amiable Swede teases, we Brits affect not to like puns when, in fact, we absolutely do. And this is a subject that really lends itself to them.
Ten times the couple underwent IVF treatment before successfully getting pregnant, a deeply personal undertaking that Persson conveys with admirable frivolity. Lest you think that he's out to emotionally manipulate, he swiftly explains that they have two lovely twin daughters whom he won't be unveiling later for cheap narrative and sentimental purposes, although he will refer to them as Hurdy and Gurdy for a cheeky chuckle or two.
Producing life in test tubes might seem like a cold, clinical subject. But Persson adroitly mines laughs from the disparity between a romantic mission of love and the ridiculousness of queueing with other men to deliver a sperm sample into a beaker.
Interestingly, he suggests that performing in English affords him a distance on the turmoil he endured, if only because everything is so perfect and efficient in Sweden that there can be no expression of angst.
As ever, the atheist contemplates religion and the role it played in his happiness, dismissing his mother-in-law's suggestion of a 'miracle' as misattribution of gratitude due to science. Even so, in lieu of evidence of natural conception, he waggishly ventures the notion that Jesus was the first test tube baby.
This in turn inspires the standout moment of the show, a self-consciously cheesy West End musical number in which he goofily high kicks his way into a tune composed of intermittently sophisticated rhymes and groan-worthy puns about IVF procedures. Garlanded like Elvis in his Hawaii films, it's a lovely, unexpected burst of silliness that's so good it becomes a welcome reprise at the end.
In between, he's defensive and cannily perceptive about the near-mythical, pseudo-scientific abilities people attribute to his daughters as Twins, and offers a mature explanation of how he'll explain conception to them, which, for all his good intentions, can't quite elude the ludicrousness inherent in the penis.
He rather has his cake and eats it by chastising those who inexplicably perceive IVF as an erotic phenomenon - even the Swedes aren't that kinky – using it as a setup for an entertaining rant at his 21-year-old colleagues on the circuit complaining about their uncomplicated sex lives, his contempt fuelled by lack of sleep and a dim memory of what it is to be similarly engaged.
Although he's been performing in the UK for several years now, Persson still has to contextualise himself for an audience to an extent, offering some simple but amusing takes on Swedish stereotypes. As part of this though, he also indulges in rather too many asides, especially at the top of his set, tiny tangents that sometimes can't justify the disruption to his flow.
This is a minor quibble though, for a warm, winning show that retains enough mischief and irritability to prevent it becoming mawkish.
Review date: 21 Aug 2014
Reviewed by: Jay Richardson
Reviewed at: Stand 5
Recent Reviews
What do you think?