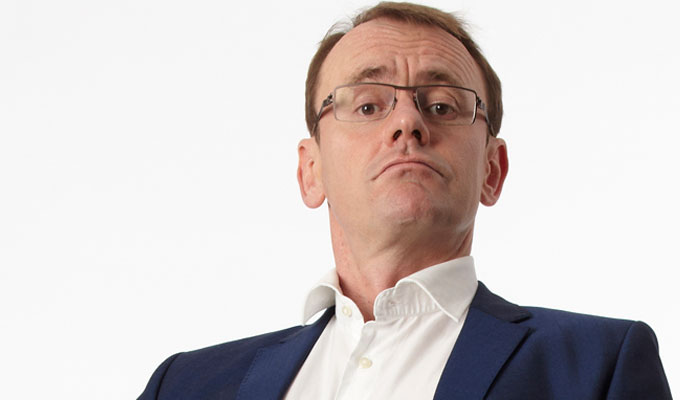 Sean Lock
Date of birth: 22-04-1963
Date of death: 18-08-2012

15 Storeys High
Why did it take Sean Lock's death for 15 Storeys High to make it to iPlayer? The comedy stands up remarkably well almost two decades on, while in its time it was hugely influential in the transition from big studio sitcoms to more naturalistic styles.
The Office and The Royle Family, both still on regular repeat cycles are held as exemplars, but this contemporary holds its own against such high-profile game-changers.
Even compared to them, it looks deliberately drab, shot in a grainy, washed-out Dogme style to reflect the mundanity of the lives Lock is depicting.
He plays Vince, a downbeat, possibly depressed tower-block resident, weirdly content in his own isolation, who has reluctantly taken in lodger Errol (Benedict Wong). But Vince is reluctant to even share his sofa: 'How long do you reckon you'll be sitting there?' is one of the first lines he says.
Yet – as in everything Lock did – he superimposed an inventive surrealism upon the unremarkable. Vincent has his interests, however misanthropic or trivial – such as his pride in Tesco loyalty points he has painstakingly built up which prove a pivotal plot point in episode one.
Indeed, 15 Storeys High has a tight story beneath all its longueurs, with strands entwining towards an inevitable conclusion. Probably the best scene in the opening episode has Vince haggling with the buyer of his sofa (Chrissie Cotterill) who's convinced he's middle-class and can afford to give her a bargain. It stands alone as a great sketch, but also leads to a rewarding payoff later.
Other scenes are actual sketches as we momentarily eavesdrops into the lives of other tower-block residents, yet the distinctive tone of 15 Storeys High blends these into the narrative element seamlessly.
Vince and Errol have a lovely dynamic: the world-weary cynic sharing his opinions with the naive, more optimistic flatmate, absorbing them without realising how peculiar they are.
Vince is also a low-key fantasist, too, absorbing stories and passing them off as his own – perhaps even believing they did. Anything to add interest to his dull life.
That leads to the typically offbeat conclusion to episode one in which he calls a 'Womble pile-on' from his childhood. In many hands, this would be played as an outrageous over-the-top physical scene. With Lock's morose voiceover and the bleached-out footage, it seems more like a survivor relieving an horrific trauma as part of their therapy. That's the sort of unique take that made Lock stand out among his peers.
After 15 Storeys, he spent the next two decades creating some fantastic stand-up and memorable panel-show moments. But what a loss that – having been bruised by the BBC's disinterest in this gem – he would never return to making a sitcom.
• 15 Storeys High was finally released on BBC iPlayer this weekend.
Read More
Published: 31 Aug 2021
The Greenwich Comedy Festival is always a late-summer…
5/09/2019
You know it's a good gig when even Sean Lock…
17/09/2018
Sean Lock has built an enviable reputation on scatterbrained…
1/05/2013
The Greenwich Comedy Festival seems to get bigger each…
18/07/2012
Because it's backed by uber-agent Addison Cresswell…
9/10/2011
You know you've got a strong bill when Sean Lock's…
22/07/2011
This is comedy as an endurance event – the sort…
25/05/2011
Sean Lock is one of stand-up's great lateral thinkers;…
5/03/2010
The final day of the carnival began for me with one…
27/07/2009
Day three brought 16 comics in four shows over nine…
26/07/2009
Day two began with cancellations as Jason Manford stayed…
25/07/2009
Only in Ireland could a comedy festival open on the…
24/07/2009
Amnesty International's Save the Human Campaign received…
1/01/2008
There's not a lot of hoopla about a Sean Lock show.…
14/09/2007
You wouldn't think it to look at him, this well-dressed,…
1/01/2002
When Lock takes his audiences on offbeat journeys…
1/11/2000
Products
Past Shows
Agent
We do not currently hold contact details for Sean Lock's agent. If you are a comic or agent wanting your details to appear on Chortle, click here.