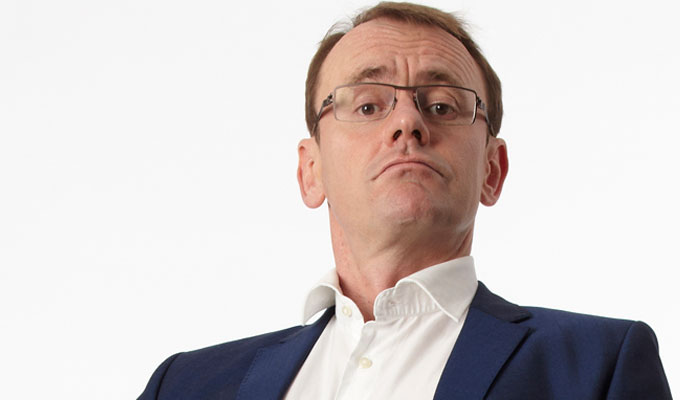 Sean Lock, Henning Wehn, Rosie Jones, Tom Lucy and Kiri Pritchard-McLean
You know it's a good gig when even Sean Lock can only get a middle slot; but that's typical of the embarrassment of riches on offer at the Greenwich Comedy Festival – more than enough to lure people into a marquee on a glorious summer's afternoon.
As host, Kiri Pritchard-McLean's force of personality heaves the audience towards feeling the sort of anticipation such an auspicious gig deserves, despite pockets of sluggishness. In her spangly leotard, she reveals she has OCD, but she definitely has focus when it comes to getting the job done. After all, she's done a Screw-Fix Christmas party, so a largely middle-class tent should be a cakewalk.
And when it comes to her prepared material betwixt the banter, she's boisterous but sharp, with tales of sexual exploits (and its aftermath) told with vim and a raucous candour.
First up is Tom Lucy, who has a touch of the compere about him, too, enjoying an easy back-and-forth with the audience. While a slightly camp charisma makes him incredibly personable, his subject matter can be predictable and the wiring formulaic.
Not only will the 'fit mum' topic evoke The Inbetweeners, but the story about an over-eager date will call to mind Alan Partridge – but nonetheless it's terrifying if true. Elsewhere it's parents on Facebook and going on Tinder dates, with Lucy wishing the process was like Amazon 'If you liked X, why not try Y'. Some lines are better than this, but it's generally easy pickings.
After the first break, Rosie Jones exploited every scintilla of repressed awkwardness the audience feel about seeing a disabled woman on stage. Tensions are dissipated with an innate sense of mischief, which starts cheeky and gets a little bluer, with a sexual fantasy about Ryan Gosling that may well catch you out.
As a comic with cerebral palsy, her speech is necessarily slow, but she uses that to draw the crowd in to longer scenarios, teasing them along with a storytelling skill before pulling the rug from under them. And if you think having a disabled comedian on the bill is an exercise in box-ticking, she's ahead of you there, too…
Sean Lock might have been the most established act on the bill, but that doesn't mean he's playing safe. An introductory bit about #MeToo was self-deprecatory, but he dared to test the mood of the room with a suggestion that the hashtag is too wide, encompassing the mildest of sexist behaviour up to serious crime. Not everyone went with him, though, and he advisedly backed off.
Otherwise there was the happy mix of cynicism and silliness that he's made his own, including some completely unjustified misanthropic anger vented towards people just for drinking coffee. The image of him with some penguins is hilarious, as is a routine that can be summarised as 'sexy cheese' – while he can't help but take a swipe at his Cats Do Countdown colleague Jimmy Carr over his tax status.
If his Greenwich appearance is a work in progress for a yet-to-be-announced tour, fans of grumpy surrealism are in for a real treat.
Headlining, Henning Wehn opens his set with tried-and-tested acknowledgement of the cultural stereotypes of the lazy Brit and the efficient German, while patting himself on the back at how well he's assimilated when it comes to colloquial speech.
Yet he maintains both Teutonic competence and the detachment of a foreigner as he chuckles at the state of Britain, especially the Brexit omnishambles – praising the Leavers for doing what Otto Von Bismark could never do, and isolate Britain from the continent.
Wehn is not a passionate political comedian, just an interested observer, and it's with a wry amusement that he comments on the crisis, as well as older news stories such as the 'dob in an illegal immigrant' van Theresa May sent round when Home Secretary.
He's got the understanding that UK society is all down to infinitesimal gradations of class, vastly magnified – a phenomenon he observes first-hand at a darts match. He doesn't need do much but relay the banter from the hall to get the laughs. It would, after all, be inefficient to add needless commentary.
Review date: 17 Sep 2018
Reviewed by: Steve Bennett
Reviewed at: National Maritime Museum
Recent Reviews
What do you think?