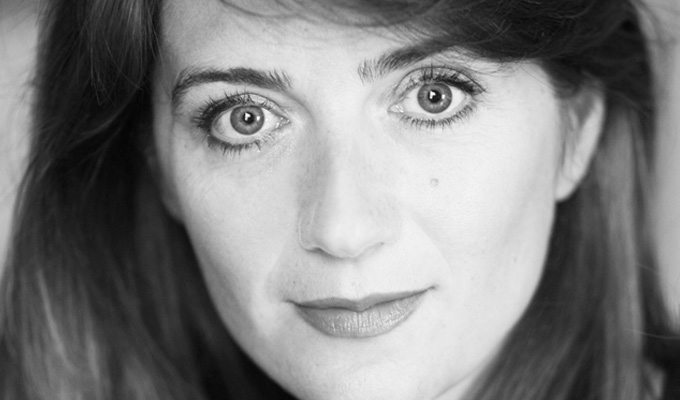 Suki Webster
Comedy actress and improviser with
Paul Merton
's Impro Chums and The Comedy Store Players. She married
Paul Merton
in 2009
Read More
Suki Webster's Guest Speaker
Dedicated improv venues are springing up all over the county, although it still seems like a form that, like poetry, has more practitioners than consumers. Yet while the scene is awash with the unskilled, there are experienced hands who deliver a consistency with their spontaneity, with the Comedy Store Players remaining the gold standard.
Suki Webster's a regular with them, and recruits others for this new format, in which each comedian has to improvise on their own for ten minutes on a subject – with extra rules designed to trip them up that might be familiar from team games.
Tonight, Webster adopts the character of a business leader delivering an inspirational rallying cry to her sales team hawking trouser braces – the audience's suggestion – while occasionally plucking her next line, sight unseen, from a bowl full of our contributions, each one making the pep-talk take a surreal turn. It works well, although there are diminishing returns as it's effectively the same step-change each time she draws a new non-sequitur.
Lee Simpson fares best, playing a vicar delivering a sermon chastising his congregation for the sin of shaving a goat, extra challenge coming from the insistence that his speech must be delivered in rhyme, adding a certain anticipation after the first half of each couplet, though he's such a pro that he always seals the deal.
Bryony Redman is a barrister defending a sandwich thief in a courtroom scene into which she injects some savvy political quips. Her argument is steered in fresh directions with a 'new choice' call from the wings every so often, forcing her to change tack into surreal territory.
Niall Ashdown is a bit rambling in his speech as a headmaster giving his school a ticking-off, though the laughs come from the insistence he change accent every few sentences, the running joke of trying to master the Shetland Islands brogue striking home.
The show is bolstered into a full evening by a first half of traditional short-form, Whose Line Is It Anyway? type games… which despite their ad-libbed nature do fall into a very familiar pattern when you've got improvisers who know what they doing: the expert speech translated from a foreign language, the 'freeze' tag game, the three-headed expert and so on. The comfortable conventionality of this is probably evidence of why improv needs to find new formats such as Guest Speaker.
But it was all lapped up by a full and enthusiastic audience at The Miller in London Bridge. Possibly too enthusiastic as the rugger-club hollers of 'way-hay' on every innuendo (of which there were quite a few) and haughty guffaws even on set-up lines are a distraction for everyone else, and sometimes the improvisers.
Read More
Published: 16 Jun 2017
Paul Merton's dramatic debut at the Edinburgh Fringe…
4/08/2014
This is a show about the time Suki Webster was best…
1/01/2014
This bizarre show is a confusing mess of half-formed…
1/01/2014
Past Shows
Agent
We do not currently hold contact details for Suki Webster's agent. If you are a comic or agent wanting your details to appear on Chortle, click here.