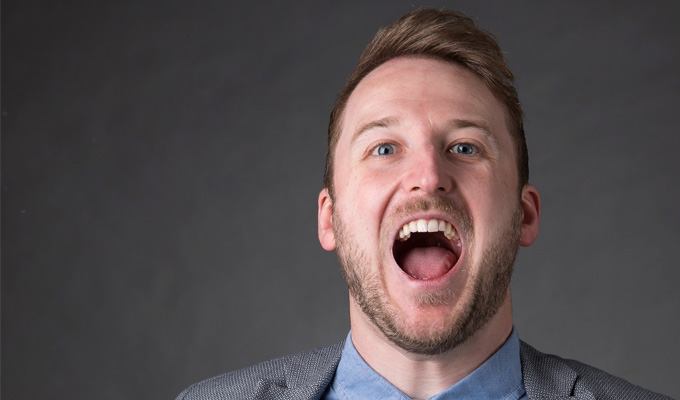 Stuart Mitchell
It's all lies...
Jack Whitehall's agents have rubbished claims that their client stole another comic's material and used it on Mock The Week.
New Scottish comedian Stuart Mitchell alleges he was the victim of a 'classic case' of joke theft when a gag similar to his was used on the BBC Two show last week.
However, Whitehall's agents point out that he had been using the gag on stage for well over a year – almost as long as Mitchell has been performing – and say their client has never even heard of the 27-year-old Glaswegian.
On Mock The Week, Whitehall joked about being heckled by a student at the University of Warrington who shouted: 'Mate get on with the jokes, I came here for the comedy'. Whitehall's retort was: 'No, you came here because you screwed up your A-levels'.
Mitchell, who alleges that stealing gags was widespread on the open mike circuit, claims he first came up with the gag in February last year, when he was on a stand-up course run by Scottish comedian Charlie Ross.
Here is Mitchell's routine, recorded at the Glasgow Stand in May this year, while Whitehall can be seen doing similar material on the iPlayer version of Mock The Week, about 15 minutes in.
Mitchell said: 'As you will see from the clip I talk about a college in Scotland that is known for being rather shit. Although Jack doesn't do the material word-for-word this is a classic case of word switching to try to make the gag your own.
'There seems to be a selection of "star" comedians at the moment who are under pressure to generate material and I think a writer has clearly seen me perform either in Scotland or in England.
'It is soul-destroying when you work hard writing material and someone else uses it on stage – especially on television. Although this is common on the open circuit I was truly shocked to see this on Mock the Week. I have no idea if my material has been passed on by a writer'.
However, Whitehall has been performing the gag for a long time himself. It featured in his 2009 Edinburgh show, and was mentioned in reviews from last August – which would normally suggest he was performing it a few months earlier than that.
His agents Chambers Management said: 'Jack Whitehall wrote and started performing the joke he did on Mock The Week recently well over a year ago and has never seen or heard of the comic making these accusations.
'Many promoters would support the fact that Jack has been doing this joke for at least a year and probably nearer two.
'The comic you refer to is making an incorrect and defamatory statement which is hugely damaging to our client.'
Mitchell launched his career by asking a question from the audience on Frank Skinner's Opinionated talk show:
He added: 'It has always been a dream of mine to perform on Mock the Week especially after the reaction I received on Frank Skinner. I would however expect to be allowed to perform my own material and not through a middle man.'
CHORTLE SAYS
While it's possible that the gag was lifted – though hard to determine since both comedians appear to have started using it at about the same time – it is far more likely to be mere coincidence. The line is not particularly distinctive, as it's already a widespread joke that students can wind up at certain colleges because they didn't get the grade they wanted, so it's not a huge leap to extend that to the contested wording.
It's naïve for a new comic to think that a joke they came up with on their first comedy course is so original no one else could possibly have ever have thought it, when even experienced comics are hit by coincidence.
One-line merchant Gary Delaney discovered that fact this week when, in the wake of Norman Wisdom's death, he tweeted the gag: 'Oooh, Mr Grimreapersdale' A few hours later he posted: 'You know when you're really pleased with a new topical joke? Then you see this: http://twitter.com/#!/search/Grimreapersdale' – which proved that others had come up with the gag at exactly the time, or even earlier.
Whitehall may be guilty of expressing an idea that's not unique – but then so could Mitchell. It's a huge leap to turn that into the damaging accusation that a fellow comic deliberately stole the gag and passed it off as their own.
Coincidence happens, and unless a widespread pattern emerges, the loss of one gag probably has to be chalked up to experience, and used as a spur to write more material.
Read More
Published: 7 Oct 2010
Past Shows
Agent
We do not currently hold contact details for Stuart Mitchell's agent. If you are a comic or agent wanting your details to appear on Chortle, click here.