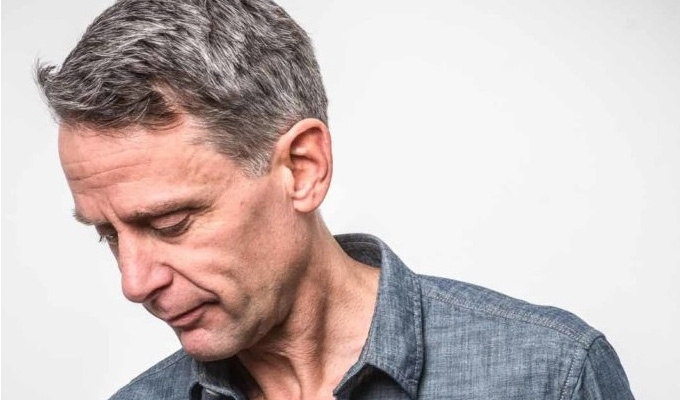 Scott Capurro
Date of birth: 10-12-1962

Comedy Unleashed: The new free speech comedy night
Note: This review is from 2018
There's always somebody who has to ruin it.
Comedy Unleashed has been widely advertised as a new free-speech stand-up night, where comedians have the safe space to say what they want, without fear of falling foul of the politically correct police.
Yet during the bonfire of taboos that is Scott Capurro's headlining set, one front-row punter was drawn to his feet to heckle. His vocal complaint was that the American provocateur was 'very unimaginative' – although the complaint cannot be separated from a suspicion that our man found something not to his taste in a wilfully confrontational set that covered rape, 'retards', AIDS, Holocaust denial, Islam, female genital mutilation, Madelaine McCann and transsexuality – all with the empathy and compassion of a Britain First supporter.
The rest of the audience at East London's Backyard Comedy Club joined Capurro in slapping down the interruptor, but the irony of someone taking offence at such as this is inescapable.
Capurro, arch and acidic in his baiting of audience sensibilities, also elicited a more widespread boo when he suggested that Brexit might not be such a good idea, an indication that a free-speech night has been taken, in some quarters, as a place where jokes HAVE to be right-wing and anti-EU. Those points of view allegedly so forbidden in Britain, a Conservative-run country heading out of the common market with the rabid backing of almost every national newspaper… Still, it's a failing of the left that its concerns for inclusivity mean it has lost the moral high ground on free speech in many people's eyes.
A straw poll conducted by compere Dominic Frisby revealed that the Comedy Unleashed audience had a make-up almost unheard-of in comedy. 'Who voted Tory?' he asked. A noticeable majority cheered. Same for Leave, although the opposite sides were well-represented, too. He made a good job of explaining the ethos of the night: that we should be able to laugh at viewpoints we agree with as well as the other side (a subtlety that may have gone over our heckler's head). And surely a bit less us-and-them tribalism would be good for everyone.
Andrew Doyle was a good choice of opening act to set that tone. He's smart and funny, politically clued-up and happy with nuance. He's a lefty who voted Leave; a gay man who rolls his eyes at some of the micro-categories of gender identity in the LGBTIQCAPGNGFNBA 'community'. Something of a contrarian, he likes the idea of debate – even if his pro-Brexit stance cost him friends, a fact which cuts to the very point that rather than entrenchment, everyone should be prepared to exchange ideas and have their opinions challenged..
Luckily all this is funny, even if you don't agree with him, as he has an understated charisma and a flair for elegantly impassioned prose. (Including co-writing the ranty monologues of spoof news reporter Jonathan Pie).
Opening the second section was nice-guy Tory Geoff Norcott, who some would see as a walking oxymoron, trying out a new monologue for this week's Mash Report, which was understandably a little rough around the edges. But you would have to be a particularly blinkered Corbynista to think that the divine leader is above criticism, which Norcott serves up with more cheek than aggression.
Away from the politics next – but into a different kind of potentially choppy waters – as Karen Hobbs delivered a set about cancer. There are hard-hitting gags here that are near-the-knuckle, but as a survivor of a cervical tumour, she certainly has the right to tell them. As a relative newcomer set's a little uneven – stuff about her name seems trivial in comparison and the tone shifts around – but her best lines are uncomfortably excellent.
Isa Bonachera is another newer comedian with some great jokes but some inconsistency – though she is getting better on that front at every outing. As a surreal act, whose eccentricities are exaggerated by a strong Spanish accent, she had no special connection to the theme of the night, but it's probably the smart thing not to have every comedian follow an agenda.
So the liberal establishment got more of a tickling than a kicking over the night. Capurro might have been extremely un-PC, but if you work from the very reasonable assumption that he doesn't mean any of his judgemental vitriol, the lines are funny because they are so transgressive, not because of them. Does that mean his gags could give succour to the genuinely hateful? Possibly, although an outspoken gay man from the liberal enclave of San Francisco would be an unlikely pin-up for the intolerant.
• The next Comedy Unleashed will be at the Backyard on March 13, with Will Franken, David Mills, Damian Kingsley, Olga Kockh and Joleed Farah.
Read More
Published: 14 Feb 2018
Scott Capurro is like a plague of locusts. He doesn't…
19/08/2014
This is not your usual venue for stand-up. It's mid…
16/12/2013
Hillsborough, Levenson, MPs' expenses – trust…
21/09/2012
There are a few strands to Scott Capurro's typically…
5/08/2011
As San Franciscan compere Scott Capurro acknowledged,…
28/03/2010
If any chat show is only as good as its guests, Scott…
1/01/2009
Scott Capurro has been positively goading people to…
1/01/2008
Scott Capurro is brutally uncompromising in his attitude,…
14/12/2007
It is hard to imagine any other critic being awarded…
1/01/2007
Capurro is no stranger to opening his mouth and telling…
1/08/2006
Scott Capurro is not a comic known for shying away…
1/01/2004
For all his attention-seeking attempts to outrage,…
1/01/2002
This two-man playlet, with Capurro and Cardone playing…
1/01/2001
Past Shows
Agent
We do not currently hold contact details for Scott Capurro's agent. If you are a comic or agent wanting your details to appear on Chortle, click here.