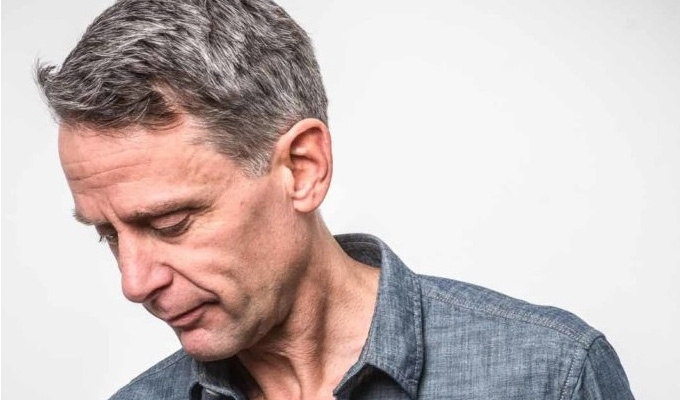 Scott Capurro
Date of birth: 10-12-1962

My biggest lesson? Never touch an audience member aggressively
First gig
When I was 16, and already an ambitious musical comedy actor, I was asked to host a variety show for my high school's drama department. In a navy blue cardigan and shiny adult brogues,
I introduced the show impersonating Mr Rogers, a popular children's television personality. I mimicked his highly recognisable voice and described a small plastic frog in the palm of my hand as my best friend. I was well received, and the bit increased from five minutes on the Thursday to 15 on the Saturday, the final of three shows.
Having my peers laugh with me instead of at me was exhilarating. I felt for the first time during adolescence in control of people's response. I was officially hooked on comedy like cocaine (which accompanied comedy later).
Worst gig
My worst was a gig that taught me the big lesson: Never aggressively touch an audience member. Seems obvious, right?
But I was tired (lie) and closing a comedy show in the cellar of a restaurant in Central London. It might've been a Christmas office party, and Maddy McCann had been missing for quite some time. Her parents' neediness seemed a reasonable source of humour; but not to a lady in the corner, who walked toward the stage and yelled: 'I don't have to put up with this fucking queer.'
Whether or not I'm a fucking queer is for me to say. Yet I was lost for words, so I hit her on her right temple, using an open palm, which is a totally legal gesture in a schoolyard.
She said: 'Oy, I just had head surgery,' and my response was: 'Well it didn't fucking work.'
I was banned from the club. She threatened to sue. Her office mates reminded her of her own vulgarity and encouraged her to back off.
If only I'd handled her verbally…. but then I wouldn't have this story with which I can close a gig in Manchester.
The gig that changed my life
Must've been the Edinburgh Fringe, 1994. I arrived with a solo show, a 'brave journey' mapping my coming out professionally. I'd been an openly queer comic for 12 months, had never headlined and thought the Fringe was a tent in a field with a few comedians and maybe a poet.
The London preview had been a disaster, but my hippy friends in San Francisco encouraged me to not change a word. 'Fuck em, you paid for your flight!'
I hadn't, but I agreed with them and on the first night in Edinburgh, in a church that's no longer a venue, I performed the show as scripted, with its contemplative moments and joke inserts, the milk frothing component on the cappuccino machine in the back stifling half my punchlines.
It went well enough, sold out and moved to a much larger stage above the church cafe. I was honoured to win the Perrier newcomer with that show, and 24 years later I'm still in the UK, chasing the comedy dragon. I never expected to make this a career, but here we are.
Most frightening heckler
At a large club in central London, on a sold-out Saturday night, I was opening the second half. Crowd was boozy but not scary, and about two minutes into my act, during a quiet moment – the first of many that night – I and the audience heard, from a low toned, confident male voice: 'I'm gonna kill you.'
I saw the security running toward the heckler's seat, toward his voice actually, it was too dark to exactly identify the menacing source, and he repeated himself: 'I'm gonna kill you.'
I told him I'd cut his head off first, and then sort of lifted my mask, revealing the depth of anger I can express when threatened. I'm from San Francisco, I've set police cars on fire and smashed City Hall doors. When cornered, I scratch back. Never got the crowd on my side, they decided I was more frightening, which as a gay is a personal achievement.
Most unusual location
In Stavanger (which is in itself a bit weird) I did a gig in a toilet. The festival in a warehouse promised, in printed literature, all areas in the structure would be utilised. I'd been assured a relatively traditional space, but when I questioned the quality of pre-packaged, minimalist food served to performers who'd good-naturedly endured a very early flight and were famished, my spot was crossed off the organiser's clipboard and I was delegated to a soiled WC that held four, with me telling jokes whilst perched on the loo seat.
I'd performed in toilets before, but never aurally, and the outcome was, as in the past, a sweaty, awkward mess. Punters looked up, I looked down. Same ol'. Only this time, no payoff. No big finish. Just a dribble, as I stepped down from my throne, washed my hands and got on Grindr.
• The Trouble With Scott Capurro is on at Heroes @ Boteco at 21:20. His website is scottcapurro.com.
Read More
Published: 6 Aug 2018
Andrew Maxwell has been crowned King Of Comedy in…
28/10/2004
David Copperfield has become the third and final…
14/10/2004
David Copperfield has become the third and final…
14/10/2004
The comedians in E4's Kings Of Comedy have…
11/10/2004
Scott Capurro has become the first comic to be evicted…
7/10/2004
Eight comics are to eat, sleep and perform together…
3/10/2004
A batch of new comedy CDs have been released today…
30/09/2004
Comic Scott Capurro has said he finds cannibalistic…
4/04/2004
Past Shows
Agent
We do not currently hold contact details for Scott Capurro's agent. If you are a comic or agent wanting your details to appear on Chortle, click here.