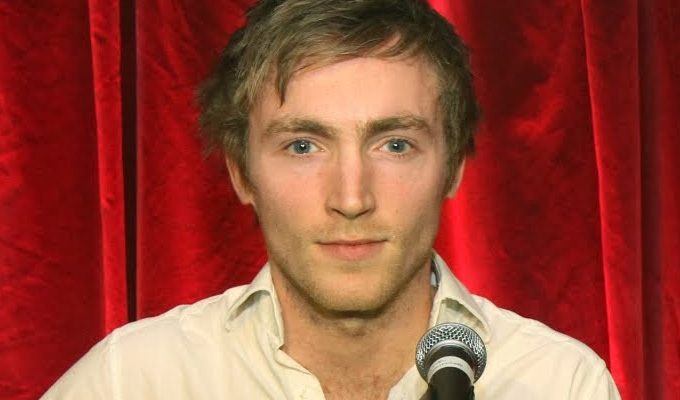 Rob Carter
Finalist in the 2011 Chortle Student Comedy Award
Read More
I Spy With My Little Eye Something Beginning With Why Have You Been Sleeping With My Wife?: A Play by Christopher Bliss
Pinter, Beckett, Chekov… Bliss?
Not that the inept-but eager writer Christopher Bliss would know who any of the others in that list are, but he is making an audacious bid to join the pantheon of great playwrights by turning his dubious talents to the stage.
Bliss is billed as the worst novelist in Shropshire, but that's surely immodest. He must be the worst novelist in all of the West Midlands, if not the East as well. He has a cloth ear for dialogue, no understanding of emotion – especially when it comes to romantic liaisons, which seem very much out of his field of experience – and plots of so little complexity he makes Mr Men author Roger Hargreaves look like Gabriel García Márquez.
But the one thing you can say is that he will never leave theatregoers confused. 'Hello, my name's Michael,' is his first line to another character. 'But you already know that because…'
'…I'm your wife,' his friend Janet replies, explaining her character too.
And he is budget-minded: I Spy With My Little Eye Something Beginning With Why Have You Been Sleeping With My Wife can be performed with just three actors, thought the subtle device of having characters dash to the toilet at key moments. At last, a writer not afraid to make his plays so realistic that it incorporates this most base element of the human condition: peeing.
His first attempt at the 'live novel' format that he thinks he's discovered involves adultery, murderer and the supernatural. Set in a tiny Shropshire village, it tells of the bitter, deadly rivalry between the popular postmaster and a villainous newcomer, a newsagent who sets himself up as a rival in both business… and in romance. Boo!
Rob Carter, the comic inside Bliss's turquoise nylon windcheater, has a great way with clunky writing, perfectly capturing the naive point of view of a man-child with such limited experience. 'Ruddy hell!' is the strongest expletive he can come up with.
The character's enthusiasm for the work he knocks out at a prodigious rate from his bedroom in his mum's house is endearing. Though he's clearly a deluded idiot, he's always so positive that we are always on his side, exuding an enthusiasm that gets over the fact that this delightfully titles play is no Acorn Antiques.
It is also slightly less nuanced in its bad prose than in Bliss's previous Edinburgh shows where he would read out his novels, since showing the action leaves less opportunity for dismal attempts to describe it, especially when it comes to convoluted metaphor.
But he gets the audience fully involved, primarily in encouraging pantomime-style over-reaction to the events on stage, but also with some benign interaction. For all his precisely imprecise writing, Carter gets some of the biggest laughs through these more spontaneous moments, demonstrating an extra string to his bow and underscoring his command of a well-formed and likeable character full of comic opportunities.
Read More
Published: 7 Aug 2018
The internet has made creators of us all, which makes…
17/11/2017
Rob Carter was knocking around in 2011-12 as a bright…
17/08/2017
The room above the Camden Head pub in Camden has been…
26/10/2016
Rob Carter writes awful, clunky dialogue… and I mean…
16/09/2016
Proof, were ever it needed, that the geeks have inherited…
11/12/2013
No star rating for this – as you'd probably never…
29/08/2011
The Musical Comedy Awards are a great idea, my fellow…
29/03/2010
Agent
We do not currently hold contact details for Rob Carter's agent. If you are a comic or agent wanting your details to appear on Chortle, click here.