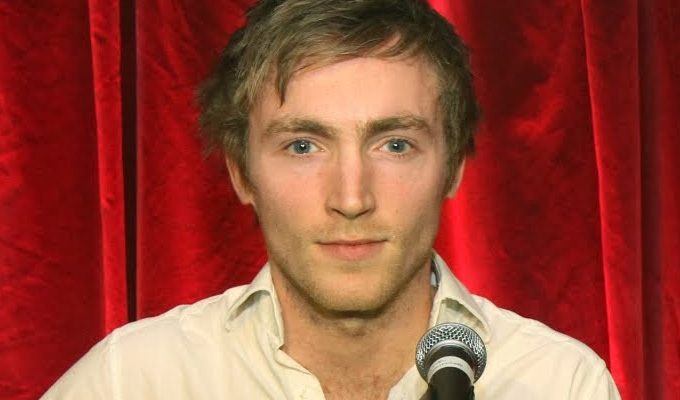 Rob Carter
Finalist in the 2011 Chortle Student Comedy Award
Read More
'One of the finest mental breakdowns I've ever seen'
Monty Python: Whicker Island
These guys really are the height of silliness, something I'm extremely fond of. Palin's my favourite Python, and this is my favourite Palin bit – the interview in the middle. Something about the musical rambling, head-jangling nonsense that really gets me going.
Watching them all dick about playing the same character is equally delightful, and it's a great example of them pushing something to its extreme, having as much fun as possible, and getting out before it gets predictable. Precision nonsense at its best.
How To Get Ahead In Advertising
This is the first film I fell in love with. Written and directed by Bruce Robinson after Withnail And I, it follows Richard E Grant as a maniacal advertising executive, delivering one of the finest mental breakdowns I've ever seen.
His character, Denis Dimbleby Bagley, has become so stressed trying to come up with a slogan for a pimple cream advert, that he develops a boil on his shoulder that grows a face and starts to speak to him.
In this scene, the boil gets so large that it takes over his own head. Nuff said.
Lonely Island: Threw It On The Ground
As an ex-musical comedian myself I still have a soft spot for the odd chuckle-ditty, although there are maybe only ten songs that actually make me laugh, and this one is top of my list.
I think there's no greater skill in comedy than creating a character that you never knew existed but that feels instantly recognisable. The only downside is everything that happens after 2 minutes. A truly bizarre ending to an amazing song, the last 45 seconds is dreadful. Almost as bad as Three Beat Slide (if you don't know them, look them up NOW).
Sacha Baron Cohen
Creating Ali G and Borat is the greatest achievement in character comedy I can think of. No one has created two such distinct, memorable characters that completely inhabit their own worlds.
Although many of his jokes are more divisive now than they were 10 years ago, I think he did a lot to expose racist and homophobic views towards his characters. I genuinely think I've laughed more at his stuff than anyone else's; his characters feel exaggerated and nuanced at the same time, and this clip reminds me that some of the best comedy is the simplest.
Alan Partridge audiobooks
I couldn't leave him off. For me the greatest character of all time, and if you haven't listened to his audiobooks I BEG you to listen to them. I, Partridge and Alan Partridge: Nomad - 11 hours of gold, and if Coogan sat on a chair and read an hour's worth of the books every Edinburgh he'd be nominated for the Perrier 11 times in a row. But I can't get a link to his audiobooks, so I've found my favourite Partridge moment.
Dear Joan and Jericha
I wanted to put something new on this list, as my top six comedy things will inevitably be in constant flux; I found this last week and I absolutely love it.
I've been laughing out loud on the train, a genuine first for me, and I actually missed my stop I was enjoying this so much. It's a podcast from legends Julia Davis and Vicki Pepperdine. And on the subject of best comedy characters of all time, watch Vicki in Camping (written and directed by Julia). Absolute dream team.
Listen here
• Rob Carter appears in I Spy With My Little Eye Something Beginning Why Are You Sleeping With My Wife: A Play By Christopher Bliss at 19:00 in the Pleasance Dome.
Read More
Published: 12 Aug 2018
Agent
We do not currently hold contact details for Rob Carter's agent. If you are a comic or agent wanting your details to appear on Chortle, click here.