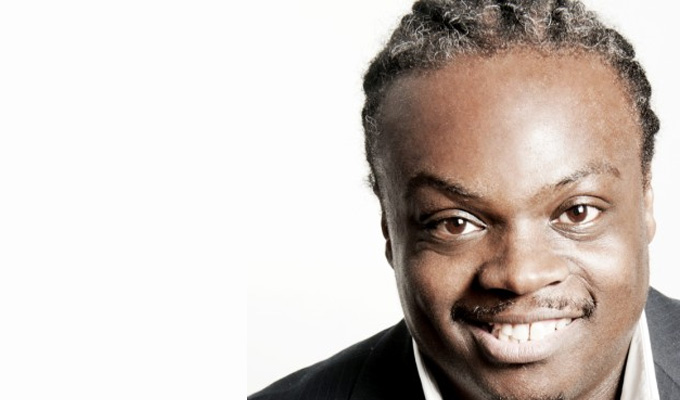 Quincy
The Book Of Quincy
Note: This review is from 2011
It only seemed fair to warn Quincy ahead of his show that, given there were only two of us in the audience, half of them were planning to review it. But the plucky comedian wasn't going to be intimidated, and was fully prepared to plough on before a pair of late arrivals eased the tension by doubling the size of the 'crowd'.
It's testimony to Quincy's skill and his charm that all thoughts of awkwardness disappeared as he performed his show.  He opened by asking us if we have any phobias. I stayed silent about his fear of small crowds and left it to one of the latecomers to reveal an irrational fear of the dark.  This proved handy for Quincy as it was the very fear he wanted to talk about.  His fear of the dark is both literal and metaphorical and he uses it as a cipher for more meaningful concerns about the direction his life is taking as he enters middle age.
After running through some material about his dislike of horror movies, Quincy moved on to his main theme: a 'spiritual reassessment' of his life that he conducted as he approached his fortieth birthday.  Luckily, each member of his small audience could empathise with this as they were all older than Quincy himself.  After describing how he was worried that his advancing years might mean that he's about to become as lecherous as his father, he tells us about a cousin and a friend who both found God after leading lives chequered by criminality and a complete disregard for the welfare of others.
Quincy uses this to introduce an examination of four of the world's major religions to see what they could offer him. It's a premise with a fair bit of potential and while Quincy doesn't entirely squander the opportunity, he doesn't provide any searing insights either.  His charm prevents the material from ever being offensive but it is over-reliant on cliché and occasionally drifts towards lazy stereotyping of the kind that you expect modern comedians to avoid.
Anyone who's seen Quincy's material about how he came to be a single father will know he's capable of expertly combining comedy with emotional insight – but this set doesn't pack such a punch. He needs to rely less on his affability and focus more on writing a set worthy of his previous work.  
In fairness, it's perfectly possible that the dynamic provided by more bums on seats would have enabled him to further explore his subject but, without that possibility, the material felt thin. Quincy's stagecraft is impressive and if the writing matched it, he might be able to avoid the ignominy of single-digit audiences on the Free Festival and banish his fear of under-achievement.
Read More
Published: 24 Aug 2011
An odd one this. Quincy's first ever performance…
1/01/2008
Quincy is a hugely likeable, warm London comedian,…
1/01/2008
Quincy's one of those effortlessly affable comics…
4/11/2004
Past Shows
Edinburgh Fringe 2008
Edinburgh Fringe 2011
Agent
We do not currently hold contact details for Quincy's agent. If you are a comic or agent wanting your details to appear on Chortle, click here.