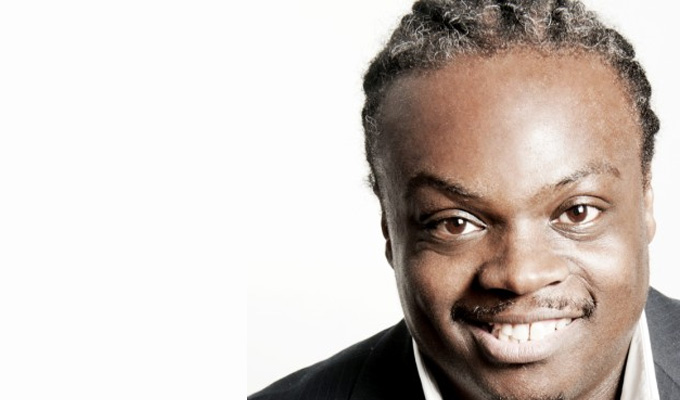 Quincy
Was Lenny right?
The recent speech by
Lenny Henry
about the lack of diversity in TV raised some uncomfortable and contentious questions about the lack of black comedy talent.
Claiming that talent scouts weren't digging deep enough for new stars, Henry said: 'Do they go to the Hackney Empire, or any of the ethnic minority nights put on by Upfront Comedy or Harmony Productions all over the country? Or do they head down to Jongleurs, the Comedy Store, or up to the Edinburgh festival, the same as they always do?'
The resonant point in his speech is the 'otherness' of the vibrant black comedy scene, away from what's alternately described as the 'mainstream', 'white', or 'Time Out' circuit. The two worlds exist side by side and, while some acts such as Rudi Lickwood, Junior Simpson, Gina Yashere and Curtis Walker have criss-crossed them both, the black circuit is an experience seemingly untapped by the TV industry. The recent development of the black circuit, however, promises that this apparent neglect will become more unlikely in the future.
For the most part the 'black comedy circuit' is a collection of big one-off gigs in theatres, including the iconic Hackney Empire, home of The 291 Club that ran on ITV in the early Nineties and known as 'London's answer to the Harlem Apollo'.
The theatre gigs are marketed with the kind of feverish pitch more reminiscent of music gigs, they are an 'occasion' because of their irregularity. Quincy, a comedian who plays both circuits, sums up the difference between them by saying: 'On the black comedy circuit you can earn enough to buy a new car, on the white circuit you can earn enough to run it.'
As I discovered, with the help of Quincy, regular black comedy nights, akin to the mainstream circuit are beginning to thrive. Quincy, for example has his own night in Stratford, East London, but when I meet to talk to him we go to Corks Wine Bar in central London where his friend and fellow comic Kojo runs a club called Da Comedy Funhouse.
It's a good evening and I see a solid performance from Annette Fagon, whose impression of her 'syllable-led' beatings from her Nigerian relatives is a very neat take on familiar territory, and another Nigerian comedian Babatunde generates a lot of warmth ranging across a number of African traits from Ghanaian accents to the developed eyebrow raising techniques of Nigerians. Kojo, meanwhile, has some nice lines about 'Sky-Plussing' arguments with his girlfriend so he can come back to them later. It's an evening where there is something for everyone and the fact I am the only white person in the room is of little significance.
Kojo, who came to comedy inspired by watching US stand-ups, is sanguine about whether the success of the black circuit would transfer to TV, as screen crossover is rare. 'Should we really still be talking about The Real McCoy and The 291 Club now – and the fact that there's been nothing to follow Desmond's?'
Kojo echoes many black comedians I spoke to when he says that he feels that TV has adopted a 'one in, one out' policy towards black comedy. Gina Yashere, a finalist in the previous series of US reality show Last Comic Standing, underlines this when she says: 'They are still working to quotas. You get 3 Non Blondes then no one else gets a show.'
Jocelyn Jee Esien, of 3 Non Blondes and her own BBC Two show, Little Miss Jocelyn, agrees. She says she feels the pressure of being almost the only black comic on screen and having to be 'all things to all men'.
'You can't assume that people have seen The Real McCoy, people have forgotten what black comedy shows they've seen'' she says. 'Whatever you do has to be a 100 per cent hit and make everyone laugh from the Queen onwards, especially as there is no other choice at the moment.'
It's ironic that Lenny Henry himself has, to some extent, been the 'one in' and Kojo is circumspect how often Henry goes to the comedy nights he name-checks (Henry's representative was not forthcoming with examples). However, Henry's speech has unwittingly been a riposte to a joke from another black comedian Stephen K Amos that asks 'does Lenny Henry have to die before I get on TV?' Apparently not as Amos stock has risen following appearances on the Royal Variety Performance, Have I Got News For You and Live At The Apollo.
Nevertheless, Amos tells me that after his appearance on Live At The Apollo he was amazed by one top comedy exec who said she'd never heard of him before. Amos' disgruntlement comes from the fact that he is a mainstream circuit regular who has worked Edinburgh for the last four or five years. It's some comfort to him, though, that his Fringe past has resurfaced in that one of the producers he's worked with on radio used to flyer for him. This, he says, is an example that the 'fogies' are on the way out and that a new generation is opening things up. Amos knows he has Edinburgh to thank for his career momentum and it shows that, as far as Lenny Henry's assertions go, it can be different strokes for different folks. Amos is very much a product of the mainstream circuit.
The Edinburgh experience was not a happy one for Gina Yashere, however, whose view of the Fringe is broadly representative of the suspicion many black comics have about comedy's biggest jamboree: 'I hated it. The comedians are being forced to write shows that pander to the critics. I got rave reviews from the audience, but I had people from The Guardian saying I didn't explore my African experiences. When Ross Noble does a show do they say 'Oh my god Ross Noble isn't exploring his Geordie experiences!'"
However, Yashere acknowledges that new acts might still consider going to Edinburgh: 'Just because I am disillusioned with it doesn't mean they shouldn't do it.'
But even Stephen K Amos warns that even if a comic spends the money on an Edinburgh Fringe stint it won't guarantee they get noticed because 'osmetimes the TV people only come up for the last few days when the television festival is on, and if they don't go to that they don't come at all'.
There's no doubting, though, that Amos has had some small screen attention, as has Reginald D Hunter, the American black comic who has now been resident in the UK for the last decade. Hunter, a regular guest on ITV's NewsKnight with Trevor McDonald, recently started to do the black circuit, of which he says: 'The major difference between the two circuits is the vibe, that there is almost an expectation in the black gigs to do some joke or jokes that people can culturally relate to which is depressing. It indicates how culturally deprived black people feel by mainstream entertainment.'
For Yashere and the comics I spoke to like Rudi Lickwood, Kojo and Curtis Walker, this cultural deprivation is a gap they want to bridge with shows that are representative of the black community. Channel 4's Diversity and Talent manager Ade Rawcliffe understands this desire, but qualifies: 'Channel 4 is always open for business if people are funny. In the case of sitcoms it is difficult to find them no matter who they are from, but if someone had a show that had an all black cast and was shedding new light on black life we'd snap their hands off.
'Taking the example of Desmond's, it was something that worked for the time, and ironically, at the time a lot of people wanted to be integrated. Then there was the more multiculturalist outlook and people wanted to see black characters in mainstream shows which has happened in Peep Show and the IT Crowd, our two big sitcoms."
BBC naturally point to Jocelyn Jee Esien and the re-commissioned The Omid Djalili Show, taking a pan-ethnic view, as well as a number of black comedy actors from Louis Emerick in Last of the Summer Wine to Fraser Ayres in The Smoking Room. Perhaps most interesting and most tangible is a BBC Three show called Trexx and Flipside which is currently being filmed, it was created by black comedian Zeron Gibson about two aspiring rappers with an almost exclusively black cast including 1Xtra DJ Peter Dalton (aka MistaJam).
Meanwhile, ITV, who have just started to find their comedy feet again, pick out the forthcoming Mumbai Calling by Sanjeev Bhaskar and featuring an almost all-Asian cast, as an example of ethnic ensemble comedy.
In direct response to Lenny Henry's point about talent scouts, however, the answers from the broadcasters are not perhaps what he would want to hear. On the one hand they maintain that new talent such as Funny Women winner Andi Osho and the musical comedy act Ginger and Black (a white girl/black mane double act) have been spotted, but on the other hand none of them were either willing or able to fully riposte Henry's argument.
Both the BBC and Channel 4 said that commissioning teams had been to the Hackney Empire recently, though not specifically for black comedy nights. Meanwhile ITV's response was that comedy nights are 'attended on the basis that we believe there may be new comedy talent there and not on any other grounds' and furthermore 'we don't think giving specific details answers the question any better and we don't want to offend any performers who have appeared at events not mentioned in a further detailed response.'
Some of what ITV were prepared to admit about programming did, however, chime with what Lenny Henry told the Royal Television Society: 'Rather than writing a character or show around ethnic make up of a presenter or actor we are working towards colour-blind casting and looking for the best, but diverse talent for ITV. We acknowledge we still have some distance to go to get to where we want to be, but feel that we are making progress.'
What Lenny Henry said highlighted the need for timely progress from all broadcasters, and to keep the black comedy circuit on the map as a place to go to look for future television comedy talent. For the moment it seems unlikely that any new programme that will satisfy the appetite for more representational output. This view is summed up by Curtis Walker who believes: 'Until Sainsbury's sponsors a black show, things aren't going to change.'
Julian Hall is the Independent's comedy critic and author of the Rough Guide To Cult Comedy
Read More
Published: 2 Apr 2008
The 30 semi-finalists in the BBC3 New Comedy Awards…
21/06/2003
Matt Blaize (above) has been named comedian of the…
18/02/2002
Past Shows
Edinburgh Fringe 2008
Edinburgh Fringe 2011
Agent
We do not currently hold contact details for Quincy's agent. If you are a comic or agent wanting your details to appear on Chortle, click here.