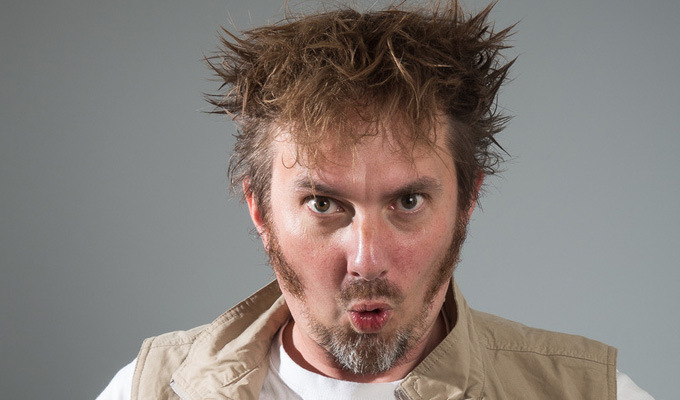 Phil Lucas
Absuridst Brighton-based comedian who makes heavy use of PowerPoint in his act
Read More
NATYs final 2017
Note: This review is from 2017
It's always the most eclectic of the new act competitions, attracting more than its fair share of crazies, hoovering up the peculiar variety turns and oddball stand-ups the others miss. And this year's NATYs didn't disappoint, even if the 'top of the bill' accolade ultimately went to the conventional stand-up of Rahul Kohli.
Sketch groups, too, are part of this contest's tradition, and yesterday's afternoon – yes, afternoon – showcase kicked off with two-hander The Monks, who quickly told us they were Christian, though it might have been better not to have known that since their single, extended skit was about Muslim terrorists. Kevin Moore and Yazz Fetto in many ways sound like an old-school Oxbridge drama school style of act, the kind that once defined Radio 4's comedy output. But the material, about a jihadi beheading video, was much darker. They played out their premise well, considering it was was built upon just the one joke, and exploited the shock factor… but absent was a sense of personality that could make the your favourite performers, rather than just another in the genre.
Yeah Man is hard to judge; he has a disability that makes the stand-up part of his job harder than the comedian part, exacerbated by what seemed by nerves. Really called Josh Robertson, his stage name comes from a catchphrase, or possibly nervous tic, he puts in almost every sentence.There's a nice sense of mischief about him - not least his repeated self-affirmation: 'I'm so funny' though he needs more experience to avoid cheap 'speaking with your mouth full' oral sex gags.
Eilean Harris makes it a selling point that she's Jamaican, but quietly spoken. However, she can turn on the theatricals when she needs to, aggressively threatening us with her fictional machete. The crux of her set was the story of a slimy guy – 'a Persian Simon Cowell' – who picked her up on the train. Her depiction of his gruff-voiced creepiness is a delight, although her writing doesn't yet match her performance, making this seem a bit like an acting show piece. But that soft storytelling style has allure.
Magician Claire Lenahan – some relation to fellow conjuror John who was in the audience to support – displays great crowd work; simultaneously creating energy by clambering into the front rows seeking volunteers while acknowledging that magic is not the sort of skill that gets 21st Century audiences excited. Her trickery is indeed impressive, but so casually undersold that she subdues the reaction she could have got. Meanwhile comedy comes from a bit of business involving her imaginary boyfriend. She's certainly got talents – and is and engaging watch – but needs some focus for those skills.
Donald Trump is so preposterous his words generate laughs alone. That appears to be the premise of Roland Saunders's act as he appears on stage looking very much like POTUS to lip-sync to some of his more outrageous pronouncements. Turns out this is just one of the largely political caricatures he portrays, without ever saying a word himself – which must make him the world's first impressionist who doesn't do impressions. The act lies somewhere between camp drag cabaret and paper costume quick-change artiste Ennio Marchetto, but is very much unique… and very silly. Certainly made enough to earn Sanders second place.
Arielle Souma is a brash French-African woman who steamrollers the audience with the power of her no-nonsense personality, laying down her declamations in a tone that makes it clear she'll brook no arguments. She speaks as a woman with a big appetite: for food, for life and for sex, which can seem comically terrifying. The writing needs some finesse - although she is already stronger on this count than when I saw her in Manchester in November – but her attitude overpowers any resistance.
With a burst of insane energy to close the first half, Michael Clarke took it upon himself to ape the lyrics of Chumbawumba's Tubthumping, knocking back the drinks as Mr Nobacon mentioned them… a touch of comedy's favourite dipsomaniac, Jeremy Lion, in this liver-assaulting madness. That was just the most memorable of a series of chaotic skits that might defy logic, but embrace the insanity. The second half was a performance piece entitled Felt, whose punchline could be figured out, but again his dedication to the over-the-top performance was not in doubt.
Delightfully named Rasuptin's Lunchbox opened up the second half: a two-man, one-woman outfit bringing the accordion back to musical comedy… whether you asked for it or not. They have a great sound, and some enjoyably tricksy rhymes in the lyrics, even if singing about the peculiarities of shopping in cheap supermarket is ultimately mid-level stand-up material set to music. Amusing and toe-tapping, but not a contender.
Sindhu Vee, however, was very much in the running right from her insouciant opening line about her own children. With unwavering deadpan, she described life as an Indian woman with a Danish husband and their differing approaches to parenting. She uses some stereotypes, certainly, but with domestic scenarios that felt real, while raising sly social points on the side. And her routine about how parents from all regions of India variously 'implicate' their children in their death is priceless. Good stuff, earning her a joint third place.
Talking of national stereotypes, The Establishment are nothing but. They're the stiff-upper-lip, toodle-pip, ultra-privileged gents in bowler hats and ironed copies of the Financial Times in their pinstriped pockets, wittering on about cricket and foxhunting yet somehow running the world. Dan Lees and Neil Frost are essentially old-fashioned patter merchants who mix some clowning into their glorious parodies, and wouldn't have looked out of place at the Hackney Empire – where the NATYs originated – in its music hall heyday. Yet they make this act fresh and funny for a modern crowd, too. And it'll certainly export well.
Mack to more straightforward stand-up next, and you can't get more conventional in this day and age than the lonely loser shtick of Enda Muldoon, commenting on how optimistic the guys in the 'missed connections' columns of newspaper are. Opening with a deliberately unfocussed story – even though his fuzziness was the punchline – didn't get the audience on side, and his dry, low-key approach never won them over.
More sparky stand-up came from Newcastle's Lauren Pattison, who has racked up quite some kudos over the past few years, even supporting Katherine Ryan on tour. She's chatty and likeable - although the choice of a story about the unwanted advice she gets after a gig made the set seem a bit comedy cliquey. Peeks into more of her life away from the circuit, such as swearing being a way of life in her native Byker, reinforce the normal working-class lass persona that is likely to ensure her a solid future in comedy.
Rahul Kohli was the second half of a Geordie double, describing -himself – or more like branding himself – as a 'Newcastle brown male'. He, too, is gaining attention on the circuit already (and came second in the Chortle student comedy competition last August). He's a slick gag-machine, packing in gags about Brexit that almost seem nostalgic now we're in a whole other world of racist madness. But he laughs off bigotry and uses politics as a bouncing-off point for silly gags rather than labouring any points. So the writing is breezy, tight and fun, the liveliness of his delivery is winning. Literally, as he took home the 'top of the bill' title.
Finally Phil Lucas, whose real-world stunts often become internet memes, from his insane applications to The Apprentice to his ad in a newsagent's window flogging a A4 rendition of The Last Supper in Fuzzy Felt with the disclaimer: 'Due to a lack of shapes, one of the disciples is a tractor.' Some of these pranks, apparently done for no other reason than the mischief of it, make it into his breathless and surreal set, along with silly Twitter trolling and his obsession with Kate Garraway. He's like Harry Hill with PowerPoint, a stream of silly non-sequiturs coming from his mouth while extra gags pop up on screen, giving twice the jokes for your money. A daft favourite for me, though perhaps other judges were lukewarm as he could only secure the joint third position.
Then all that remained – after 2016 winner Bilal Zafar filled in during judging – was for evergreen compere Arthur Smith to introduce the REAL top of the bill: NATY director Roland Muldoon's dog Sid with his annual balloon-juggling act that's long a tradition of this show. But then you can't teach an old dog new tricks…
Read More
Published: 30 Jan 2017
It's a competition final, but, initially at least,…
25/09/2015
Agent
We do not currently hold contact details for Phil Lucas's agent. If you are a comic or agent wanting your details to appear on Chortle, click here.