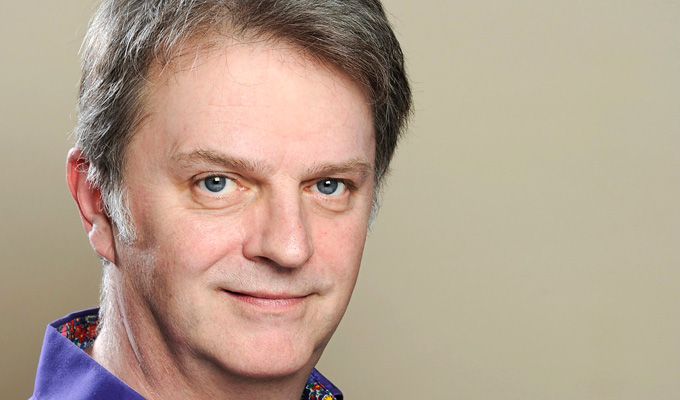 Paul Merton
Date of birth: 17-01-1957

Have I Got News For You and The Mash Report
Many people have had to get used to working from home in recent weeks, and purveyors of topical quips are not exempt, with both Have I Got News For You and The Mash Report returning last night.
As a veteran topical comedy show, Have I Got News For You is 'officially in the vulnerable category, which is why we're self-isolating for the next few weeks', host Steph McGivern joked.
The show spurned the BBC's highest-spec 4k broadcast equipment for what looked like cheap webcams. Glimpses into the regulars' homes lived up to expectations of the image they have fostered over the previous 58 seasons: besuited Ian Hislop in his wood-panelled study, bookshelves heaving with weighty historic tomes; Paul Merton in a jovial short-sleeves in front of racks of silent comedy films. Only guest Miles Jupp betrayed his erudite well-cultivated image, dressing down as only a man who's spent a week with his five children can.
Then again, the whole tone was a little more casual because of the extenuating circumstances. In this case, answering questions by video link knocked the participants' comic timing, especially when it came to interrupting each other, so the flow was less fluid than normal. The concept of 'fingers on buzzers' caused hilarity – though having no studio audience to play to dampened some of the responses.
However, the essential feel of the show remained intact, with the video feeds even sometimes projected on to a virtual set to create some semblance of normality.
While there was only ever one story – the answer to Question One surely the easiest in the show's history – producers clearly thought that viewers needed an escape from the constant bad news and kept things light.
Political points about ventilators or antibody testing or Whitehall's reaction in general were skirted around, save for one comment from Hislop about how it was a bit late for this government to be getting behind the 'save the NHS' slogan.
Instead, it was primarily about silly clips of cutting hair at a distance and viral YouTube videos. And we were barely halfway through the show before McGoven insisted, not entirely convincingly, 'Of course there's been plenty of other news around', and forced journalist Helen Lewis to comment on the news – to use that word in its loosest possibly definition – that a 'Bassett hound had become best friend with a chicken'. And while the world had largely forgotten about Jeremy Corbyn, HIGNFY's researchers who plundered his worst TV appearances in a round that seemed a little irrelevant.
Maybe as the season goes on the show will find more bite in its coronavirus commentary, but for now the tone was about bringing together rather than tearing down. The result, an entertaining, witty tonic offering some distraction – a strangely reassuring slice of Friday-night normality, even if satirically muted.
Over on BBC Two an hour later, The Mash Report struck the right tone with its stance on the crisis. For starters, Nish Kumar – not just self-isolating but self-grooming, so looking far from his usual slick self – acknowledged the new reality for most people, a discombobulating mix of boring and terrifying. And also that he was lucky enough to be working at all when so many aren't.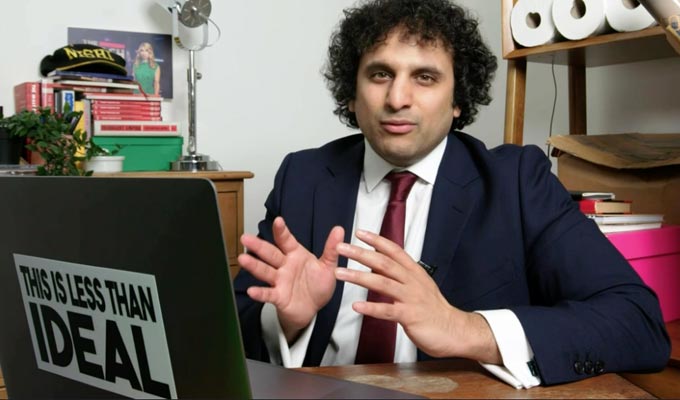 The topical one-liners, delivered as always by Ellie Taylor and Steve N Allen, felt relevant and funny, while Kumar surely tapped into the nation's pulse recognising that the government had done some remarkable things in difficult circumstances, while pulling no punches about its shortcomings – not least the fact that Boris Johnson is not the best man to deal with a global crisis. Even his staunchest supporters would probably acknowledge that the PM is more of an upbeat cheerleader than a man on top of the detail required.
Rachel Parris hit some familiar betes noirs of the crisis, such as the ill-informed pronouncements of Sports Direct's Mike Ashley and Wetherspoons boss Tim Martin with her usual shtick of wrapping scornful snark in well-enunciated schoolma'amish tones. In the one section taped before lockdown, Catherine Bohart covered the slightly similar topic of fake news – and while the segment was too long, the notion that 'Facebook radicalised your mum' was a strong one.
Finally, token right-winger Geoff Norcott, after a few lightweight jabs about the Labour leadership frontrunners, cheerily acknowledged how his usual libertarians views flipped to full-on authoritarianism in the crisis. However, the interview was patchy and, a few amusing quips notwithstanding, didn't find its focus.
Another mixed bag of a show then, but on the issues that matter, The Mash Report struck a confident tone that resonated with this strange reality, encapsulated in some funny, on-point one-liners.
Read More
Published: 4 Apr 2020
Paul Merton's dramatic debut at the Edinburgh Fringe…
4/08/2014
It's billed as Paul Merton's first stand-up show…
2/05/2012
Twenty-five years the Comedy Store Players have been…
1/11/2010
The bill boasted Jack Dee, Jimmy Carr, Paul Merton,…
1/01/2009
Description Paul introduces the 1920s…
1/01/2006
Products
Past Shows
Agent
We do not currently hold contact details for Paul Merton's agent. If you are a comic or agent wanting your details to appear on Chortle, click here.