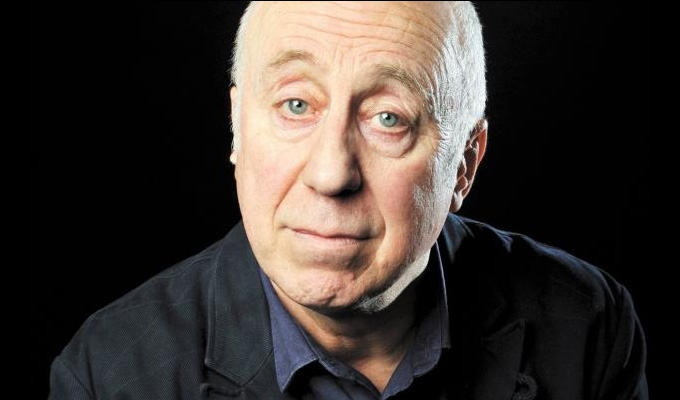 Norman Lovett
Date of birth: 31-10-1946

Norman Lovett: Entertaining Moaner
Note: This review is from 2017
'I don't do much really,' sighs Norman Lovett. 'But I've been doing it for 38 years.'
There's not really much more to add to that. He is the godfather of anti-comedy, ambling on stage with a bag full of bits and pieces to idly toy with, amiably musing on whatever seems to strike him.  The lack of impetus to crack recognisable jokes reflects his delightfully unaffected nature – and that either attracts you as a fan or frustrates you for the glacial pace. Or most likely a combination of the two. 
He rifles through his wallet, recalling the happiness of cashing in a completed Caffe Nero loyalty card or coming across his bank card and idly commenting: 'I've been with Lloyd's for a couple of years now. Pretty happy with them.' There is no joke, other than the audacity of a man coming on stage with no punchlines. 
Add in in the juxtaposition of a 70-year-old singing the praises of the Sugababes, with sincerity if not vitality, and you have the closing routine.
But for all that he is laid-back, Lovett's content not as aimless as it appears, at least not all of it. He has some wry observations about the items he has about his person, from uncookable pasta to irritatingly tiny capsules of long-life milk, lamenting how the world will never move on if we can't sort these things out. His world is fixed in the minutiae, and he knows his petty concerns will get laughs. 
There are, now and again, fully-formed routines: from his fanciful plan of how to escape a Deliverance-style fate should he find himself in redneck territory, to observations about vaping. But he's just as happy playing with plastic bags, as he's done for so long, pondering whether he has the deftness of hand to become a magician.
Authenticity is what you get. If he gets distracted by an audience member, it's not in the artificial pursuit of an easy gag, just that he genuinely got distracted. Memories of his pug Elvis, who died last year, are sweetly melancholic reminiscences, not part of anything greater.
What's on his mind comes out, even if barely half-formed. Tonight he mulls the egotism of chefs, after being struck by the number of photographs of Marco Pierre White in his Leicester hotel, but you'd hardly call it material.
That even extends to topics you might think needs careful navigation. 'Do you think there's less anorexia now?' he muses, despite the selfie-culture pressures to remain thin. Rhetorically raising a serious psychological illness might normally require some sort of point or purpose, but that's to misunderstand Lovett. 
He's been doing this so long that nothing much changes in his stand-up, and while the many lulls can be dissatisfying, there are also moments of simple pleasure. And an old man putting a bag designed for dog poop on his head is as entertaining for adults as it is for babies.
Read More
Published: 20 Feb 2017
Revisiting the past can be as painful as it can be…
31/05/2011
Like Neil Hamburger or Andy Kaufman, Norman Lovett…
11/08/2010
Most people will know Norman Lovett as the dreary,…
4/05/2007
Every comic of any standing deserves their own memorial…
28/01/2007
There's not a lot of confusion as to what this show's…
1/01/2007
If only all birthday parties could be just like this.…
1/01/2006