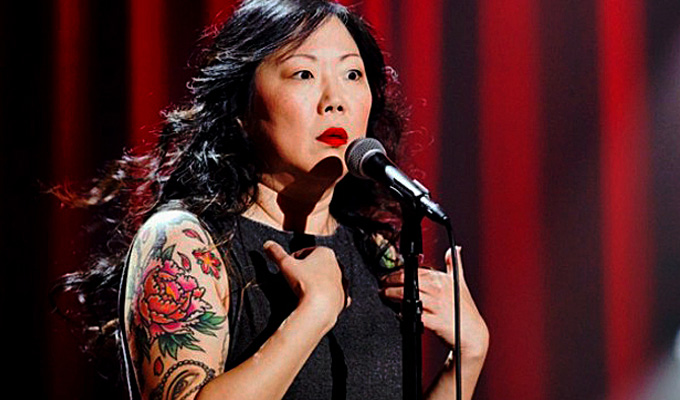 Margaret Cho
Date of birth: 05-12-1968

Margaret Cho: Fresh Off The Bloat
Note: This review is from 2017
Does the world need to be going to hell in a handcart for Margaret Cho to be relevant? Let's hope not for humanity's sake, but current events have given the Korean-American comedian's current tour, Fresh Off The Bloat, a topicality, urgency and importance that seems to have focussed the perennial provocateur's mind.
With NBC host Matt Lauer only hours before this gig joining the shameful roll-call of status-abusing perverts alongside Harvey Weinstein, Kevin Spacey, Bill Cosby et al, ad nauseam, Cho's defiant stance is a template for survivors.
Here she speaks about rape at the hands of a relative, and the Hollywood sleaze-bucket who demanded she sleep with him to back her movie – all without a smidgeon of victimhood, as it should be. And with pussy-grabber Donald Trump elevated to the most powerful creep in America, her steely political edge is sharpened further. With merciless wit she argues how such behaviour is about power, not sexuality – for when it comes to bedroom kinks, she has the broadest possible mind.
Unapologetically sexual, she talks frankly about being the 'B' in LBGT, about the guy who peed on her, about the challenge of giving a blow-job when the girth's too big. Often in comedy, such matters are raised for shock value alone – and Cho's no stranger to that, even here – but it also feels part of a bigger picture, flying the flag for women owning their sexuality.
Honesty is the watchword, however brutal, with a purposeful drive to bring taboos out into the open. But such strident agenda is matched with a biting, cynical humour. She cites Joan Rivers and Kathy Griffiths as sisters in comedy, and she certainly shares the piercing insults and wilful recalcitrance of both. (But neither of them would ever say something as controversial as: 'I like Gwyneth Paltrow…')
Cho's always laid her life out in the open, but that seems to have a renewed sense of purpose and clarity here… perhaps her well-publicised stint in rehab has brought that on. Yes, a few laughs are cheap, stock-value stuff, but others are so brutally on point they pierce through layers of bullshit.
The putdown she thought off after the event to stun the heckler who told her she couldn't talk about rape at Easter is one of the most savage lines you'll hear; the unforgiving description of DIY abortions a gruesome image but serving a point. After that, quips about Trump's semen seem relatively tame. And if you think she's cold, wait till you hear her parents' take on the 1980s Aids epidemic.
She adds Hollywood's whitewashing – casting white actors in Asian roles – to her list of justified bugbears, and also shares some of her misadventures from her years as a drug-taker, more cautionary tale than vicarious thrill.
Needless to say, this show is not for the faint of heart, nor is it without lulls, even when she's being at her most outspoken. But this seems like a newly invigorated Cho with much less of the indulgence and insouciant, almost teenage, tongue-poking-for-the-sake-of-it that have hallmarked previous shows. Instead, her wicked spirit and aggressive impropriety provide an almost revolutionary convention-shaking spirit that carries the routines aloft.
Just one word to the wise: arrive late. Her weak support act Rocco Stowe – who, I later discover is dating Cho, is worth missing, with his stylish Italian-American sass not covering the patches in his threadbare material, leaving him very exposed. Instead of warming the room, he left it largely silent, more than once explaining 'that's the end of the joke' as there was no laughter forthcoming, only polite silence.
Read More
Published: 30 Nov 2017
Frank, fearless and outspoken, these are the words…
17/12/2015
Margaret Cho got a critical pasting when she arrived…
22/04/2013
Within minutes of taking the stage Margaret Cho issues…
23/08/2011
In the programme for her West End run, the opinionated…
1/01/2006
Margaret Cho has the most incredible background -…
1/01/2001
Past Shows
Agent
We do not currently hold contact details for Margaret Cho's agent. If you are a comic or agent wanting your details to appear on Chortle, click here.