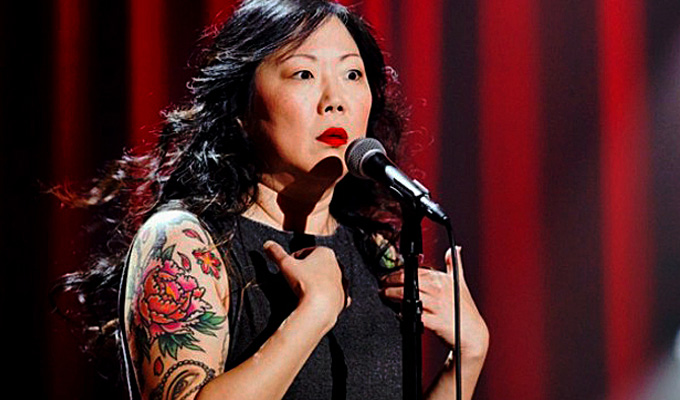 Margaret Cho: The PsyCHO Tou
Note: This review is from 2015
Frank, fearless and outspoken, these are the words that attach themselves easily to Margaret Cho; and she earns them again in The PsyCHO Tour.
Not least for a bold section in which talks openly about how she was sexually assaulted and raped from the age of 5 to 12 – and makes it funny, not just a moment of dramatic emotional heft. It's dauntless, trailblazing stuff, shattering taboos for the greater good, and marking her definitive, defiant way of regaining control of the abuse.
She's open, too, about the depression that this led to, though the morals get slightly muddled when she has to say: 'I'm not glamorising drug use,' after getting a congratulatory cheer for doing just that in the course of describing one of her lowest points.
Her honesty, her blunt attitude and her survivor spirit make her adored among her fan base. The audience goes wild on her entrance on to the Leicester Square Theatre and offers her a standing ovation at the end. She can even count a mass killer as an admirer, revealing one lone gunman professed his love in a manifesto he wrote after slaying eight.
Such devotion means the room greats every sentence with gales of laughter, even relatively pedestrian scene-setters as she settles into her show; calling the Leytonstone Tube stabbing 'cute' compared to the violence in gun-riddled America, for example.
There's a sense that she's preaching to the converted on wider social issues, from body shaming, to domestic abuse, marriage equality to abortion – routines that get whoops of 'you go girl' appreciation more than a more primal laughter. Bashing right-wingers, especially the religious ones so out of step with Jesus's 'love thy neighbour' attitude is fish-in-a-barrel stuff, deserving though they may be of our scorn.
Familiarity with some of these issues is a welcome by-product of the fact that the feminist ideas she's so long espoused are becoming mainstream, at least in the Twitter feeds of the liberal left – and even so she can nail a pithy line now and then.
But it's when she gets personal, even with an agenda, that she endears, thanks to the levels to which she's prepared to open up, even dropping her trousers in the pursuit of a joke. She's brutally frank about her sex life, for instance – and since she's bisexual she's got twice as many opportunities for gags as most people. The phrase 'too much information' means nothing to her as she gets almost medical in her intimate detail.
Away from the biological, she has entertaining observations from being a 'fag hag' or 'dick widow' to use the term she prefers, in acknowledgement of being abandoned by gay chums each night once they want to score.
Again her crowd love it. When she asks the rhetorical question 'how do you cope with a big dick?' she gets an answer… leading her to an hilarious explanation to her lesbian sistren what poppers are. However a couple of loudmouths make less welcome interruptions, supportive ones but clearly in search of conversation rather than the passive experience of watching a show. She's patient with it, even when an interjection stomps on her punchline.
She's as strong on race as she is on sex and sexuality; her every fibre being a stark rejoinder to the dumb, submissive giggling Oriental schoolgirl stereotype, which she mocks so effectively. She has a nice take on white guilt and not taking sides in any black-white conflict, too, though doesn't mention her headline-grabbing allegations that the Ab Fab movie was racist for casting Krankies star Janette Tough as a Japanese designer.
Towards the end of her 100-minute (slightly too long) show, she pays tribute to her showbiz pals who have recently died, not least Joan Rivers – once a regular at this very theatre – and even channels her mentor as she douses her celebrity stories in an acidic commentary. And to end a couple of songs, so you can't complain about a lack of variety.
Review date: 17 Dec 2015
Reviewed by: Steve Bennett
Reviewed at: Leicester Square Theatre
Recent Reviews
What do you think?