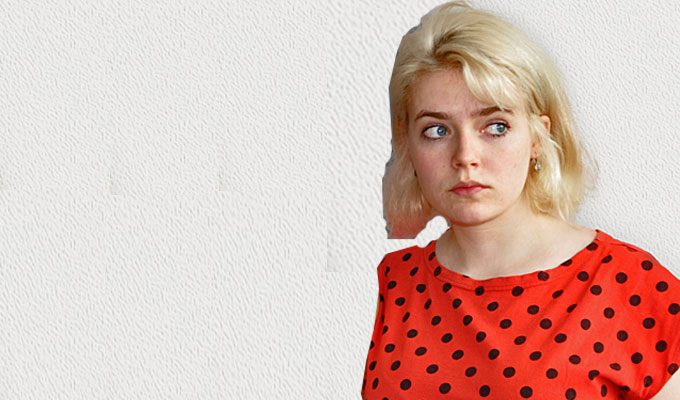 Matilda Wnek
Finalist in the 2013 Chortle Student Comedy Award.
Read More
So You Think You're Funny? Final 2015
Note: This review is from 2015
There was a strong showing at this year's So You Think You're Funny final, with the most established of the new act contests presenting a cryptic snapshot of UK comedy's future.
It boasted a decidedly international, and dare I say, even topical flavour, with four of the acts being skilled immigrants stealing exposure from British comics. There was nevertheless also a recurring emphasis on tight-knit families and communities, which invariably evoked inbreeding. That was as nothing, though, compared to the night's contrasting approaches to rape, which dominated the end of the first half as two disparate acts made it the cornerstone of their seven minutes.
Gifted the opening spot, and handicapped by the double-edged sword of privilege in general, former Cambridge Footlights member Ben Pope took the stage with semi-affected nervousness, offering his unsuccessful take on the tactic of envisioning your audience naked. A cheese-loving old soul trapped in a 22-year-old, gawky manchild's body, with the obligatory racist grandparent, his middle-class archetypal familiarity is offset by his family's unlikely Latin motto.
Sending up his poshness with easy grace, he was too generic to stand out amidst the exotic company to come. However, his pedantic deconstruction of stock chat-up lines and inspired use of a provisional driving licence suggest an eye for the ridiculous. And he has a mild befuddlement that's easy to warm to.
Yumna Mohamed had barely grasped the mic before she declared that she would die alone, a bold opening gambit that was characteristic of her quick-tempo, wonderfully wrong-footing set. A South African of Indian descent, it may have been adrenaline driving her distinctive, at times dizzying, performance. But I'm certain it was an original comic mind reacting with rare creativity to her restrictive horizons.
A 28-year-old still living with her parents and subject to a 10pm curfew, she mines the insularity of her ethnic community and marriage expectations for grimly funny absurdity that still feels firmly grounded in truth. With her admission of being a hairy woman, authenticity is her strongest suit, more effective than a rather abrupt tangent into Nelson Mandela's relationship with the Queen.
More worldly wise than she initially lets on, she winningly relates her time on America's East Coast, proving a hit in Harlem until she begins to feel too at home and oversteps the mark. Earning loud applause, she was the pick for me and extremely unfortunate not to place in the top three.
Next up was Neil O'Rourke, a likeable, unthreatening Irishman who builds his set on the bizarre core detail of his most memorable London mugging. Despite further attacks, exceeding his parents' worst fears, it's the weapon of choice for his assailant that the Corkman returns to again and again with effective, increasing incredulity.
Related with strong detail, it also feeds into his sense of not being Irish enough, prompting witty observations on those quintessential Hibernian drives to exile and diaspora. Although his reflections on bears in Canada and poisonous creepy-crawlies in Australia lack distinction, and he closes without a strong punchline, he has an appealing, anecdotal style.
Now, the sexual assault section. In a decision that was as daring as it was self-defeating, at least in terms of triumphing in the contest, Matilda Wnek dedicated all of her allotted time to routines about rape alarms, seizing her platform for urgent feminist polemic rather than personal advancement. A guinea pig of sorts for her sister's market research on these devices, conceiving additional features for them and chastising society for its failure to police and prosecute the crime, it was incredible stuff, never once allowing the audience a chance to get comfortable.
Sadly, her stridency wasn't matched by the consistency of her gags, and she rather hammered home her arguments when a less explicit, more artful touch might have achieved more. Despite her admirable intentions, she didn't have the desired impact.
Nevertheless, I kept imagining Wnek seething through the spot that followed her. Like a young Jack Dee, if he'd been a sociopath, Red Richardson (absolutely no relation) has a self-consciously dark, bleakly deadpan view of reality. Likening himself to American Psycho's Patrick Bateman on nights out, he opens with a violent fantasy about performers on the Royal Mile that's presumably designed to ingratiate.
Though he establishes himself as a misanthropic loser, liable to end up living under his mother's' roof once again, his defining bit is a tale of him walking home behind a woman one night. Going out of his way not to seem like a serial killer, he does, of course, achieve the opposite effect, the supposed wryness of this escalating 'farce' obscured by the crass motivations behind the routine. Tossing words like 'rape' and 'paedophilia' around like fake grenades for showy effect, he has little more to offer than depravity for shock's sake.
Post-interval came probably the most relaxed act of the night, Ed Day, son of comic Kevin Day, commenting on the success of almost all of his routines with a condescension that would be smug in an established performer, and is almost insufferable in a rookie. The South Londoner paints a vivid picture of his inbred, Irish family and is savagely cutting about their views on those different to them, contriving ingenious visual gags around their combined bigotries and passions. His self-congratulation is hard to enjoy. But there's no questioning his crafty intelligence and arrogant wit and he was awarded third by the judges.
Yuriko Kotani has lived in the UK for a decade but is yet to fully master English, the basis for her lost-in-translation anecdotes. The diminutive Japanese comic is an immediately endearing, pixie-like presence, claiming that she struggles to comprehend swearing and sarcasm, yet nailing both in a brilliant, practised riposte to those who patronise her. Contrasting the preciseness of her homeland with the sluggish inefficiency of London transport, in a manner reminiscent of Henning Wehn, she's also developed a comprehensive, persuasive explanation for the ubiquity of the English suffix 'ish'.
But she seemed to be operating at the limit of her capacities, with other lines that were simply confusing and it felt as if she won credit just for turning up. Perhaps I'm like the patronising arse who suggested she pursue dancing rather than comedy, because I was staggered when she took second place.
Indeed, on my apparently malfunctioning comedy radar, Stephen Lawson offered the most fully formed comic persona and the one with the most obvious career potential. A preternaturally boyish 20-year-old, his irritability at the legacies of puberty are expressed in neatly clipped, sardonic lines, his desolate St Helens upbringing inspiring an outlook only marginally less despairing than Johnny Vegas's.
A badminton player with a paper-thin defence of its laddish credentials, he rather over-extends this assertion and his accompanying, affected swagger, with an uncertain characterisation of his paedophile games teacher, an otherwise perfectly pleasant and encouraging man. Elsewhere, though, he unveils some tremendous lines on his nan's struggles with technology, complete with brilliant toppers, making him another act that should consider himself hard done by not to be on the podium.
AJ Roberts is Tottenham born and bred, fully invested in its shady characters and persecuted by its denizens, whether that be the Lidl security guard who eyes him suspiciously or the Aussie barman who makes the mistake of asking why he's so miserable. Roberts' principal shtick is dense, flowing lists, relating the full horror of his morning commute with rich, colourful detail, though the applause he elicits is more for the feat of memory in recounting it than the laughs contained therein.
He's doubtless too young to recall, but another such performance, a litany of ridiculous racehorse names in the style of a commentator, brings to mind a classic Russ Abbot sketch, albeit with the gags more explicit than than the former television staple's more subtle innuendo. Adding little to the standard impression of Movie Voiceover Man overselling a dreadful film, Roberts is nevertheless canny enough to use callbacks to afford his set greater superficial sheen.
Last, but far from least, Luca Cupani is that rare thing in stand-up, genuinely loveable. The Italian comes across as guileless, almost a simpleton, but with a concealed wisdom that forces you to reappraise the world. His characterisation of the Mafia is the standard definition. Yet something about the arrangement of his syntax and his sonorous accent makes it seem like he's the first person to envisage them this way.
Venturing an ignorantly smart suggestion for the Italian ambassador's next mode of transport, he has the essence of a Monsieur Hulot-type innocently wandering around London, perturbed by the modernity of the metropolis and contemporary living, eating porridge for breakfast as the done thing despite finding it horrible. His relative lack of sex life is related without self-pity, more wistful wonder at the act itself. And he closes brilliantly with a depiction of his penis as his optimistic Mini-Me, an hilarious, feelgood end to the night that doubtless stood him in good stead when the judges came to crown him the winner.
Read More
Published: 28 Aug 2015
The Friday Night Experience, a new format being trialled…
22/03/2015
Variety was the spice of the tenth Chortle Student…
13/08/2013
Agent
We do not currently hold contact details for Matilda Wnek's agent. If you are a comic or agent wanting your details to appear on Chortle, click here.