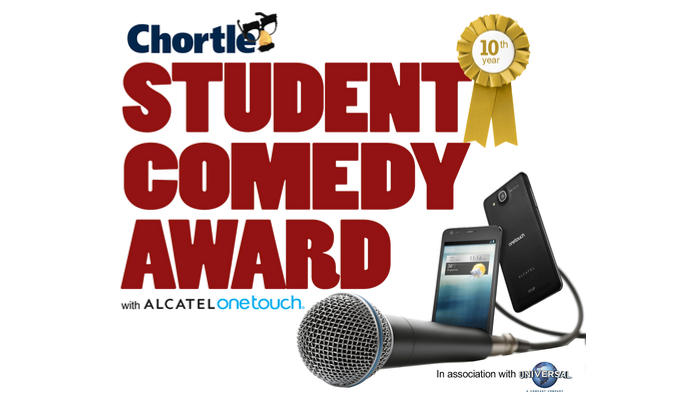 Chortle Student Comedy Award Final 2013
Note: This review is from 2013
Variety was the spice of the tenth Chortle Student Comedy Award Final last night, with a plurality of styles of both delivery and material, which suggests the next generation of comedians are striving to be different. Or at least the best of them are.
Conor Neville started off with some unhurried Irish charm, which might be a cliché when talking about comics from his county, but he used it to smuggle in some spikier material about 9/11. But he's no shock comic, as proved by his delightful tale about the one-sided football matches of his youth, which builds up nicely with every sentence. He's also got an excellent 'rule of three' when he considers possible endings to the phrase 'He died doing what he loved...' A quirky writer with a quiet confidence in delivery, Neville's already a solid, bookable act.
The same could be said about Nathan Willcock, who breaks the ice with a splendid prop-based visual pun, and later demonstrates a silly physical side, too. His set is deftly constructed, in which disparate elements from his political references to his lack of success with women, via his unlikely catchphrase, tie together smartly. He, too, is a robust , versatile writer who'd fit easily into any club line-up, and that gained him joint second place.
Adam Todd takes to the stage, all hesitant and nervous, so fragile you think that even the photons from the lights might be enough to knock him backwards. But behind that quiet, vulnerable exterior, which he adroitly exploits, is someone with a quiet confidence and perfect sense of timing. His heartbreaking list of positives in his life give way to a song about a prickly date, delivered perfectly. The glint in his eye when he says they were 'up all night' is priceless, and he has the audience on board for every wavering step – leading to a rousing ovation when he's through. Another star in the making, and the recipient of the other half of that runner-up kudos (and cheque).
Swedish-Chinese Evelyn Mok starts with obligatory jokes about that ethnic combo, just to get them out of the way. Initially she seems ill-at-ease with her detached oddness, but she soon settles into her rhythm. The delivery can seem a little cold, but that's because she's not someone who panders to a room to get them to love her – as proved beyond doubt with a brutal but funny description of her sexual appetite or her period, that carries an inherent 'sod you' to any man who's not comfortable with such talk.
Tim Renkow has cerebral palsy, which is the first thing you'll notice, it's hard to hide. He's greeted with a mix of respectful curiosity and sympathy, the audience listening intently to tune into his speech patterns, but nervous about what would be the polite way to react to him. But it only takes a couple of lines, and they are reacting with laughter – for he is a funny writer of strong, proper gags. Certainly his condition is the basis for almost all of the material, but he uses it first to mess with people's minds, before moving on to stories of how strangely people react to him. It's excellent, unique stuff.
With the current backlash against rape jokes in comedy, it's a brave performer who bases her entire set around the idea. That performer is Matilda Wnek, who mines the subject for a full seven minutes, from the starting point of a box of rape alarms she was given to give feedback on. Whether she's trivialising the topic is a moot point; but she's certainly not going after simple shock gags, choosing instead to approach issues around it in a smart, mature way. Not every aspect of the set quite pans out, but it certainly demonstrates a comic with bold ambitions, and a dry wit.
Next up the delightfully bonkers Rio Bauer, who got a laugh from creeping up on compere Mark Watson before the stopwatch had even started to countdown her seven minutes. She has a constant, babbling delivery in her sing-song Northern Irish accent, which innately adds a sweetness to her full-strength surreal routines. Convoluted set-ups involving helpful ghosts, what animal she would like to transform into, and a home-drawn book with Ice Age characters all form the basis for surprisingly detailed segments. The absolute conviction with which she delivers the most crazy statement, as if it was a universally agreed truth, gets most of the audience giggling, and they stick with her through every eccentric turn. Others, though, are surely left cold with all the oddness, and will never understand how the judges could have awarded her first place. But she made us laugh the most.
Finally Richard Perry, who started rather weakly, with an opening gag that lacked sparkle. Ironic, really, as it's about glitter. He undersold much of his subsequent material, even though the writing was decent, and it was only about halfway through that his sarcastic observational material started coming into his own, with his playful pranks, idle boasts, and dismissal of the overcritical Gordon Ramsey. But it doesn't take a chef to realise that his whole set, which contained so much promise, was decidedly undercooked.
Review date: 13 Aug 2013
Reviewed by: Steve Bennett
Recent Reviews
What do you think?