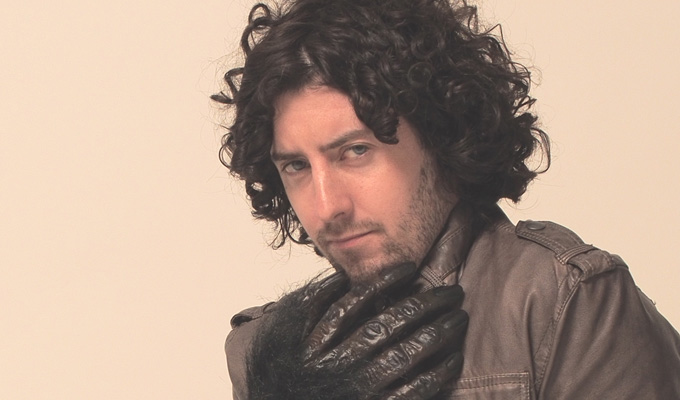 Matthew Highton
'There was a whole section just throwing dolls around to Bowie's Magic Dance'
Best/Stupidest One Off Gig
Bowie Fest. This was the first things I ever collaborated on with Adam Larter, in what would become a theme for years to come: he had a dumb idea and I said yes.
We'd been doing a proto-Weirdos night at the Lion in Kings Cross for a while and the venue was about to close so they didn't really care what we did. Larter came up with the idea of Bowie Fest, as we both had a mutual love for the big man's work. Basically, the V&A exhibition was running at the time and we decided to do a fake version of that, with absolutely no budget.
We spent a few weeks finding and making stuff that were 'Bowie memorabilia' exhibits. My favourite thing I remember was a real hoover Larter found on the street, that he painted up to look psychedelic.
I also made two massive 'self portraits' that I'd painted on some wood I'd found. There were shoes, phones and all sorts of crap we'd picked up and essentially coloured in, then wrote some exhibition tags and dotted them around. The idea was people could come in groups to look at the exhibit and then do the Bowie Experience upstairs.
It was absolutely insane, there was a whole section just throwing dolls around to Magic Dance and this Bowie Simulator I'd made, to which we threw a load of styrofoam I hoarded from my day job at the audience (you can watch that ).
We did the exhibition/experiences in the day, a big mixed bill in the evening (it may have been the gig where Holly Burn set herself on fire?) and closed with a massive Bowie Disco that was the last thing that pub had on, ever.
Genuinely it was amazing fun, and incredibly, due to a quasi/faux serious marketing strategy, an alarming number of people came expecting a small V&A type experience (some the real thing) and were just absolutely baffled by it.
It still rears its head now and then too. I had an email a few years back asking for me to go on a French radio station to talk about my love of Bowie memorabilia. I had to run it through Google Translate and had to politely decline due to my inability to speak French. I would have absolutely done it otherwise.
Karl Schultz ran a night called It Might Get Ugly where acts were encouraged to talk about stuff they might feel uncomfortable talking abut at other shows. It was one of the first times I openly talked about my real life and my family and dropped the weird material I'd been doing up until then.
After years of doing surreal storytelling shows, it made me change direction completely with solo stuff and write my 2014 show, which was about my relationship with my dad, some of my sleep problems and talking about my actual life.
I'm sorry to anyone who saw my 2010 show and thought Tom Selleck's moustache had actually absorbed the world until I selflessly chose to reset time… I made the whole thing up.
More importantly, though, doing that 2014 show was extremely cathartic, it dealt with a lot of issues I'd been bottling up and was like a year-long therapy session. The early previews made me feel extremely vulnerable and as it developed I had an awful moment where I realised I had to call my dad and ask if it was OK to talk about some of the things I wanted to talk about on stage, which we'd not really had closure on.
By the time I finished with it I realised it had closed up a lot of wounds and I put a lot of issues to bed.
I honestly don't know how/if/when I would have got there without doing that gig. Great for me, probably terrible for building a following.
ACMS: If you're gonna be messy, be prepared to clean up your own mess.
In 2012, I did a series of 'art pieces' with one of my life partners, Ben Target. We were doing some Alternative Comedy Memorial Society gigs at Pleasance Dome and we'd come up with these big, dumb concept pieces.
One was catching Target in a box, then he made a cake in it; another was a chess match that ended in a massive Bugsy Malone-style pie fight; and – my favourite – a big Western showdown with a tonne of fake blood we'd made hours before. Essentially simple start point, big messy finish, very little purpose.
We roped in a load of comics from the Weirdos collective to help and we did this stupid Mexican stand-off that resulted in cardboard bullets flying around (walked calmly by Weirdos), hitting us and then popping these bags we had draped around us, filled with the litres of the fake blood.
It was horrific. So much more blood poured out than we expected and it was so sticky. We'd put down a makeshift tarp to try and contain it, that we had everyone roll us up in and carry off at the end, but it just spilled everywhere and we spent the interval trying to clean it up.
Honestly there are so many shows where I've ended up in the interval or after everyone's out with a mop in hand, apologising to someone from the venue. Very happy to report my latest show has been purposefully designed to be both mess and prop free...
Stuart Bowden: Before Us. Stu puts together some of the most beautiful shows I've ever seen. He's such a unique and gifted storyteller and I always come out of shows wanting to write and perform better. Oh, and he's really funny too.
Before Us was his 2014 show that was, in my own words, a story about a bug who was the last of its kind. It was an exploration of loneliness and hope, packaged in very relatable narrative – even when he was essentially dressed in a sleeping bag. It was so beautiful.
At the end – SPOILERS he had the audience join him on stage and lie down while he sang a song, and it made you feel so safe and peaceful.
Mid-Fringe it was just what you wanted, the equivalent of someone giving you a big cuddle and telling you it was all going to be OK. I watched it with my girlfriend and we still quote it to each other. He's so good with honing in on small bits of language and making you simultaneously crack up
It gave me such a good feeling the first time I decided that I wanted to go back and make it the last thing I saw at the Fringe that year, just so I could leave feeling warm and safe. It's just a shame in real life Stu is an absolute monster. Honestly, a brute of a man who has definitely killed orphans.
I got this weeks after the actual gig. I was in a lift at Tufnell Park with one other man. He was smiling at me and politely said: 'Me and my wife came to your Edinburgh preview the other week.'
I'm so rarely recognised or approached, it obviously felt pretty good, so I lit up and said: 'Oh wow, great, thanks.'
He smiled politely again and added very nonchalantly: 'Yeah, my wife absolutely loved it…' – feeling pretty good about this lift journey now – but it wasn't for me. Didn't laugh once, but good luck with it all.'
Then we were trapped together, in the lift and to try to diffuse the awkwardness I simply said, 'sorry,' before continuing in silence.
I think about that so much and not because I'm annoyed or hurt, but more with admiration that he saw his moment and went, yeah, let's do this... This guy needs to know.
• Matthew Highton: Insufficient Memory is on at Heroes @ Dragonfly, 20:40
Read More
Published: 13 Aug 2018
Past Shows
Agent
We do not currently hold contact details for Matthew Highton's agent. If you are a comic or agent wanting your details to appear on Chortle, click here.