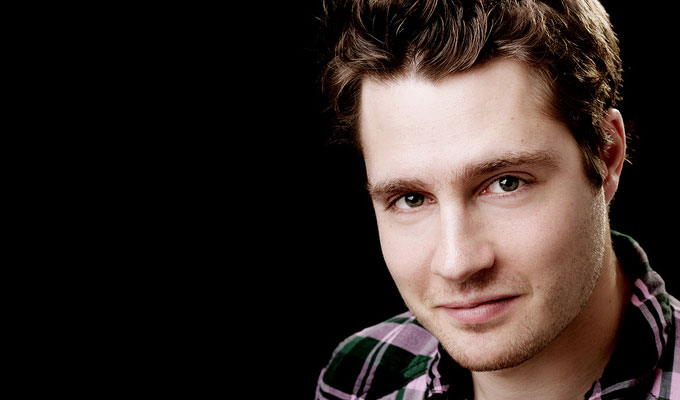 Max Dickins
Finalist in the 2009 and 2010 Chortle Student Comedy Award
Read More
Max Dickins: Fringe 2012
Note: This review is from 2012
On the plus side Max Dickins is an attractive, expressive, confident and engaging performer with a twinkly presence.  The audience was completely in the thrall of this smooth operator for pretty much the whole hour.
And there is a 'but' coming…
But he was let down by some hack material and is plainly still growing as a comic, and doesn't quite have his persona nailed down.  Early on I noted that some jokes were not great but the supplementary lines were, so he's not without potential.
Some subjects were old standards, train loos, dad jokes which really do not bear repeating, flip-flops and Magic FM, and things took an unaccountably blue turn with pubic fashion and some startling clitoris-based material which was so utterly out of character, even his very happy audience seemed to pause with astonishment at this point rather than get on board. Thank God he left it there.
The show was loosely structured as a response to be being dumped by a girlfriend who had made him a better person after last year's Fringe. But as he announced he'd learned how to be vulnerable and in touch with his feelings, he  told no story to reflect it and launched into a sneering condemnation of the fat woman in a group of girls, so equating being fat with ugly, grotesque, gracelessness. It seemed beneath him and casually misogynistic, which I realise is a bit of a buzzword this festival. But if we're allowed to call  how it is now, I shall do so.
Again, it just didn't sit well with him. He had the ideas but didn't follow through.  He claimed being posh, but didn't define, illustrate or undercut it.
He is capable of being tender – the two letters from his gran that bookend the show were short and sweet, even if you question the veracity, the intention was there.   He has worked hard to put to structure this and use some festival gimmicks – those gran letters, the appalling self-pitying teenage poetry incident, an unexpected musician –  and some club tricks such as teaching the audience to dance at the end, a strangely communal experience to end a personal show, but certainly raised the energy.   
All in all, it's a flawed but entertaining hour from a young comedian who has time to get it right, starting with a long hard look at the material he chooses.
Read More
Published: 22 Aug 2012
The new home for Brighton comedy club Live 'n' Laughing…
10/02/2012
Someone once remarked that the one consolation of a…
12/08/2011
Maybe it's because the standard at the top end of…
18/08/2010
Impressive newcomer Max Dickens, whose modest, careful…
6/09/2009
Past Shows
Agent
We do not currently hold contact details for Max Dickins's agent. If you are a comic or agent wanting your details to appear on Chortle, click here.