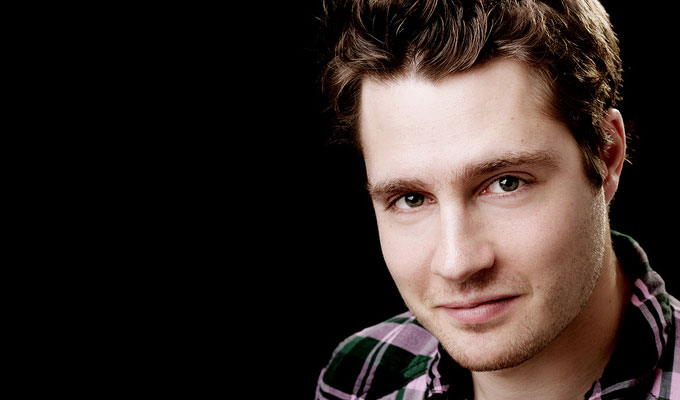 Max Dickins
Finalist in the 2009 and 2010 Chortle Student Comedy Award
Read More
Success or failure? It's all hot air
At last year's Chortle Conference, Free Fringe founder Peter Buckley-Hill told the audience of wannabes: 'Some of you are probably sat there thinking you'll be famous. Let me tell you, you definitely won't.' Huge laugh.
Statistically speaking he was right.
Cut to last Saturday. The Guardian ran a feature in which various writers meditated on failure. Inspired by this, and with the Edinburgh festival coming up, I thought I'd do the same.
I know this is hack, but I want to start by telling you about a dead French hot-air balloonist. Her name is Sophie Blanchard. Born in 1778, Sophie became romantically involved with another French balloonist, Jean Pierre Blanchard, who had crossed the Channel in 1785 when Sophie was only eight. It was rumoured that Blanchard first saw Sophie at one of his launches when she was still a child, staring up in wonder at the balloon. Blanchard vowed to return and marry her when she came of age.
He did just that and they married when she was 26. Sophie became his co-pilot for several years. She was a total natural, managing to pilot the balloon with all its technical trickiness. Jean-Pierre died from a heart attack in 1810 when trying to land his damaged machine near The Hague. Sophie took the reins as a solo balloonist, in a time when women were merely decorative.
Napoleon loved her too. Sophie and her balloon became a fixture at his court, with propaganda as well as entertainment duties. She'd soar into the sky to put on firework displays, but also had secret instructions to draw up plans for an aerial invasion of England.
After years of public displays all over Europe, and the coming and going of Napoleon (the restored King Louis XVIII was also a fan), Sophie went up in her balloon for the last time. On July 18th 1819, during a sticky summer's evening in Paris, Sophie Blanchard, now 41, halfway though one of her famous fireworks displays, began to plummet back to earth. The hydrogen in her balloon had caught fire, lit by a spark from the fireworks. The flaming balloon slumped onto the roof of one of the houses beneath. Sophie was thrown from the basket and slid down the clay slats, smashing onto the stone-cobbled road beneath.
Following her death it was found that Sophie had no family, children, lovers, or friends. She was almost penniless. So 2,000 Francs of public money was raised to pay for her headstone in a Paris cemetery. Sophie Blanchard died poor and alone. Was her life a failure?
We'll come back to that question.
Here's a different one: is failure that bad anyway? Failure can be happy. Let me illustrate this with a story from the theatrical memoir The Rules of Acting by Michael Simpkins, told to him by the actor Lloyd Owen. When Lloyd was a teenager, his father, Glyn Owen, took him one evening to a thespians' drinking club in a seedy basement. 'Son,' he said, 'remember the smell of this place. It's the sweet smell of failure.'
I know exactly what he means. Failure is very sociable. I'm a stand-up comedian, and I'm neither rich nor famous. Conventionally speaking, I am a failure (just ask my mum). But I've made some amazing friends through comedy. I've laughed relentlessly with people I've met on the circuit, bonded through disaster (or the constant threat of it). There's a great deal of respect between comics, it's unspoken but unmistakable. It's just a nod, or a look in the eye that says 'we've been there'. And the 'there' is the bottom of the barrel. Failure. It's a look that says 'We've been through hell. Whose round is it?'
There are cultural criteria of what success, and therefore failure, looks like: wealth, fame, and so on. We're bombarded by these criteria, which are not ours, and they simultaneously make us feel like losers but also harden our resolve to carry on. All comics hold this inexplicable feeling of otherness.
Harold Jacobsen, in that Guardian article, wrote perceptively: 'If the world doesn't value us, we won't value the world. We seek solace in books, in solitary and sometimes fantastical thinking, in doing with words what boys who please their fathers do with balls. We look down on what our fellows like, and make a point liking what our fellows don't. We become special by virtue of not being special enough.'
So was Sophie Blanchard a failure? I think it's important to remember that a life is not to be judged, but to be experienced. Her life was full of adventure, courage, and excellence. She gave joy to whoever saw her soar into the sky, and inspired them to think that, in their own way, they might one day walk on the clouds.
That's what comedians have to hold onto: the adventure; the occasional snatched glimpse at greatness. We bet everything we have on our talent, and roll the dice, which is the supreme gamble on which all excellence depends.
Most of us come up short, but at least we get a whiff of that sweetest of smells: failure.
See you in Brookes Bar.
&bull: Read Max Dickins's Road to Edinburgh blog here. His Fringe show, Dear Ray, may feature hot-air balloons. maxdickins.co.uk.
Read More
Published: 1 Jul 2013
Past Shows
Agent
We do not currently hold contact details for Max Dickins's agent. If you are a comic or agent wanting your details to appear on Chortle, click here.