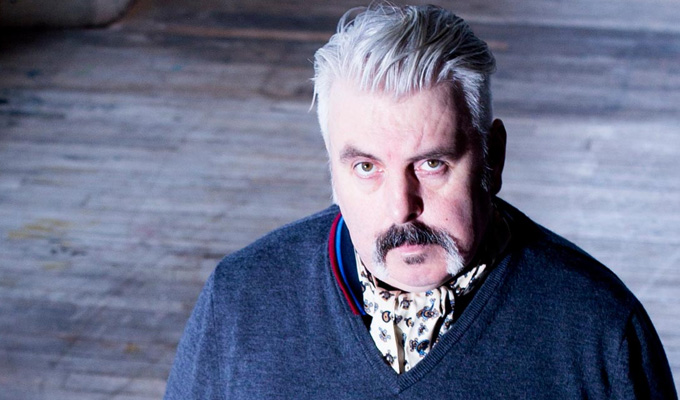 Mick Ferry
Mick Ferry Is Just A Bloke
Note: This review is from 2015
Taking his show title from a review on this website, skewed to sound more negative than it was, Mick Ferry adopts a couldn't-care-less insouciance that can occasionally backfire.
One of the northern male, veteran club comics with an ambivalence towards the Fringe's artistic pretension, albeit with more self-awareness than some, he waggishly takes the presence of a Foster's Comedy judge in his crowd as a chance to ask for £500 they allegedly still owe him for a gig.
Incredibly, he also set up a fake flashpoint with a young Scottish couple who had to leave early for a train, chucking them out with believable cold fury. Unfortunately, the young man proved an even better actor than he, going full Method and smashing glasses as he went. A startling one-off that Ferry capably kept from derailing the show, it was nevertheless the hour's dramatic high point by some distance, an abiding memory for sure.
In some respects, he brings such incidents on himself. Eschewing a theme and a message, he instead asks the audience to suggest these supposed Fringe requirements. Recalling the good and bad examples from earlier in his run, he sets up a performance that's a little bit freewheeling improv, a lot more shoehorning material to fit these arbitrarily nominated parameters, achieving the clunky connections with amusing, knowing contrivance. Or just not bothering.
The greater effect this outsourcing has is of emboldening the more eccentric elements in the crowd. Now Ferry can wrangle an audience with the best of them, and did so hilariously at times this evening, with a well-judged put-down or just a quizzical look. Sometimes though, it grew attritional and his face registered how he'd temporarily lost control, often to no less entertainment value as he momentarily floundered.
Somewhere amid this circus of his own, misguided creation, there was material too. Following some skilful observations on how society views fat men, gags that went beyond self-deprecation to artful manipulation of others' sympathy, he establishes a wonderfully compelling vision of Heaven and Hell for atheists, the harshness of his visual imagery softened by a horribly poetic summary of Margaret Thatcher's fate.
The account of his feckless friend's ill-advised recruitment to a motor neurone disease charity, an irrepressible chance to air his theory on Stephen Hawking is well told, even if the continuation of this saga, on the servicing of feminine products in vending machines, becomes increasingly less punchy.
Ferry ought to have closed with his tale of being accidentally racist in Hong Kong, his gullibility at fellow comic's Alistair Barrie's manipulation of his innocence abroad a slow-motion car crash that you settle back to enjoy as his inevitable humiliation heaves into view. Testimony to the strong performative element of this bit, is that while it's a routine he's previously done on television, it loses little in the retelling.
Unfortunately, he then tosses out a list of things that piss him off, some more cutting than others, and closes with the confession of what he does when his partner's retired to bed, amusing enough but over-long in the setup. Suffice to say that when he tries to tie it into the supposed message of the hour, everyone's rather forgotten the flabby conceit.
Featuring a singalong to Bugsy Malone's We Could Have Been Anything as a coda, it's a somewhat anonymous, authorless finale to a rather rollercoaster show, one that probably required more rigour to capitalise on its strong central routines.
Read More
Published: 25 Aug 2015
Not quite a sketch show, and not quite a theatre show,…
16/08/2015
Rightly or wrongly, there is a distinction between…
23/02/2015
He describes himself as North Manchester's 'most…
19/08/2014
It might have already felt, in recent days, as if the…
14/08/2011
The Chippendales are used to driving women mad… but…
19/08/2010
The one thing lacking from the regular XS Malarkey…
21/10/2009
Mick Ferry is an award-winning comedian. OK, so the…
12/08/2009
Ferry has an easy, conversational style that stands…
1/10/2003
Past Shows
Agent
We do not currently hold contact details for Mick Ferry's agent. If you are a comic or agent wanting your details to appear on Chortle, click here.