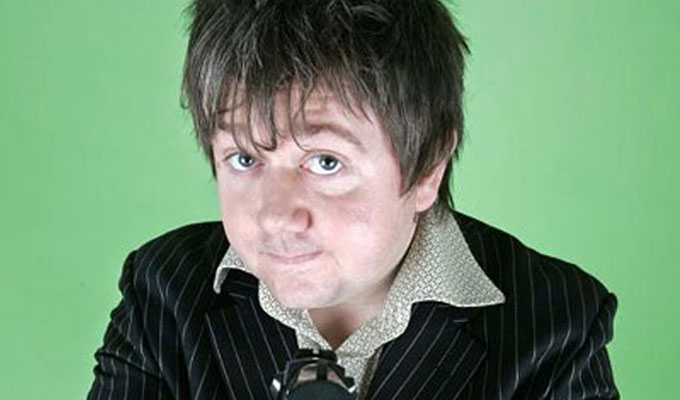 John Warburton
They wanted vampires in my pub sitcom!
A comedy writer has vowed never to work in TV again – after meddling BBC executives ruined his sitcom script.
Stand-up John Warburton says bosses with no clue about comedy 'youthed-up [and] dumbed-down' his pilot, set in an ordinary Northern pub with a carvery.
And he claimed one exec even wanted to add a supernatural element to his show – just because vampires were 'really popular right now'.
Warburton – the first graduate from the BBC's College Of Comedy initiative to land a broadcast pilot – admits that the episode of The Inn Mates that finally made it to air on BBC Three was 'awful', but places the blame firmly at the door of managers with no idea of how to be funny.
His comments come in an article for The Guardian, inspired by QI and Blackadder producer John Lloyd's comments at the Chortle Conference that interfering TV executives were ruining British comedy.
Warburton wrote: 'A sitcom is like a delicately spiced soup. A bouillabaisse. You go to incredible lengths to ensure the seasoning is spot-on – a branch of fennel, an extra pistil of saffron; that the balance of ingredients is right, the stock sublime. Eventually it's done. You taste it – it's perfect.
'Then you give some to a BBC exec and they're not really sure what to do with it, they've never made one themselves. They might dip a teabag in it or try to wear it as a hat.'
He added that he as sure BBC comedy execs 'are very good managers, but comedy doesn't need managing. It needs faith in talent' – and that anyone with a gift for comedy would not wind up as a TV executive.
He also claimed that the great comedy shows come either from 'independent production companies that help talent to flourish, such as Steve Coogan's Baby Cow, or from writer-performers who know not to let execs near'.
Warburton, a former journalist, concluded by saying he has now left comedy aside from the occasional stand-up performance, to run a small PR agency in Manchester, JWC PR.
Here's a clip from Inn Mates:
Read More
Published: 30 Jun 2013
Britain's comedy industry has rushed to respond…
4/01/2005
Stand-up John Warburton has been given his own weekly…
30/11/2004
Journalist John Warburton has been named the funniest…
1/11/2004
Agent
We do not currently hold contact details for John Warburton's agent. If you are a comic or agent wanting your details to appear on Chortle, click here.