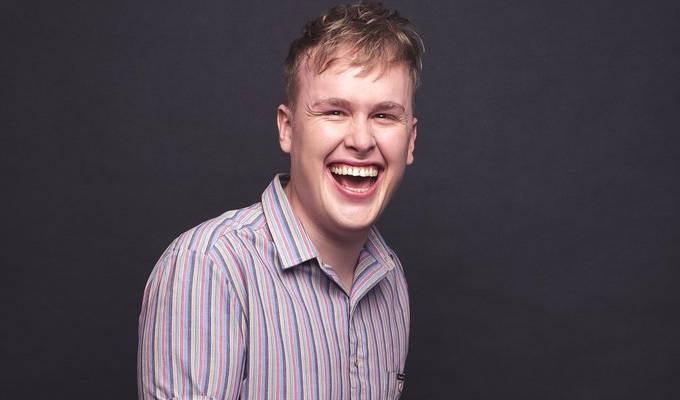 Josh Jones
Finalist in the Chortle Student Comedy Awards 2016.
Read More
The BBC Introducing Radio 4 Comedy Award final
The BBC New Comedy Award – or rather The BBC Introducing Radio 4 Comedy Award as we must try to learn to call it – is almost as much a test of dealing with pressure as it is of comic prowess.
Not only are the finalists judged against each other, but the event also airs live to millions on Radio 4, with tight restrictions on language, content and timing lest the programme crash the Archers timeslot – an eventuality that host Mark Watson enjoys flirting with every year.
But if Janine Harouni, in the little-coveted opening slot, felt any strain, she didn't show it. Just three years into her stand-up career, she has a quiet command of the stage – possibly learned during her time at drama school.
This Staten Islander immediately lets the audience know who she is and what sort of family she comes from. Her dad is part Sopranos, part Kramer-out-of-Seinfeld as depicted by her description of him making a lifejacket for the dog, rich in comic detail and insane motivation. She has a great punchline to the common observation that Irish names aren't spelt like they sound, while her jokes about sex on her period airing at 6.30pm might have had some of the more conservative Radio 4 listeners spluttering on their port and lemon.
Harouni was probably the favourite going into the final, and this slick, polished set was enough for her to come good on that expectation and claim the 2019 crown, £1,000 and script commission.
Donald Alexander was a strong contender too, with offbeat rhythms of speech that can get a laugh from saying simply: 'I'm a man' in a quasi-deadpan way for his opening line.
A friend who's a misogynist was the focus of much of the ensuing set, But have no fear, the Scottish comic challenged him – if more for semantics than sexism. Alexander has lots of quirky asides, wrongfooting the audience into his traps of witty whimsy. And what listeners at home couldn't see what his angular, long-limbed physicality which gave his gags an extra strangeness in the room.
He has already been named best newcomer at the Scottish Comedy Awards, and this appearance will only cement his reputation as one to watch.
The personable Mo Omar didn't quite make the connection in the room that he deserves. Maybe calling the prophet he was named after 'The OG' might have lost some of those not up on the slang.
From Somalia but now living in Wales, he described how he gave up his Muslim faith so he could drink, which, like his analogy between conservatives and liberals didn't land as neatly as it could. It's a shame because there's a hint of Eddie Izzard's big-picture imagination in some of this.

The story of entering his homeland with some white colleagues to entertain the troops was revealing, though the gag that he has to explain it was the British forces he was helping is an old one. There are some good jokes in the set, but as a package it didn't quite hold together.
Hannah Platt is a more challenging type of comedian for a mainstream crowd to buy into, with dark jokes about self-hatred, her dead dad and suicidal fans – this last one, especially, being as funny as it was bleak.
She says she's come to terms with being weird, arguing that all the most interesting people are, and touching on her mental health issues was intriguing, if only partially fruitful. It seems like an area that needs more than a five-minute competition set to cover, and a longer form might suit her.
After the darkness, the light, with Josh Jones, a 1970s sitcom writer's idea of a gay man. All high camp and higher voice, he makes Alan Carr look like The Game.
Introducing himself as 'gay, dyslexic and left-handed' called to mind Britain's Got Talent's Robert White, who has even more adjectives to his name. Jones says he wants to be seen as more than camp, though that's quite a mountain to get over, and one that's heightened by waspishly acerbic lines about how dim the general public are.
The unthreatening demeanour certainly endears him to a crowd – even if not everyone is convinced it's genuine, given one of the anecdotes here. It certainly looked like the real deal from where I was sitting, and a winning persona from which to build. And as he does, we will surely see more than the two-dimensional projection he's trying to shake, even thought it's such an instant hit with audiences.
Read More
Published: 16 Aug 2019
A gloriously diverse bunch of new comedians, a hugely…
17/08/2016
Past Shows
Edinburgh Fringe 2019
Edinburgh Fringe 2022
Agent
We do not currently hold contact details for Josh Jones's agent. If you are a comic or agent wanting your details to appear on Chortle, click here.