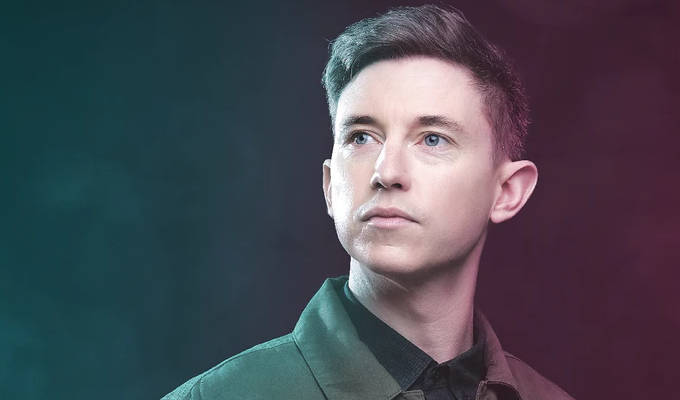 Jake Lambert
I have about four opinions I believe in, and epilepsy. 
Since bursting on to the comedy circuit in 2015, making the finals of many new act competitions, Jake Lambert has gone on to support Seann Walsh, Kerry Godliman, Tom Allen and Rob Beckett on their UK tours as well as writing on Mock The Week, 8 Out of 10 Cats, The Now Show and more. He returns to Edinburgh today for a short run at the Pleasance...
What have you learnt about yourself and your comedy during lockdown? Has it changed anything?
The boring and serious answer is Zoom gigs taught me to be more conversational, and to have a more relaxed delivery, which is nice for both me and the minions I'm being paid to entertain.
Did you do any Zoom or drive-in gigs? How did you feel about them?
I did a drive-in gig. A lady took umbrage (I have never used that word in my life) to my Michael Jackson (topical) material and started blaring out I'm Bad from her car stereo. Poor choice of song really.
She then reversed to leave and did not – I found out through her middle finger – enjoy me referencing the fact that she was basically doing the moonwalk in her car.
Also audiences have to beep their car horn to let you know they like the joke. I stalled on a roundabout the next day which got an incredible reaction from the other drivers.
What does the Edinburgh Fringe mean to you?
It's great in that it feels like a chance for you to work hard, be seen, and get a chance to make a difference to your career. I think my last two shows were somewhere between fine and crap (but thanks to everyone who came). Don't get me wrong (although I think Chortle did in 2019) they were funny, and had lots of fun jokes and stories, but as shows they could have been better.
It's nice to get up there, reset, and show people the work you've done–which was what I was excited to do in 2020. I've always enjoyed seeing acts who worked hard for years, got good, went to Edinburgh again and again, and then got the recognition they deserved and worked hard for. So I'm glad that by pure accident, circumstance, and my shows not being good enough, that I find myself on that trajectory.
The whole PR stuff is a bit silly. I was in Three Weeks' 'Three shows to see this fringe' in 2018 and they didn't even come to see it themselves, which is a great joke that only I got to appreciate. Other than that, it's great to see my comedy friends, as I rarely get to hang out with the two of them.
What would your perfect Fringe day be, in a normal festival year?
No rain. Sun shining. Play football in the Meadows. Don't see any other shows. Have a lovely audience that enjoy the live element so you can have fun with them. Back 'home' for dinner. Quick shower. Out for drinks until 4am. Repeat.
What's the best experience you've ever had doing comedy?
The honest answer would be so crass to give that I won't bother mentioning it because I don't think anybody would want to read about me flying to Norway on a private jet and performing to 10,000 people in Oslo arena. So I'll say any night that you can perform to a lovely crowd on home turf (London for me), and have a great gig that reminds you that you have the best job in the world. But probably the 10,000 people answer.
What does your show reveal about you?
That I have about four opinions I believe in, and epilepsy.
If you have special walk-in music for this show, what is it, and why did you choose it?
I don't think the audience pays attention to the walk-in or walk-out music as much as we think they do. But any song that makes the audience feel good, upbeat, and less wet/hot than they are. A song that they feel the need to Shazam is nice. And something that has something to do with the show. So for me it's songs with either the word 'shimmy' or 'shake' or both in.
Describe your show in the form: 'the bastard child of X and Y on (drug Z)'
The child of my mum and dad on stage.
• Jake Lambert: Shimmy Shake (a work in progress) is at the Pleasance Courtyard Cabaret Bar at 5pm today, tomorrow and Sunday.
Read More
Published: 20 Aug 2021
Past Shows
Agent
We do not currently hold contact details for Jake Lambert's agent. If you are a comic or agent wanting your details to appear on Chortle, click here.