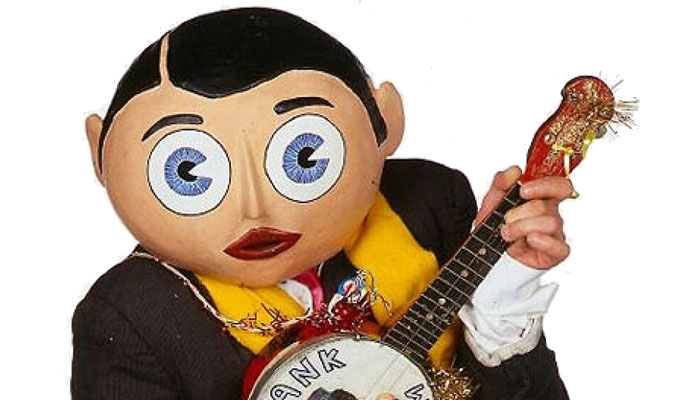 Frank Sidebottom
Cracking the Frank Sidebottom code
Britain's top codebreakers were called in to decipher secret messages left by Frank Sidebottom.
Spies at GCHQ were asked to figure out the meanings of symbols that Chris Sievey, the man inside the character's papier-mâché head, drew around the edge of some of his artwork.
The team found that hidden messages included 'Why does my nose hurt after concerts?' – an easier riddle to crack given he wore a nose peg to alter his voice – and the more cryptic 'The Man From Fish EP is top secret'.
Sievey, from Manchester, told friends and family he was hiding important messages in code around the edges of his newsletters and cassette sleeves.
But it was only cracked after his 2010 death, thanks to filmmaker Steve Sullivan, who contacted the Cheltenham-based eavesdroppers.
But even they could not crack the code until Sievey's son Stirling recalled how he and his siblings to fill an outer row with random symbols, while his dad would insert the real code into the inner row.
Sullivan told BBC News: 'By letting his kids add nonsense into the message, it deliberately obscures the chances of anybody - even top mathematicians - being able to crack it.
'So I reported back to GCHQ that the outer ring is a red herring and then had an email one day saying, "Right, we've cracked it during a light-hearted training exercise."'
Key to unlocking the secret was the fact that a Sidebottom fan inside the spy base looked for a pattern that could represent 'bobbins', one of Sidebottom's favourite words.
'I'm embarrassed to say, on the very next day Chris's very own code grid was found in the back of his address book,' Sullivan told the BBC.
His film about Sievey, Being Frank, will be released on DVD on April 29. Order.
Read More
Published: 14 Apr 2019
Comedy fans have raised more than £6,000 in just two…
23/06/2010
Stars have lined up to pay their tributes to Frank…
22/06/2010
Frank Sidebottom has died at the age of 54 after collapsing…
21/06/2010
Frank Sidebottom first thought his cancer was a tapeworm,…
25/05/2010
Frank Sidebottom creator Chris Sievey has been diagnosed…
13/05/2010
Beat The Frog World SeriesFrog and BucketOctober 23Frank…
23/10/2006
Agent
We do not currently hold contact details for Frank Sidebottom's agent. If you are a comic or agent wanting your details to appear on Chortle, click here.