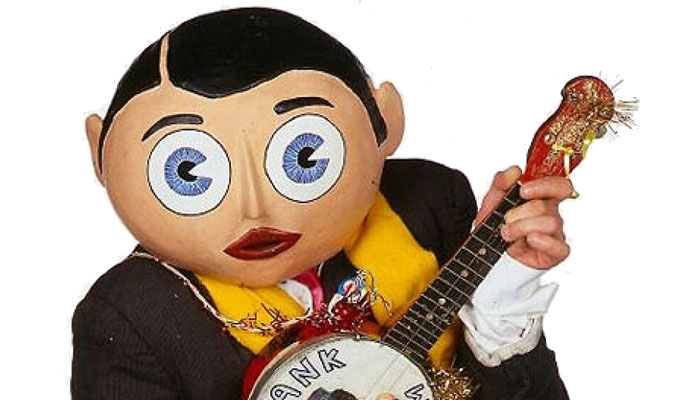 Frank Sidebottom
Being Frank: The Chris Sievey Story
It's not entirely clear whether Chris Sievey would approve of this documentary. He always insisted on remaining entirely separate from his alter-ego Frank Sidebottom almost to the extent, it is suggested, of schizophrenia. He hated being seen without the papier-maché head, with bandmate Rick Sarko believing that was because he had an almost pathological fear of being seen as a normal human being.
Sievey also had a love-hate relationship with the cheery, nasal-voiced monster he created. Sidebottom certainly brought him a recognition he craved, but not as himself, which seems to have frustrated him – despite his insistence on keeping his distance from his character. He was, after all, a talented songwriter and artist, and his first dream was to be a pop star.
Being Frank reveals some early tracks that very much sound like latter-period Beatles, his all-time heroes, and Sievey formed a number of bands on the Manchester scene. Most successful were the Freshies, an upbeat name to counter the depressive likes of Joy Division, so fashionable at the time.
They were one of pop's near misses, the catchy I'm In Love With The Girl On A Virgin Manchester Megastore Check-Out Desk never bothering the upper end of the chart: thwarted by broadcasting rules on brand names and a BBC technicians' strike that nixed their one scheduled Top Of The Pops appearance.
As detailed in Being Frank, Sievey was described in the music press as 'the greatest one-man organisation in the music business' as well as a 'singer, songwriter and self-publicist'. There is a great clip here of him appearing talking to TV presenter Nick Owen talking about a pioneering single whose B-side contained a computer program that would provide a very basic music video on the primitive ZX-81.
This is just a small sample of the treasure trove of archive material rescued by film-maker Steve Sullivan from a damp cellar where it was destined to be thrown away. Sievey was clearly something of a hoarder of his prolific artistic efforts.
Despite his yearning for recognition, much of his endeavours were merely for his own amusement, down to putting hours of effort into producing programmes for his Sunday league football team, and keeping detailed, illustrated match reports – like the nerdiest of obsessive teenagers – that were never meant to be seen.
Sidebottom himself emerged in the least engineered way. The giant head was originally part an outfit for a fancy dress part character called John Smith. But then Sievey incorporated him into the Freshies' publicity story as an obsessive fan, now with the new moniker. Soon the comedy sidekick eclipsed the band.
For all the treasure trove of funny and revelatory material in Being Frank, there's a little bit too much talking by other people, including friends, family, bandmates (including Jon Ronson and Mark Radcliffe) and comics Johnny Vegas and Ross Noble and Mark Radcliffe – when it's the glimpses of Sidebottom's politely anarchic work that makes the screen come alive.
Yet this is a hugely affectionate film that offers a rounded portrait of the man behind such an apparently superficial – if wonderfully odd – alter-ego and serves as a fitting, and ultimately poignant, tribute to a comic one-off.
Some anecdotes are great – such as him wooing his future wife by pushing her into the canal, being booed by 55,000 people when introducing Bros at Wembley Stadium as Frank, or engineering a prank on record industry bigwigs after stealing some headed paper from the Stiff label.
A second small niggle with this biopic, the demons Sievey grappled with are conjured so abruptly they almost feels like a joke in itself, that the man behind this wide-eyed alter-ego – so benign he'd appear on kids' TV – would have issues with drink, drugs and womanising. And money, too, spending it as soon as he earned it, leading to an unpaid £50,000 tax bill.
He got a real job for a while – making props for Bob The Builder, would you believe? – but that was not enough to stave off the real threat of a pauper's funeral when he died from cancer in 2010 at the age of 54.
In the end, his fans rallied and even funded a statue in his native Timperley. A solid physical reminder that even the most eccentrically avant-garde can be welcomed into the bosom of the public, if they can stand out in a sea of the bland. That a man with a fake head could symbolise the authentic is as heartwarming as it is ironic.
Read More
Published: 30 Mar 2019
In these Big Brother days anyone, it seems, can become…
23/10/2006
Agent
We do not currently hold contact details for Frank Sidebottom's agent. If you are a comic or agent wanting your details to appear on Chortle, click here.