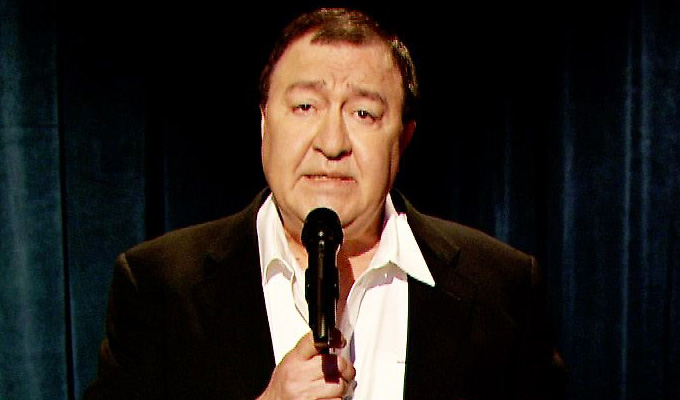 Dom Irrera
Date of birth: 30-11-1946

Cracker Night review
Most comedy festivals launch with a big gala. Not Sydney. It has four – all on the same night. They include the star-name show at the 1,4600-seat Enmore Theatre, recorded for TV, and this one, in the smaller Metro, hosted by Kiwi Al Pitcher.
Another notable fact is that for a comedy festival in Sydney, only one Sydney act was scheduled to appear – musical trio Axis Of Awesome – although one local lad did secure a last-minute slot in the absence of young, ash-bound, Scot Daniel Sloss.
Pitcher, now resident in Sweden after a stint in the UK, didn't have very long to settle the restless audience at the top of the show, though made a decent fist of it with affable if nondescript banter, and a couple of prepared routines that gave him a chance to demonstrate his comic physicality.
In honour of this venue's usual rock-based programming, fake German electro duo Die Roten Punkte kicked off proceedings with their Robot-Lion signature tune, getting laughs from little more than the tinny synthesised voice of the chorus. In the Eighties, we would have taken this 'music of the future' seriously, although 'siblings' Otto and Astrid's boisterous horseplay added another level of ridicule, which, as we know, is nothing to be scared of.
Russell Kane next, making no mention of the minor notoriety he gained earlier in the day for making an autism joke on TV's Good News Week. Instead, he got the crowd on side immediately by pandering to their pride: 'Free of Melbourne at last!' he cried, before depicting the rival city whose comedy festival has just ended as full of pretentious latte-drinkers. He enjoys talking stereotypes, if not always challenging them, and his vigorous description of the apparently contradictory Australian psyche – bolshie but laid-back – certainly struck a funny chord, bolstered by his typically animated delivery.
Sticking with the Brits, Carey Marx offered a very appealing mix of the observational, the biting and the borderline bad taste. A brilliant opening gag about the lights in hotel rooms – yes, really – seguewayed into a commentary about overprotective health and safety rules. As a target, it may be an easy one, but Marx's savagery makes the routine compelling, and hilarious.
In her brief sampler set, as opposed to her acclaimed festival shows, Celia Pacquola plays things safe; starting with the opening gag about her modest breasts, possibly for fear that otherwise some heckler will get there first. Material about relationships and drunken behaviour are similarly mainstream, though done with wit and flair, but offer little hint of what she is really capable of.
You can't go wrong with Canadian Jeremy Hotz, even in the short sets these showcases demand. And as he dismissed pigeons, bus travel and health concerns with a winning combination of middle-aged grouchiness and amused bemusement, the audience were with him every step of the way. His voice cracks up in twisted laughter on almost every line – and why not, given how accurate his observations are, and how exquisitely well he conveys them.
Alongside such acclaimed acts, Sydneysider stand-in Mikey Mileos was left more than a little exposed by his lack of experience. By a long chalk the newest comic on the bill, the patchy set lurched from awful puns – one of which sounded uncomfortably racist thank to the phrase 'ching ching' for Chinese – to noticeably more artful gags.
Reginald D Hunter's philosophising proved much more absorbing. His deep tones always add gravitas to what might seem like profound thoughts – though, in truth, most are just silly or provocative for provocative's sake. Suggestions for sentiments that really ought to be able to be expressed in a single English word – rather like the German schadenfreude – was the stand-out routine.
Wasted by performing in the break, gifted vocalist Mr Percival led some enjoyable audience participation – although no one needs to hear 'we're gonna rock down to/Electric Avenue' quite so many times.
More music to open the second half with Carl-Einar Hackner – or so it appeared when he took to the stage with his guitar. But nothing is ever quite how it seems with this absurdist Swedish prop comic-cum-magician as he smashed into the first of many devastatingly funny sight gags, including his superlative bandana trick. I daresay he sold some tickets to his solo show on the strength of this typically barnstorming performance.
American Shane Mauss (pictured) may deliver his material with a nasal whine, but you could never accuse him of being annoying. A well-stocked arsenal of inspired and unexpected punchlines ensures that his tales – concerning everything from theme park tragedies to how he'd deal with intruders in his home – always contain an appealing twist in their tails.
Compatriot Dom Irrera makes the most of his Italian-American rhythms, growling out phrases like 'big sweaty balls' with such distinction that you can only love him. But he's even better when putting on a cadence that's not his own – demonstrating conclusively, and hilariously, how the comedians of Def Comedy Jam get their job done through style, not content.
The Pajama Men seemed concerned how an extract from their fast-paced two-man, many-character play might sit in an evening dominated by stand-up; but they needn't have worried. The most impressive part of their show is their switching between personalities in an instant, but choosing an interrogation scene that restricted such performance pyrotechnics allowed the quality of the writing to shine through. And they're a damn funny pair.
Concluding the run of Americans, Tony Woods seemed befuddled, with misfiring punchlines, confused set-ups and a crippling amount of analysis on why each joke didn't get what he thought it deserved. Often it was simply because his premises were so badly focussed. For example, one routine mocked the British for saying 'I'm pissing on you' when they mean 'only joking', apparently ignorant to the fact no one says that. He might have mean 'pissing about' but was too confused about what he meant. Likewise, whatever he intended to say about kangaroos was lost between brain and mouth, which was out of character for this normally skilled operator.
Always end with a song, they say, so cue the poor man's Tripod, the Axis Of Awesome, after some technical faffing, to give us two. One a pub rock number about why you're not as good as Jesus, so forget those WWJD bracelets; the other a medley of hits with lyrics you can't make out – from Song 2 to Louie Louie – which isn't a great joke, but they make for a good cover band. And morphing Bob Dylan into the Crazy Frog was a nice flourish, if hardly contemporary.
Not, then, the greatest two acts to end the night -– but otherwise this was a line-up as fine as you could expect anywhere, and a great way to launch the Sydney festival. No wonder they call it Cracker Night.
Read More
Published: 21 Apr 2010
Lewis Black, Paul Merton, Mike McShane, Lee Mack, Dara…
1/05/2007
The line-up for this year's Cat Laughs comedy…
25/04/2006
At least one comic is guaranteed to land a TV deal…
20/07/2004
Dublin is to get its own comedy festival, featuring…
24/06/2004
Montreal's Just For Laughs festival has announced…
17/05/2004
Rich Hall, Bill Bailey, Daniel Kitson and Jimmy Carr…
4/05/2003
Mike Wilmot has won the 2003 Barry Award. The accolade,…
18/04/2003
The shortlist for the Melbourne Comedy Festival's…
12/04/2003
Past Shows
Edinburgh Fringe 2002
Montreal 2004
Agent
We do not currently hold contact details for Dom Irrera's agent. If you are a comic or agent wanting your details to appear on Chortle, click here.