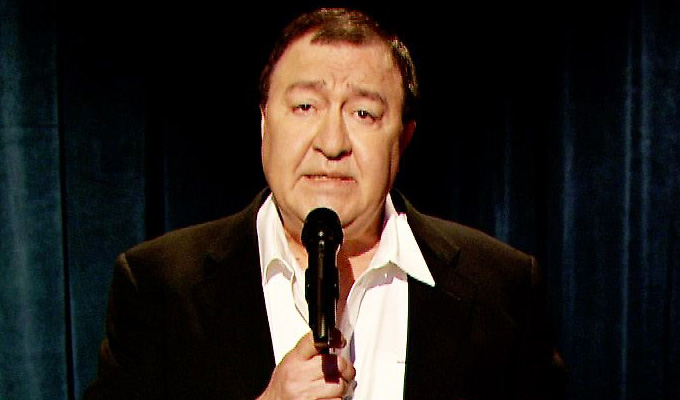 Dom Irrera
Date of birth: 30-11-1946

Dom Irrera – Original Review
Note: This review is from 2005
Dom Irrera has the perfect voice for stand-up. His gruff, Italian-American patter conjures up all manner of no-nonsense wiseguys who become bitter at nothing and aggressive over even less. If Tony Soprano wanted a comic, he'd call Irrera.
The relentless pacing is perfect, as punchline follows insult, almost falling over themselves in the clamour to get out his mouth. This is comedy as a sort of urban poetry – told as only a disgruntled short, fat, middle-aged guy from Philadelphia could. As such, the laughs come as much from the runaway rhythm, the bam-bam-bam machine-gunned stream of adjectives as they do from the material.
Much of this is inspired by his extended families, the tough guys who forever Kvetch about their minor ailments or the insult-hurling chancers who whatever tirade of abuse they spew, will always memorably temper it with: 'And I don't mean that in a bad way…'
Add to that a Meldrewesque intolerance for the idiocies of just about everyone he's forced to share this miserable planet with, and there's plenty to delight alongside the unstoppable energy of the performance.
The routine hardly changes over the years Irrera peddles it, though his is one of the few routines that does bear up to repeated listening. He might meddle around the edges – last time out, he ruthlessly demolished the sort of lazy young black comics who rely purely on their street patois to get a cheap laugh – but with the core will always stays the same. And I really don't mean that in a bad way.
Read More
Published: 1 Jun 2005
At the top of Montreal's comedy tree are the showcase…
1/01/2004
Past Shows
Edinburgh Fringe 2002
Montreal 2004
Agent
We do not currently hold contact details for Dom Irrera's agent. If you are a comic or agent wanting your details to appear on Chortle, click here.