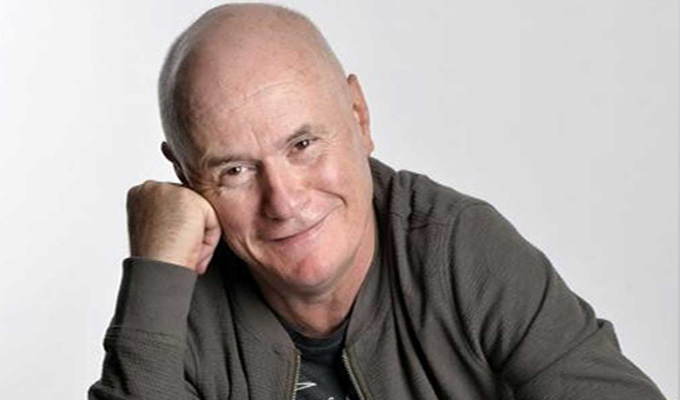 Dave Johns
Dave Johns: I. Fillum Star
If you want three ways NOT to open a comedy show, how about a) showing sobering footage of how the benefit system dehumanises the sick and the needy; b) bragging that you're now a film star; or c) doing both.
But when it's Dave Johns, the universal reaction to his newfound success as an actor after 30 years as a stand-up is that it couldn't have happened to a nicer guy.
His story could almost have come from the movies itself. After being a comic barely known outside the circuit for those three decades, he was ready to give it up to run donkey rides on the beach - for real - until a very speculative text message to the casting director on I, Daniel Blake jettisoned him on to the international film circuit. He's met Meryl Streep, Emma Stone, Steven Spielberg, Isabelle Huppert and more.
I, Fillum Star are his dispatches from that new world, alien to the ex-bricklayer. He feels like a fish out of water at the premieres, parties and festivals, which he ascribes to a working-class 'imposter syndrome' of not belonging. He's certainly aware of the massive disconnect between the extravagant glamour of the red carpet and the bleak subject of Ken Loach's acclaimed film.
This show – his first stand-up hour at the Fringe in 18 years – is, therefore, a succession of stories of him saying the wrong thing to the wrong person. The constant self-deprecating tone keeps him endeared to the audience, even if the format of the anecdotes is broadly the same, each culminating in an A-lister backing away warily. And there is a bit of fat on the bone of some of the tales.
Johns, now 62, has also managed to shoehorn some of his usual stand-up material in; an encounter with Sean Connery prefacing his longstanding, and playfully silly, routine about the lyrics to Goldfinger. Elsewhere, tells how he once got traumatised by David Bowie's testicles, and in a change of pace he paints rather a forlorn picture of Brexit, an image more truthfully sad than funny.
There is also a point to the meandering celebrity stories, and an uplifting one at that. For when Johns concludes that when he got to be over 60 he started to feel invisible, thinking that things were at an end. 'But it's not the end,' he said 'It doesn't matter how old you are, things can change.' And that sends you out as uplifted as the most positive of Ken Loach movies.
Read More
Published: 11 Aug 2017
You know you've got a strong bill when Sean Lock's…
22/07/2011
Twenty-five years ago comedians Jim Sweeney and Steve…
13/08/2010
Few comics play the cheeky buffoon quite as well as…
3/07/2007
It was something of a gamble casting only comedians…
1/01/2007
Description Stage Best Actor 2005,…
1/01/2006
It was a difficult birth, thanks to the director quitting…
1/01/2004