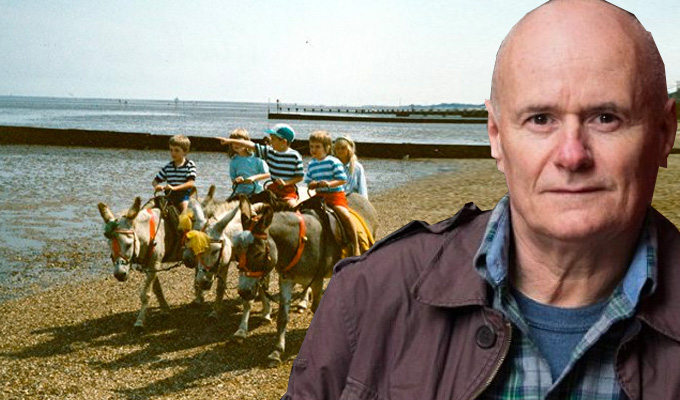 'I was ready to quit stand-up to run donkey rides'
Dave Johns has revealed he was about to quit comedy to run beach donkey rides before he landed the title role in I, Daniel Blake.
The veteran comic, who won best actor at the British Independent Film Awards for his portrayal of a widowed carpenter who can't claim his benefits after a heart attack, was ready to retire when he was offered the audition, after more than a quarter of a century performing.
And now he's planning his return to the Edinburgh Fringe to do stand-up for the first time in 17 years.
Speaking about the period leading up to his audition for the Ken Loach film, which went on to win the Palme D'Or at Cannes, Johns told Chortle: 'It was serious, I came really close to packing it in. We all know that it's tough on the circuit these days.'
He blames a drop in the number of gigs and a reduction in comedians' wages on part-time comics undercutting professional acts.
And he rejected lucrative cruise ship bookings, saying: 'I had one experience of it and the thought of a cruise director telling you what you can and can't say, that's horrific to me as a comic.'
Instead, a trip to Scarborough with his daughter inspired him to consider a different career and he looked into getting a licence for donkey rides on three beaches around Newcastle: Whitley Bay, Tynemouth and Cullercoats.
'The donkeys were nostalgia from when I was a kid,' he said. 'My daughter was really keen and I was reading up all about it. I could imagine myself just taking a couple of quid, taking these donkeys for a ride. I just thought, "I'm 60 now, do I want another ten years of traipsing to Hull for £150?" I've always loved stand-up, the job, but the travelling can get you down, chasing promoters for money and the stags and hens.'
However, his ambitions were thwarted when he was tipped off that North Tyneside Council prohibits the keeping of animals for 'performing'. 'Luckily, Mr Loach took that dream and turned it into something else,' Johns aid.
The comic's revival, from would-be donkey magnate to I, Daniel Blake winning Best British Film at last month's Bafta Awards forms the basis of his new Edinburgh hour, which he'll be taking to the Fringe after a series of work-in-progress gigs beginning this month.
The as-yet-untitled show, which will be in the 183-seater Pleasance King Dome, ought to be a very different experience to his last hour in 1999, I'm In The Attic Mother. It won a Spirit of the Fringe Award, he jokes, because the cramped Pleasance Attic space was so hot.
He has appeared at Edinburgh as part of an improv group and with fellow comics in a series of theatrical adaptations of classic films including Twelve Angry Men, One Flew Over The Cuckoo's Nest and The Odd Couple, but he came to find the festival too pressurised an environment for stand-up and didn't want to simply repackage his club sets.
'It's a weird place,' he says. 'But I know it quite well and the pressures. I'm 60, what the hell, they offered me a nice venue. I'm going to have fun with it. It's going to be a story about what's happened to me since the donkeys idea. But it'll be routines that I can use in the clubs as well.'
Johns also shared his excitement at his latest film role, which he will shoot in May and June, but kept the details firmly under wraps. But he does say that 'the script's excellent. And I'm one of the leads.'
He recently disclosed that he'd had his availability checked for Hollywood blockbuster Godzilla 2. And since his critically lauded debut, he's made two short films, 'just because I liked the scripts'.
Me, The Elephant is for Channel 4's short film strand Random Acts and explores self-harm and depression, while Howay! also looks at mental health, but from the perspective of football obsession.
Last year, the comic told Chortle that he'd written a script about a UK-based jihadi. But 'that's in the drawer. I want to finish it but you've got to prioritise and at the moment that's on the back burner. It's weird, I feel like I've gone from 0 to 280 miles per hour in the space of five seconds.
'Ken Loach has changed a lot of people with the contents of his films and now he's changed mine.'
- by Jay Richardson
Published: 4 Mar 2017
What do you think?