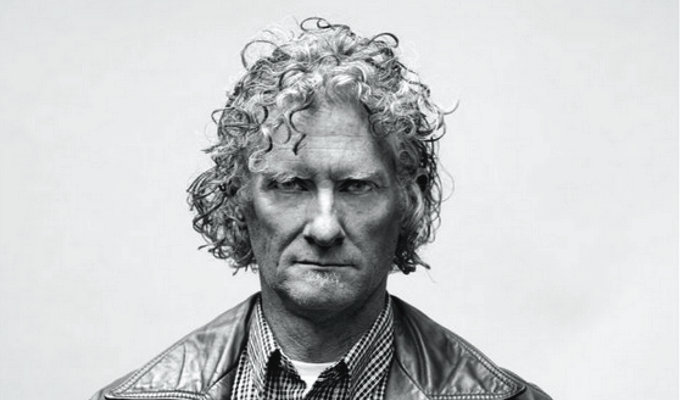 Dave Fulton
Dave Fulton: Adapt, Adopt, Adapt Again
As Dave Fulton acknowledges, this deeply emotive storytelling hour is a significant departure from his usual sardonically dismissive stand-up.
Sometimes, a comic switches style to better convey a significant life change. This is certainly one of those shows. Occasionally too, though, it takes a comedian to humanise and make palatable a horrible situation. Discarding his notes, Fulton reflects that what he's about to share is his life, so he has no problem recalling it.
Adapt, Adopt, Adapt Again is an account of how he and his wife, both white, sought to adopt a little black boy, Bam, and the nightmare of bureaucracy they faced –and the story is often heartbreaking, with many wrenching twists and turns.
Without reducing himself to a complete caricature, the American comic and veteran of the UK circuit portrays himself as a redneck-raised, gun-owning, adventure sports junkie from Idaho, too focused on his career to think about starting a family. His English wife feels differently, however, and out of love for her, Fulton begins going through the motions.
After a few false starts and dashed hopes, at least some of which have formed the basis of entire Edinburgh hours, they arrived at the notion of adoption.
At this point in the retelling and probably mindful of what's to come later, Fulton is very much still in stand-up mode, constantly analysing and poking fun at the endless rounds of lectures and consultations as well as their fellow would-be adoptive parents. Although he's simply being himself, he contends, there's more than hindsight at play when he recalls various social workers describing him as an 'asshole'.
If you were being cynical, you'd say his redemption requires this opening, not least as it also front-loads the show with laughs to balance the bleaker episodes to come, preventing it getting bogged down in the tough stuff early doors. That's not to say that Fulton trivialises his subject matter, simply that he's deft enough to set a satisfy pace and capably mix the light and shade at his own expense.
Certainly, no-one is leaving Adapt, Adopt, Adapt Again with the idea that adoption is easy. Some aspects, as in the hierarchies of which gender and ethnicities are most popular with prospective parents, and the frighteningly young age at which black boys are condemned to a life of fostering, are truly sobering.
The odds have been further stacked against Fulton and his writer-performer wife because they're freelancers. The rigidity of the system pits their need to make a living against the time they have to devote to constant assessments and meetings. It is absolute Sod's Law but Fulton finds himself approaching his lowest ebb just as he lands an acting break on the sitcom I Live With Models.
Where this otherwise linear show really engages though, is in the convincing way that both Fulton and his wife's feelings towards Bam – so named because, like Barney and Betty Rubble's son in The Flintstones, he's got a healthy appetite for destruction – shift and surprise even themselves, sustaining the fraught ride and ever-present sense of jeopardy for their nascent family unit.
Fortunately, the racial context, a cause of several obstacles in the process, also reintroduces the humour at a crucial point, both in the clumsy well-wishes and incomprehension of strangers towards Fulton and his son, and the reluctance of the comic's father to accept his black grandson. Interestingly, while seemingly the embodiment of white, male privilege, Fulton's experience of prejudice as an immigrant in this country proves a decisive factor too.
Although still a work-in-progress, there's currently no filler or extraneous detail here, the direct emotive tug making for a potent comedy-pathos combination.
As a sometime cocaine-dealing layabout, who drifted into UK comedy on the advice of Greg Proops and Mitch Hedberg, and has perhaps been coasting in the manner of the latter's backhanded compliment towards him, this traumatic episode and its retelling should raise Fulton's profile, affording him the opportunity to be seen as more than a respected circuit journeyman.
At the same time though, his countless hours on stage, sharpening his craft shouldn't be underestimated. Arguably, it would be easier to make a drama out of Bam's life. Yet Fulton has wrung an exceptional number of laughs from his family's ordeal, all without compromising on its earnest, emotional punch.
Read More
Published: 2 Apr 2019
Even as thousands of Americans marched on Washington…
25/03/2018
In a criminally undersold show, in a new venue off…
9/08/2011
Dave Fulton is easy-going, ironic and liberal – which…
2/06/2008
While researching this show, Dave Fulton tapped the…
1/01/2005
Past Shows
Agent
We do not currently hold contact details for Dave Fulton's agent. If you are a comic or agent wanting your details to appear on Chortle, click here.