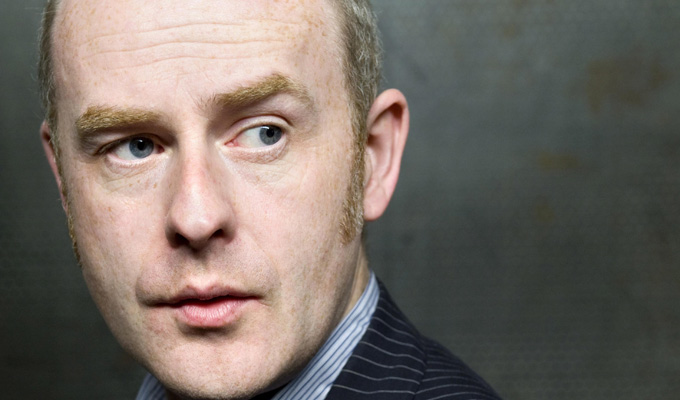 Colin Murphy
Vodafone Comedy Carnival Day 2
Note: This review is from 2017
It's a sign of a good festival when you're get to see comics of the calibre of Kevin Bridges in a pub gig... and he's not even headlining. Indeed his appearance at the spiritual home of Galway comedy, the Roisin Dubh, was his second supporting role of his night at the city's Vodafone Comedy Carnival, having shared a theatre bill with Tommy Tiernan earlier.
But the day started with another Irish comedy hero, in another pub room. Ardal O'Hanlon running through some material for a potential 2018 or 2019 tour entitled The Showing Off Must Go On; its themes being the Irish tendency for modesty and sarcasm - as well as the comic trying to shake off the image of being a bit dimwitted that persists 20 years after Father Ted. His early stand-up certainly played up that idiot savant persona too, but now he's middle-aged, he's settled into a wry, sage Everyman mode.
As with any work in progress, the 60 minutes had its highs and low - though O'Hanlon has the affable charisma to paper over the cracks - with a couple of the more eye-opening stories revealing that he was caught up in an armed bank robbery when in his 20s... but even more terrifying was the weird owner of a B&B where he stayed in County Derry.
O'Hanlon of course sold out the intimate 70-or-so seater; but no such luck for Paul Currie in the same room a couple of hours later - which is especially unfortunate given that his show depends so much on audience participation.
From the get-go we are putting our hooves in the air - 'Hoof! Hoof!' we chant – and riding our imaginary Love Dragons around the room. He makes a tongue-in-cheek mention of his depression, joking that it lends some artistic heft to the hour... but it doesn't. Cats In My Mouth is a show where meaning goes out of the window for a series of silly games.
It sometimes feels like kindergarten for grown-ups – encouraging us to lose inhibitions and play in the moment. That's easier for the group games than those requiring a single volunteer, selected after an epic trek through the audience tundra, where it can feel more intrusive for the person involved. Slower skits, sometimes overindulgent, punctate the more knockabout fun, but generally this enthusiastic oddball makes his chaos infectious.
More traditional stand-up of the four-acts-and-a-compere variety is offered at the Black Box Theatre in the evening.
Northern Irish host Micky Bartlett eschewed audience banter for prepared material about losing all his friends to parenthood: the inappropriate contempt for toddlers as potent as it always is. And in the second half he tackled the topic of female puberty, even if he acknowledged, 'maybe it's not my place to talk about it'.
Opening act Fern Brady conceded that she had a reputation on the comedy circuit for aloofness and that came through in her performance too, not making an especially warm connection as she took on tough issues. Stories about the sinister 'intrusive thoughts' she gets, especially towards her boyfriend, are confessional and interesting, but with funny lagging a little behind. Her political points also divide the room, not least a pro-choice gag that caused disconcertment before she left the stage.
Jolly Fred Cooke - a late replacement for Francesca Martinez - made a more instant rapport with lighter, jauntier joshing, as he plays it dumb. He uses songs in his set, always a crowd-pleaser, but using the tracks as punchlines rather than lame parodies. He's a born entertainer, perhaps a triumph of personality over material, but the rambunctious idiot zings along nicely, and cheers the spirits.
Next up Bridges, fresh from a tour of Australian and, separately, appearing on the same stage as Barack Obama for a charity gala. But don't think he's getting above himself, he remains an assassin of pretension, efficiently dispatching it wherever he finds it. In a crowded market of Donald Trump jokes, he treats the President like a bar-room bore, and so creates a memorably patronising response, while Brexit and the refugee crisis are also addressed in typical no-nonsense Glaswegian style. The fluidity of Bridge's conversational approach is also a huge asset, as finds great laughs off script, riffing with John, the gobby, self-described 'racist refugee' in the auditorium.
Finally Tommy Tiernan, who lives around these parts and can even do a chunk about one particular thoroughfare that gets huge laughs from the locals who know exactly what he's talking about. It's merely an appetiser for some meatier issues, though: refugees, gay rights and why old folk should be denied health care - all his usual mix of impish provocation. But the main target of his mischief is his own failing body: a comedy staple for sure, but his description of getting some pharmaceutical help for his unreliable 'horn' is a brilliantly vivid description of his ebbing mortality.
Bridges and Cook returned for a far more raucous late-night gig at the Roisin Dubh, rammed to the rafters and attended by a 40-woman hen do, ebullient but not dominating the gig. Some of that was down to Karl Spain's compering, including them but not excluding everyone else. His introductions are fantastic, too, eschewing insincere showbiz platitudes about how great the next act is for some fierce roasting of his circuit pals.
The line-up also included Colin Murphy, the compere of the previous night's opening gala, mocking Northern Ireland's pride at being the filming location for Game Of Thrones, not that viewers would know; and Cork three-piece, Foil Arms And Hog with a crowd-pleasing selection sketches, including some nifty work with an audience volunteer and a theatrical skit that owes a debt to Mr Show's brilliant Audition scene.
Stand-outs, were Bridges and Stephen K Amos, with his elegantly supercilious attitude to the ridiculous, sometimes casually racist, things he's encountered. But this was a fine line-up in a festival that's full of them.
Read More
Published: 29 Oct 2017
Galway's becoming an increasingly important stop-off…
27/10/2017
Michael Redmond has a face that looks like it's…
27/02/2015
The recession is certainly taking its toll on Kilkenny.…
5/06/2012
Festivals throw comics together, providing rare opportunities…
5/06/2012
A'This is one of the biggest gigs of my career,'…
10/06/2010
Colin Murphy's a reliable crowd-pleaser; an experienced…
6/06/2007
Make no mistake. Hosting a televised Just For Laughs…
1/01/2006
Colin Murphy is a solid, reliable comic producing…
1/01/2004
Colin Murphy takes a while to really hit his stride,…
1/01/2002
Slick and skilful Ulsterman Colin Murphy has the audience…
1/01/2000
Past Shows
Agent
We do not currently hold contact details for Colin Murphy's agent. If you are a comic or agent wanting your details to appear on Chortle, click here.