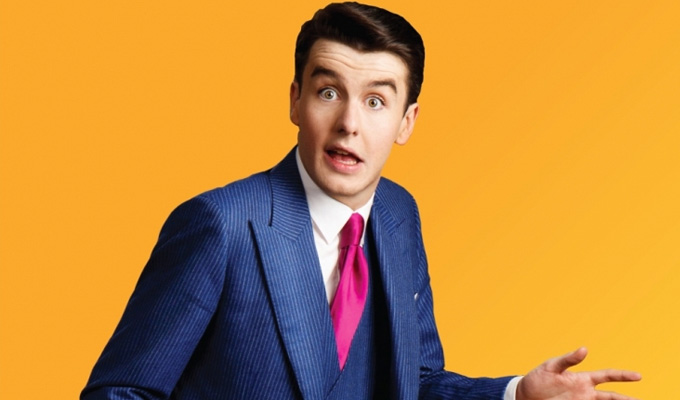 Galway Comedy Carnival opening gala
Galway's becoming an increasingly important stop-off in the stand-up calendar, with top comics flocking to the annual festival on Ireland's West Coast. And this year's Vodafone Comedy Carnival has already sold more tickets than the entirety of last year's event (12,000) before it even kicked off.
The gala to get things officially under way last night was a suitably eclectic affair in the wooden Spiegeltent that has been given pride of place in the city's central, and pleasingly rhythmical, Eyre Square.
It's possibly the first time stand-up has been performed in the round in these mirrored venues, too, even though they seemed designed for it with the booths around the perimeter now all getting a good view of the central stage. But it's certainly a novelty for the comics, almost all of whom make some reference to the fact they have to keep pirouetting to ensure no section sees only the back of their head.
Colin Murphy, one of the most experienced MCs in the business, comperes with a quick wit –efficiently shutting down a potentially troublesome heckler, building an atmosphere in an initially disengaged room (and so many people checking their phones throughout the gig!) and establishing a good rapport with some running jokes about audience members. Of the prepared material he segued into, imagining how we might have sent dick pics in the times before the internet is, frankly, hack – although he gets plenty of laughs with it – but the second-half opener about MMA fighter Conor McGregor is much stronger, built on an apparently passionate and genuine disregard for the lightweight champ.
RTE regular John Colleary opened with a low-wattage set that occasionally burst into moments of inspiration. There's a fair bit of wordplay, for instanceabout whatt 'taoiseach' sounds like, which trickles along nicely but unremarkably, interspersed with stronger ideas such as the fact he did work not with underprivileged children but overprivileged ones. Performing bits of Star Wars in the Irish language was a particular crowd-pleaser.
Paul Currie is more about baffling the crowd that pleasing them. He takes to the stage with a dramatic glam-rock soundtrack, wearing a natty three-piece suit and carrying a massive suitcase, before suddenly allowing all the energy he'd built up to dissipate, typical of a peculiar stop-start performance. He then spreads party poppers – and confusion – around the room for a second, Hollywood-style entrance, which encapsulates his ethos of encouraging childish play – both from himself and the audience. The room-splitting act, requires a willingness for everyone to take part, and is as much funny peculiar as funny ha-ha, but Currie won most people over with his exuberance and impishness.
And besides, his weirdness was nothing compared to what followed….
Physical double act Lords of Strut enter, one dressed as a priest atop another dressed as a goat. And that's the sensible bit in an unforgettably raucous, blasphemous set that later sees them dressed only in a clingfilm mankini and loincloth respectively as they mimic Christ. They're doing a children's show here, they say – which everyone assumes is a joke. It isn't.
The pair are unfollowable. So after an interval to process what just happened, comes Phill Jupitus, so laid back he cannot even be troubled to remove his coat before ambling on stage. It's a quiet set, in contrast to much of the night, but there's a wry wit in the way he talks about being the father of two daughters, and leading the way in their upbringing. Although they are grown-up now, Jupitus has plenty to say on the tribulations of nappy-changing – which may be scatology, but it's elegant scatology.
No such languor from headliner Al Porter, gabbling away at fifteen to the dozen, chucking out insults and euphemisms with the ceaseless patter of a market trader. His camp delivery is often compared to a hypercharged Frankie Howerd… and he even tells one punter to 'shut your face' in exact echo of his forebear. Though he does add '…you bitch', which Howerd probably never did.
Riding high as the host of Ireland's Blind Date as well as his own radio show, Porter is still at his best live. A man who sweats showbiz with his acidic putdowns, arch flirtations and vivid anecdotes of life in working-class Tallaght, such as his mum putting on the airs and graces of a duchess when the TV crew came a filming.
His breathless delivery is compelling, if not exhausting, but he has the gags to back it up in a furious whirlwind of a set that lays waste to polite sensibilities. He's the Hurricane Ophelia of comedy.
Review date: 27 Oct 2017
Reviewed by: Steve Bennett
Reviewed at: Galway Magic Mirrors Spiegeltent
Recent Reviews
What do you think?