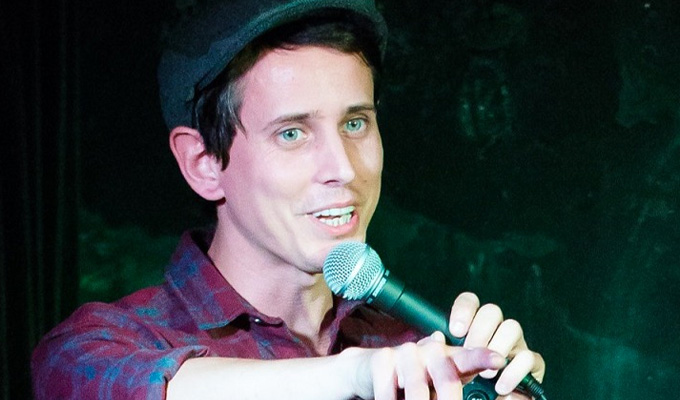 Chris Stokes
Third place in the Leicester Mercury Comedian Of The Year contest in 2009
Read More
Chris Stokes: Altruism In Birds
Note: This review is from 2015
Chris Stokes has been to hell (the Black Country) and back since his last Edinburgh show. A breakdown perpetuated by a divorce led him to quit stand-up and work as an RSPCA van driver instead.
I hope it doesn't sound flippant to say that he's come out of it as a better comedian. For starters, he copes remarkably well with a couple on the front row who were virtually having an argument during the show, and a middle-aged man-cum-volcano who looked absolutely furious about being there. No wonder Stokes wasn't phased, he's had bigger shit to deal with.
He is still the unassuming stand-up that I saw three years ago here, but since then he's acquired a bit of steel and conspicuous confidence, and has better lines up his sleeve too. His is an interesting story about going from being judged for looking like a teenager, to moving back in with his parents and being judged for driving a van instead.
Stokes debunks a few theories about introverts and extroverts, and the assumption that age and wisdom are directly correlated. The semi-cliche of love being selfish also comes under scrutiny. It doesn't seem much to ask, but it is nice to watch a comedian and feel that he's actually had a good think about stuff. So this is a show with genuine, uncontrived epiphanies as well as laughs.
The culmination of his breakdown is a 20-minute walk that turns into a five-hour one guarding an injured seagull, and lo and beyond here he is, back in the comedy game.
The angry man-cum-volcano doesn't make it to the end, calling it 'fucking dismal' on the way out. There's booing and disagreement in the air. The show could do with an edit, I'd say, particularly in the final ten minutes, but it's a good return for Stokes.
Read More
Published: 18 Aug 2015
Not many comedy sketch groups are named after famed…
18/02/2014
Comedy festivals should be more than coordinating tours…
19/10/2009
Newbie Chris Stokes has a nice style to him: with utmost…
21/10/2008
Gong shows are springing up almost everywhere these…
1/01/2008
Past Shows
Agent
We do not currently hold contact details for Chris Stokes's agent. If you are a comic or agent wanting your details to appear on Chortle, click here.