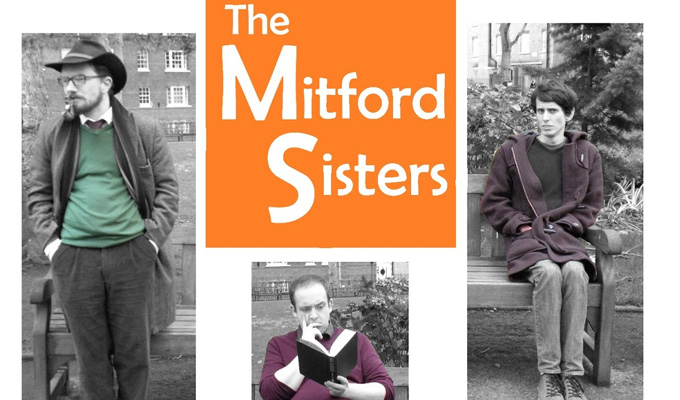 The Mitford Sisters Reunion
Note: This review is from 2014
Not many comedy sketch groups are named after famed fascists, but the Mitford Sisters like to do things a little differently. Right from the apologetic introduction from comedian Chris Stokes, it's not quite clear whether the show is going to plan or not – which is typical of the quirky unpredictability that permeates the entire hour.
On the rare occasion a filler sketch plays out with no upending of your expectations, it's a small but genuine disappointment... so thankfully it doesn't happen that often.
The hour is full of inspired premises, quirky punchlines and non sequiturs that are funny, not just discordant. For although there's an frequent sense of mild oddness, it's not weirdness at the expense of punchlines.
As with the disorientating opening, the hour contains a fair few self-subversive jokes about their own alleged lack of preparation and/or talent, especially in a gag-packed Apollo 11 scene that really shines. It helps that, as a stand-up, Stokes has a natural way of conversing with the audience, lending the show an unselfconscious fluidity so often lacking with revue teams.
The usual role for Duncan Preston – who happens to share a role with one of Victoria Wood's usual retinue – is as Stokes's patsy, naive and good-natued. As a performer, he's apparently here for just for the giggles. Jenny Collier, a So You Think You're Funny finalist last year, seems more actressy, though her North East accent is a little suspect when she plays a fitness instructor in one of the few duds in this collection. In some online material about the group, there's mention of a fourth member, Dominic Allen, but he's absent tonight. He seems to be a real person, but with this lot, you can never quite be sure.
Highlights in their repertoire include loose parodies of Downton Abbey and Love Actually likes of which you'll never have seen before, and a Lolita skit that has the most comically uncomfortable unrequited love since the Fast Show's Ted and Ralf. A couple of scenes recur, but only if there's another joke to be wring out of the set-up, not just repetition for its own sake – or for the sake of padding.
Almost inevitably, a couple of scenes don't fly, but both the strike rate and the originality is impressively high for such an under-the-radar group. If this is a harbinger of what they are capable, maybe one day the Mitford Sisters won't automatically be associated with an appalling history of aristocratic Nazi sympathising.
Review date: 18 Feb 2014
Reviewed by: Steve Bennett
Reviewed at: Leicester Belmont Hotel
Recent Reviews
What do you think?