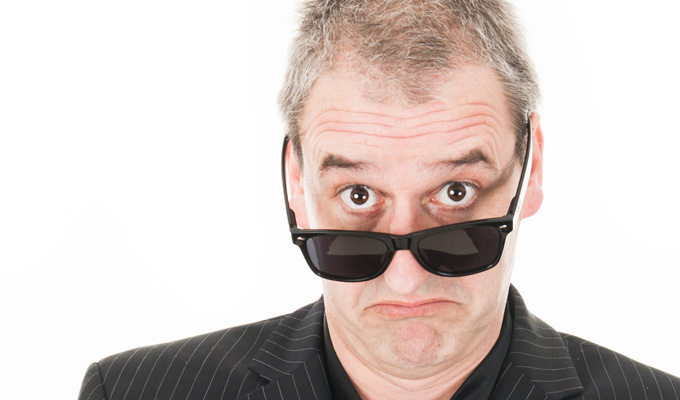 Boothby Graffoe
Real name: James Rogers
Date of birth: 30-11-1961

Boothby Graffoe: Scratch!
Note: This review is from 2014
On a good day for bingo players, thanks to George Osborne's Budget, Boothby Graffoe gave Glasgow Comedy Festival punters a timely reminder that gambling is invariably a mug's game.
However, before introducing his unlikely 'gameshow' Scratch!, complete with ropey catchphrase and deliberately bad theme tune, the guitar-playing comic took advantage of his regular musical collaborator Nick Pynn being in Scotland to deliver a few standout numbers from their back catalogue.
Tracks such as Dr Jekyll and Mr Hyde and Kittens In A Bag, featuring Pynn's screeching, miaowing fiddle, exemplify Graffoe's skilful knack of gently leading an audience up lyrical garden paths, before subverting songwriting convention with a witty, deadpan switch that tends to involve excessive, explosive violence.
His tours don't attract the thousands he played to supporting Canadian rock band Barenaked Ladies across North America and he initiates a running gag about the bad reviews he's received. Toying with anticipation for the dubious gameshow to come, it establishes a rare note of pique from the usually amiable comic, setting up the simmering anger he sustains for the rest of the show.
Prompted by a stranger, who each weekday for the last seven years, has completed the school run in Graffoe's pretty Midlands village by discarding his losing lottery scratchcard into the comedian's garden, Scratch! is set up like an ill-conceived folly taken way too far. In reality though, it's one of Graffoe's most purposeful and enjoyable hours for years.
Appealing to mathematics and high philosophy, but with the down-to-earth incredulity of agitated common sense, he evokes hilarious images of much likelier scenarios than ever triumphing in the 14 million-to-one National Lottery broadcast on television. 'Worth a punt?' becomes his sardonic refrain.
The altruistic aspect of the lottery also gets short shrift, as he makes an elegant if rather mischievous case for organised charity being inextricably bound up with self-sustaining capitalism. And lest anybody objects that somebody's got to win these ludicrous, life-changing amounts of money, he relates Camelot's recent perfidy and slippery non-apology for continuing to sell £100,000 prize cards even after the last jackpot was won.
Naturally enough, he then promises to make some of tonight's audience winners from the hundreds of cards he's personally bought and will scratch off on our behalf.
Scratching away, with a 25 per cent chance of success each time, there's an element of Tim Vine's interminable Pen Behind The Ear routine to his attempts to find winners but with the added hope of tangible reward for the contestants. The repetition intermittently provokes boredom, rising excitement and bemusement, each of which he commentates on with unwavering disdain and self-mockery.
Amusingly, The Wheel of Almost Certain Misfortune he then employs to skew the amount of the winnings, both for more and less, is now on its third and crappiest cardboard incarnation, after being stolen in both Edinburgh and Lyme Regis.
Ultimately though, Graffoe puts his wallet where his mouth is, while arguing persuasively that the lottery and scratchcards are a pernicious, state-supported mirage that prey on the poorest and most desperate. And chances are, you'll still take more away from Scratch! than you'll win on a scratchcard.
Read More
Published: 20 Mar 2014
Omid Djalili is off on tour for the first time in…
7/09/2011
Many of the headliners of the Glasgow Comedy Festival…
24/03/2011
Boothby Graffoe is an old-hand at the Fringe, having…
1/01/2006
He may now be exposing his famously pendulous testicles…
1/01/2006
Description Legendary Amnesty comedy…
1/01/2006
"I have been described as unpredictable,"…
1/01/2004
Behind this amiably lacksadasical façade hides a…
28/12/2001
If you want to end your festival day with something…
1/01/2001
It's a good job that Boothby Graffoe is such an effortlessly…
1/01/2000
Past Shows
Agent
We do not currently hold contact details for Boothby Graffoe's agent. If you are a comic or agent wanting your details to appear on Chortle, click here.