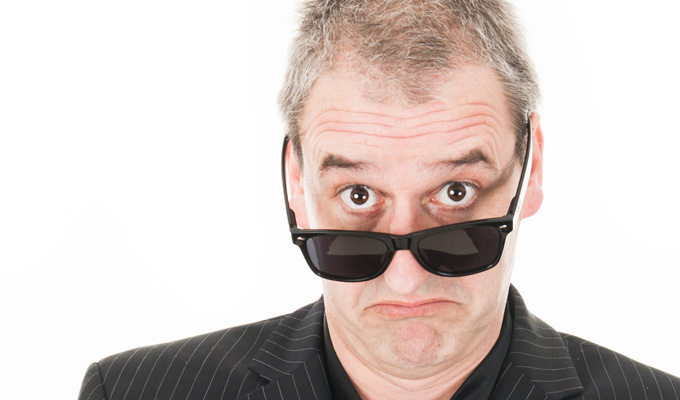 Boothby Graffoe
Real name: James Rogers
Date of birth: 30-11-1961

Boothby Graffoe: Bang! Is This Your Vehicle Sir?
Lazing on a hammock strung between the twin poles of lethargic singer-songwriting and low-energy whimsical comedy is the dryly fatalistic Boothby Graffoe, strumming absent-mindedly at his guitar.
The casual noodling might seem entirely for his own pleasure, yet Bang! Is This Your Vehicle Sir? is actually the fourth album this circuit stalwart has released, and the one with the highest production values yet.
But hammocks, even metaphorical ones, are notoriously difficult to get into – and there are times, especially early in this 13-track CD, where the lyrics are not witty enough for comedy, and the melodies not strong enough for music. Perseverance pays off, however, and there are some treats later in the album... while some of the other tracks are definitely 'growers'.
Graffoe's largely listless sensibilities and wry wit make much of this seem like the Barenaked Ladies on ketamine, with their infectious jauntiness sorely missed.
The comparison to the Canadian alt.folk rockers is nevertheless an apt one, especially as Graffoe previously supported them on tour – and their keyboardist Kevin Hearn pops up here to return the favour. Graffoe also supported Omid Djalili on his last stand-up tour, and the Iranian comic makes an unexpected cameo here on bongos. More predictable is the enchanting presence of multi-talented multi-instrumentalist Nick Pynn gives the album its musical backbone.
In comparison Graffoe's vocal contribution, largely delivered in a husky, casual manner, sometimes feels underpowered, especially against more ambitious production. Yet at other times the matter-of-fact approach perfectly downplays the lyrics.
As a songwriter, he's capable of forging pithy, distinctively epigrams around which whole songs are built, although often the prominence and repetition of these bon mots can have diminishing returns. The exception that proves the rule, though is the irresistibly catchy Busy – by far the best track on the album – which makes a shining virtue of the hypnotic repetition of his expressions of how frantic his life supposedly is.
The equally upbeat Fish With Feet perfectly deploys Boothby's surreal sensibilities and includes proper punchlines; Dude! Have You Seen The Telly? invokes some amusing images as a weatherman has his mental breakdown; and the brutally honest Lullaby is certainly a bedtime song frazzled parents everywhere will identify with.
Samples are deployed liberally, with mixed results, especially out of context: Trampoline is interspersed with an interviewer repeatedly asking a question about American gun laws while Hop breaks into the jolly Duck And Cover song once used to prime American schoolchildren in case of nuclear attack. Boy Could She Waves starts with 30 seconds of crackling old gramphone records, but turns out to be a musical delight, although it's the track in which Graffoe's singing most takes a back seat.
In contrast, the songs where Graffoe tells a longer story, such as the opening Attack Of The 50ft Woman or Captain's Address, tend to be the slowest and least focussed. They may find their place in the live shows Graffoe and Pynn are taking around the country on the back of this release, but they are likely to be the ones most frequently left behind when the CD is imported into iTunes libraries.
Click here to order Bang! Is This Your Vehicle Sir? from Amazon.
Read More
Published: 6 Mar 2012
Comics Andy Zaltzman, Owen O'Neill and The 4…
28/08/2006
More than 30 comics, including Arthur Smith, Russell…
8/08/2006
Comics including Bill Bailey, Ross Noble, Ed Byrne…
7/08/2006
Amnesty International is to hold another Secret Policeman's…
20/07/2006
Digital radio station BBC7 is to launch a new weekly…
19/07/2005
Jo Brand, Arthur Smith, Junior Simpson and Kevin Day…
13/06/2005
A Glastonbury Festival tribute to roguish comic Malcolm…
3/06/2005
Veteran old-school comedian Mick Miller played his…
23/03/2005
Past Shows
Agent
We do not currently hold contact details for Boothby Graffoe's agent. If you are a comic or agent wanting your details to appear on Chortle, click here.