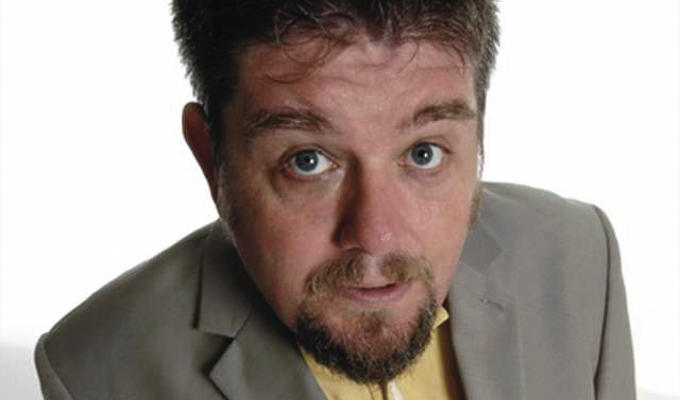 Andre Vincent
Lounge On The Farm 2010
Note: This review is from 2010
Not everyone was the World Cup Final last night. In fields just outside Canterbury, the fifth Lounge On The Farm festival was held. With music headliners including Toots and the Maytals, Martha Reeves And The Vandellas and Bad Manners, it's not exactly Glastonbury – 'a glorified country fair' was how comedy tent compere Andre Vincent put it – but small has its advantages, including queue-free bars and a convivial, twat-free atmosphere. Plus the camping-averse could even find cheap b&b accommodation in walking distance of the site. Try that at Worthy Farm.
Plenty of quirky flourishes added to the boutique feel, including second-hand sofas scattered around the fields, plenty of bijou performance spaces to discover and burgers made from cows reared on that very farm.
The comedy programme reflected the music policy, headlined by a name who's recognisable but not a superstar – Phill Jupitus – backed with a line-up of up-and-coming stars. Jupitus proved quite the draw in his afternoon slot, too, with the small Playhouse tent overflowing with festival-goers, and every possible vantage point taken. The audience would certainly have been bigger had there been any other spaces from which to see the stage.
He was leading an 'all-star' improv troupe comprising ultra-experienced Comedy Store Players Andy Smart, Steve Stein and Richard Vranch, playing games that would have been familiar to anyone who's seen Whose Line Is It Anyway? They busked a pantomime song, translated for the Madagascan volcano expert who could speak no English, and compiled a speech about the new Olympic sport of 'cow javelin' one word at a time – making it look deceptively easy. But it takes half a lifetime of practice to make the spontaneous seem this seamless.
Their coup de grace, though, was a final scene involving all the improvisers, each miming one role while providing the voice to one of their colleagues' characters. It's a potentially messy, confusing scene – and the audience certainly appreciated this jeopardy – but it paid off in spades.
The rest of the afternoon was given over to a mixed stand-up bill, although the technical know-how of amplifying one person's voice proved too demanding a challenge. Comics were often left to speak without mics – tough enough with an audience not necessarily 100 per cent focussed on the stage, but especially tricky when the neighbouring folk tent struck up – until underpowered and intermittently performing replacement speakers were wired up. Normal service was eventually restored well into the programme, but not until most comics had been forced to make valiant efforts at vocal projection.
The failure happened shortly into Tiernan Douieb's opening set, and the skilful way he coped actually aided his routine, which until then had washed rather passively over the audience. His writing is a mix of solid if unspectacular wordplay, sometimes based on topical events, and observations that can tend towards the obvious: such as the fact The Never Ending Story does actually end. But his prime asset is a likeable stage persona, which came to the fore when adversity struck.
Relative newcomer Josh Widdecombe has an engaging presence, too, which conceals his delightfully sardonic opinions on such diverse topics as narrowboat holidays and visits to Madame Tussaud's. He had to engage with a particularly vociferous festival-goer who wanted to chat, despite the unfortunate handicap of being unable to string a sentence together, but Widdecombe coped admirably, through the tactic of benign bemusement.
Manchester-based Canadian Marty McLean has a more traditionally imposing presence, with the force of his delivery making the most of his material. So even when the thread of what he's saying unfolds as you might expect – as it does when he's talking about being intimidated by youths or using 'reasonable force' against an intruder in your home – his rhythm and emphasis amplifies the laughs. His best material revolves around how ridiculous British slang can sound to an outsider like himself, revealing a new angle on expressions we take for granted; but his routine on race is on much shakier ideological ground.
Pete Cain's low-energy delivery did little to engage an audience already lolling languidly in the sun; a status not helped by his decision to sit in the armchair that comprised the basic on-stage set. The material, which started with the usual right-wing anti-immigration argument that Britain is 'too full' before extending it to provocative ideas to combat global overpopulation also failed to chime, either on a literal or ironic level. It just didn't seem to be what the audience wanted to hear.
In contrast, Keith Farnan's engaging and commanding delivery drew them in, swelling the audience as passers-by were enticed in. He turned up the banter, displaying an winning quick wit that even attracted the attention of the lad in the front who, until now, had spent the gig face-down, his arse to the stage. Regaling the audience with drinking tales, Farnan spreading the craic rather than brilliantly-crafted jokes; but that spirited badinage was just what was needed.
Nonetheless, compere Andre Vincent, who until now had largely concentrated on playfully delivering inappropriate material to the youngsters in this broad audience, had to do some unenviable housekeeping in his next stint – demanding disrespectful punters put up or shut up. Eventually one small group was convinced to leave, but not without some disapproving noises from elsewhere in the tent. Yet, experienced MC that he is, Vinny restored faith with a quick burst of self-deprecating putdowns.
Order duly imposed, Carl Donnelly took to the stage with his endlessly entertaining litany of embarrassing stories. He seems to be a magnet for misfortune, with even something as innocuous as a trip to Subway providing comic fodder. A jovial story-spinner, the hapless Donnelly turns each incident into an exaggeratedly exasperated yarn – and none more so that his trip to an Alicia Keys concert with rather unusual contraband, providing a fine end to the afternoon's comedy.
Read More
Published: 12 Jul 2010
DAY ONE: FridayLatitude has always strived to be more…
1/01/2008
This is one of those shows that's fallen into the…
1/01/2007
Description A bit like BBC Four's Late…
1/01/2006
Looking and sounding a little like Phill Jupitus,…
1/03/2002
Most comics reveal something of their inner selves…
1/01/2002
Past Shows
Agent
We do not currently hold contact details for Andre Vincent's agent. If you are a comic or agent wanting your details to appear on Chortle, click here.